Found January 28, 2013 on World Series Dreaming:
Social media is great; it has definitely changed the world. It is a great tool to connect with others, promote your business or stay up to date with your favorite athletes, but it can also get you in trouble. That's what happened last night, on Twitter, with Cubs OF Dave Sappelt. In case you don't have a Twitter account, or were out in the icy mess that occurred in Chicago trying to get home or maybe you were the ONE person watching the Pro Bowl, here is a breakdown of what happened. Dave Sappelt tweeted: "Women driving me scares the dog **** out of me" And then he tweeted: "When women get to shopping there is no stopping them looks like its time to pull the #FIREALARM" I usually just like to talk about what players do on the field, but in this case, I really had to voice my opinion because I think that he was treated unfairly, and as a woman, I think my point of view matters even more since he was accused right away for being a sexist jerk. I'm not going to call anyone out or refer to anyone else on here; this is just my opinion on what happened and on Dave. Dave doesn't need me to defend him, he can handle it, but like I said, he was accused of being sexist so that made me think that I could chime in with my opinion. First of all, the first tweet says "Women driving ME…" note the word ME. He also later posted a picture of his girlfriend driving, along with the hash tags #mycar #herfirsttimedrivinginamerica. From the picture, his girlfriend is driving a BMW, an expensive car, it's her first time driving in the US, which means she's not used to the rules, and again, he uses the word ME in that tweet, maybe he has a reason to say that, maybe he's just poking fun at his lovely girlfriend, but why on earth would I conclude from that statement that he's sexist?! That is the last thing on my mind and I'm sure that was the last thing on his too. I actually think that it's kind of sweet that he let his girlfriend drive his BMW the first time she drove! I probably wouldn't have let my boyfriend do that! Lol… Now his second tweet…any logical woman would agree with that. I personally hate shopping, and I am in the minority, I'm sure. I will say this, I hate shopping for clothes and shoes, but I LOVE makeup. I could seriously spend the whole day at a store like Sephora and I still wouldn't have enough time to browse around. Once again, that tweet was also referenced to his girlfriend taking a long time while shopping. I'm very open in seeing other people's point of view but I fail to see where he comes off as sexist in his tweets. He is not insulting all women, and he isn't really saying anything that isn't true. Now, I would have been really offended if he would have said something along the lines of "Women don't belong in sports, just in the kitchen." just an example, lol. Then I would be offended. I'm not going to call out anyone specifically, but some of the people that were attacking him were trying to "stand up" for women, but then, those same people went on to say: "The saddest thing is the women that are defending him and telling him he did nothing wrong" "They're doing that just because of the thrill to be interacting with a baseball player" "I've raised my daughters to have more respect for themselves than that" "These girls have no respect for themselves and it's sad" See what they did there? So you stand up for women but then you bash those that don't agree with you? Ok…that makes a lot of sense. I agree that they are part of a great organization and should carry themselves in a professional manner, but this was nothing to get all flustered about and I think that it was blown way out of proportion. Dave Sappelt is one of the most gracious players I've talked to. He has replied several times on Twitter, and he interacts with all his fans. He also did apologize and said that it wasn't his intention to offend anyone, so that was nice of him. My advice for players would be, even though those are sites to post your opinion and thoughts, it's better if you don't because people will always find a way to twist your words and make it seem like you said something you actually didn't. Maybe we're all just cranky that baseball isn't here yet, but don't worry friends, pitchers and catchers report February 10th. -Ivy
Original Story:
http://worldseriesdreaming.com/2013/0...
THE BACKYARD
BEST OF MAXIM
RELATED ARTICLES
Chicago Cubs outfielder Alfonso Soriano remains on the trade block, according to Nick Cafardo of the Boston Globe, and right-hander Matt Garza could join him once he regains his health, reports Jim Bowden of ESPN. Focus on Garza is get him healthy and in our rotation.that could change because not signed past this year and we need to collect talent #SXM — JIM BOWDEN (@JimBowdenESPNxm...
New Chicago Cubs outfielder Dave Sappelt, you are know Dave Chappelle. Your attempts at humor are about as effective as Alfonso Soriano's fielding. Your rendition/attempt at Sinbad's "women be shopping!" bit fell painfully flat. And you made remarks that would you an A+ at the Joe Cowley school of gender relations. You knew never took a class in women's studies in college...
So the Cubs are going to sign Scott Hairston, but since the deal isn't official we don't really have comments from TheJedi on his exact purpose. Chances are though, he'll platoon with DeJesus and Schierholtz and be the thunder off the bench late in games. And if they happen to trade Alfonso Soriano at some point, he might just be the starting left fielder. The 33-year...
Matt Garza missed most of the second half of the season with a stress reaction in his elbow.  He was shut down as a precaution which also shut down his trade possibilities.  It seems pretty clear that Garza will be traded at some point this season, but for now the Chicago Cubs are looking to make sure he is healthy and get him back on a mound. According to Jim Bowden of Sirius...
Chicago. The longest current run in the history of baseball without a World Series pay-dirt. Enter Theo Epstein as President of baseball operations, Jed Hoyer as GM and the VP of player development... [[ This is a content summary only. Visit my website for full links, other content, and more! ]]
Yes! The news is finally official! After the longest physical in the history of western civilization the Cubs have signed Carlos Villanueva! So who is this mysterious pitcher from another country (Canada)?   A Carlos Raúl Villanueva no le gustaban los obesos. — Alexander (@AlexMateran12) January 28, 2013 Huh. Actually I don't think that's the right guy. Chicago Cubs Monday...
Baseball Operations Position to Report to Assistant GM
Yesterday, the baseball world was rocked by yet another steroid scandal in baseball. Okay, maybe the baseball world was not rocked, as steroids have been a part of baseball since the early 1990s (if not well before) and will be for many years to come. The Miami based "anti-aging clinic", which has been nicknamed the East Coast Balco, supplied steroids to athletes from all sports...
Cubs News

Delivered to your inbox

You'll also receive Yardbarker's daily Top 10, featuring the best sports stories from around the web. Customize your newsletter to get articles on your favorite sports and teams. And the best part? It's free!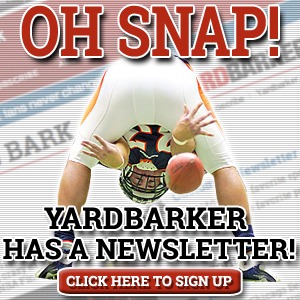 Latest Rumors
Best of Yardbarker

Today's Best Stuff

For Bloggers

Join the Yardbarker Network for more promotion, traffic, and money.

Company Info

Help

What is Yardbarker?

Yardbarker is the largest network of sports blogs and pro athlete blogs on the web. This site is the hub of the Yardbarker Network, where our editors and algorithms curate the best sports content from our network and beyond.