Found January 11, 2013 on Fox Sports Florida:
PLAYERS:
Erik Spoelstra
,
Derrick Rose
,
Chris Bosh
,
Terrel Harris
,
Josh Harrellson
,
Jarvis Varnado
,
Chris Andersen
,
Carmelo Anthony
,
Dwyane Wade
,
Mario Chalmers
,
LeBron James
,
Joe Dimaggio
,
Rashard Lewis
,
Ray Allen
,
Pat Riley
TEAMS:
Miami Heat
,
New York Knicks
,
Indiana Pacers
,
Chicago Bulls
,
Denver Nuggets
,
Portland Trail Blazers
,
Golden State Warriors
,
New York Yankees
,
Los Angeles Lakers
The thinking before the season was, if it were an election, FOX News would have declared it over early in the evening. Instead, the race in the Eastern Conference might just keep people tuned in for a while. It had looked as if the Miami Heat would romp in the East and the only thing that could stop them from a second straight NBA title was whichever team the West sent to the Finals. Surprisingly, though, this is a race. Following Thursday's 92-90 loss at Portland, the Heat (23-11) held a mere half-game lead over New York for the top record in the East. There are four other East teams within 3 games of Miami. "That never came out of our camp that we felt the East was an easy run," said Heat coach Erik Spoelstra. "Last year, we had to fight through New York, Indiana and Boston (in the playoffs)." Actually, the series against the Knicks in the first round wasn't much of a fight, with Miami winning 4-1. But the Heat fell behind the Pacers 2-1 in the second round before coming back to win 4-2. And they trailed the Celtics 3-2 in the East finals before surviving to win 4-3. With the Knicks having an aging roster and with the Pacers lacking in star power, some believed Boston might be the only team that could seriously challenge the Heat in the East. But the Celtics have either finally gotten old or they're just waiting again until after the All-Star break to get going. But several other teams have stepped up as East contenders. The Knicks (23-12) already have beaten Miami twice by 20 points. The Pacers (22-14) got their first crack at the Heat this season, and manhandled them 87-77 last Tuesday. They're now just two games behind in the conference. The Bulls (19-14), who have won the past two East crowns, were not expected to make a serious run due to star guard Derrick Rose being out until at least the All-Star break while recovering from a torn ACL. But they gave the Heat reason to be concerned for when Rose comes back by beating them 96-89 last Friday at Miami. They're now 3 games behind in the conference. While Atlanta (20-14) is three games out and Brooklyn (20-15) is 3 back, neither of those teams bother the Heat. But Miami is 0-4 this season against the Knicks, Pacers and Bulls, teams that now must be regarded as legitimate East challengers. The Knicks went 37-of-80 (46.3 percent) from 3-point range in their two wins over the Heat, so perhaps that won't continue. But the Bulls and the Pacers have pounded Miami on the glass in the past week, and that's been no fluke. Chicago won the battle of the boards 48-28 while Indiana did 55-36. And you thought it was just those big teams out West the Heat really has to worry about on the glass. "I mean, you look at the Bulls," center Chris Bosh, whose Heat are a so-so 11-7 this season against the East, said while assessing the conference. "I think they're a lot better than their record. They have some good wins against some very good teams." The Chicago loss might have gotten Miami's attention more than any other defeat this season. Since then, there's really been an effort to find big-man help on a team that has been outrebounded by 17 or more in three of the past six games. Yes, the calendar did play a role since Miami had to make a call on non-guaranteed contracts by last Monday. But soon after the loss to the Bulls, the Heat waived guard Terrel Harris and center Josh Harrellson to get their roster down to 13. They've since brought Harrellson back on a 10-day contract and signed power forward Jarvis Varnado to a 10-day deal, allowing them to continue to have roster flexibility. They've also worked out free-agent center Chris Andersen. Simply put, the Heat are on a mission to find rebounding help. If it doesn't arrive, the battle in the East becomes a lot more interesting. The Knicks were able to crush the Heat twice despite not having burly forward Amar'e Stoudemire in either game (star forward Carmelo Anthony missed one of the games). The Knicks won the battle of the boards just 87-84 in the two games, but would figure to be helped even more in that area by having Stoudemire. And the Celtics, who did win the boards battle 41-36 in losing the Oct. 30 opener 120-107 at Miami, would like another crack at the Heat in the postseason. If the playoffs started now, Miami and current No. 8 seed Boston (18-17) would meet in the first round. Wasn't Miami vs. Boston again supposed to be the conference finals match-up in the supposedly non-competitive East? Who's Hot: Guard Dwyane Wade's 18 points on 6-of-18 shooting Thursday at Portland was nothing to email home about. Still, Wade has averaged 23.1 points in his past eight games to raise his seasonal average to 20.7. Wade had a season-high 30 points Tuesday at Indiana. Who's Not: So much for Heat point guard Mario Chalmers scoring 37 points in a two-game stretch late last month. Since then, Chalmers has averaged a meager 4.5 points in eight games to drop his seasonal average to 6.8. During the stretch, Chalmers has shot just 7-of-28 (25.0 percent) from 3-point range. Despite that, Spoelstra inserted Chalmers for a last-second 3-point attempt that would have beaten the Trail Blazers. It was off the mark. Three Thoughts 1. Forward LeBron James has fallen two games short of Joe DiMaggio. James' streak of 54 straight playoff and regular-season games of scoring 20 or more points ended when he was held to 15 Thursday at Portland on 6-of-16 shooting. So he won't top one of the most legendary streaks in history, the 56-game hitting run DiMaggio had in 1941. James talked about DiMaggio earlier this season when he said he shared the philosophy the New York Yankees legend had about never relaxing in a game because it might the first time someone is seeing him play. "I feel like when I go out there, if it's someone's first game they've ever seen me play. I want them to remember and say, That was a great game,"' James had said. Thursday was hardly great by James' standards, but he did barely miss a triple-double with 10 rebounds and nine assists. 2. Heat forward Rashard Lewis has not played in 11 straight games due to a coach's decision, hardly what one would expect from a two-time All-Star. But Lewis is keeping a good attitude. He believes Spoelstra simply feels more comfortable going with the rotation that brought the Heat an NBA title last season. "We got a very talented team," Lewis said. "If anything, I got to be patient. I can't get frustrated. I got to be ready to go whenever my name is called. I knew what I signed up for. Spo is going with the team that pretty much won the championship last year. I can't argue with that." Actually, there is one new player this season in Miami's rotation. But guard Ray Allen is a 10-time All-Star. 3. Perhaps Allen needs to trademark it, the way Heat president Pat Riley has patented "threepeat." Allen has come up with a term to describe what teams that didn't win the title the previous season have. "What (the Heat had last year was) that chase juice," said Allen, who watched Miami experience drink that juice last season when he was with the Celtics. "You were chasing somebody else for it. Now, other teams have it We're the ones being chased and hunted." Stay tuned to see if Oklahoma City, which lost to the Heat in the Finals last season, is talking about chase juice should the teams meet again next June. Quotes of the week "You can beat yourself up because you want it so bad, but there are the kind of games where you say, Listen, a team beat us when we played our game.' So you pat them on the back and say, Good job." Wade, determined not to get down about Thursday's 92-90 loss at Portland. "We'll have to change some things and own this to get a big first win on this trip." Spoelstra, whose Heat have lost the first two games of a six-game trip and next play Saturday at Sacramento. "The opposing teams' locker room is getting the best speech of the year when they play us." Allen, on teams fired up to play the defending champions. "Right now, the East is the defending champion." Wade, on talk the West is the NBA's stronger conference. Numbers game 6.0: Rebounds averaged by Bosh in the three games in which he has vowed to count his boards "so everybody will get off my back" for not hitting the glass. The stretch has lowered Bosh's average from 7.6 to 7.5, in line to be the lowest since his rookie year of 2003-04. Bosh averaged 7.4 that season, so he's close to having the worst rebounding season of his 10-year career. 9: Times in 34 games this season the Heat have outrebounded the opponent. 13: Times James has missed a triple-double in his 10-year career by exactly one assist, the latest Thursday at Portland. James has 33 career triple-doubles. What's Next? James made his NBA debut Oct. 29, 2003 at Sacramento, scoring 25 points for Cleveland. He might make his last trip there Saturday if the Kings end up moving after the season. The Heat then close out their six-game trip with games Monday at Utah, Wednesday at Golden State and Thursday at the Los Angeles Lakers. While the game against the Lakers had been greatly anticipated before the season, it's lost much of its luster due to their numerous problems. Tower of Power? At home, yes. On the road, no. The Heat are 16-3 at home and often look like a team that should have no problem defending its championship. On the road, it's been a different story. The Heat are just 7-8. The difference between their home and road play could put a premium on the Heat trying to secure the No. 1 seed in the East. Having the best record in the NBA could be a much tougher task since four West teams currently have better marks. Chris Tomasson can be reached at christomasson@hotmail.com or on Twitter @christomasson
Original Story:
http://www.foxsportsflorida.com/01/11...
THE BACKYARD
BEST OF MAXIM
RELATED ARTICLES
The Miami Heat successfully silenced an enormous amount of critics by winning an NBA championship last season, and they don't want any of us to forget about it. Because of their slow start that has followed incredibly high offseason expectations, the Los Angeles Lakers have drawn a number of comparisons to the 2010-2011 Heat. According to LeBron James and Dwyane Wade, the two situations...
Miami Heat forward Shane Battier's resume includes being a lockdown defender, a decent spot-up three-point shooter, a complete class act and a terrible, horrible, awful singer. Battier, a Birmingham, Michigan native, is as philanthropic as they come.  As part of the theme for his second annual "South Beach Battioke", a celebrity karaoke event that will take place on Monday...
Greg Oden's basketball story may not be over. ESPN is reporting that Oden is working out and wants to comeback to the NBA for the 2013-14 season. And the Miami Heat are among several teams interested in signing the injury-plagued center this season, allowing the former No. 1 pick to continue his rehab. Oden has undergone three microfracture surgeries, the last in February...
The Miami Heat has signed forward Jarvis Varnado to a 10-day contract, the team announced Wednesday. Varnado was signed by Boston on December 14 and played in five games for the Celtics, totaling six points and three rebounds. He was waived on January 6. Varnado was originally a second-round draft choice by the Heat in the 2010 draft.
Josh Harrellson has appeared in five games with the Heat this season.
One of the latest sightings over in the Miami Heat base camp is that Chris Andersen is working out for Pat Riley.  There are many pros and cons to his potential signing on a veteran minimum contract with Miami.    Andersen's averages statistically speaking would fit right in to what the Miami Heat are lacking.  [...]
"I think he's Rookie of the Year. He's exceeded all expectations and more. He will become great — he's one of the good point guards we have in our league today. They continue to come, our league is full of really good point guards and he's one of them." What makes him so good? "How under control he is. It's like he's been here before. He's never out of his comfort...
Ever since he was drafted number one overall in front of Kevin Durant, Greg Oden has struggled to stay on the court. His various injury issues have haunted the Ohio State big man for his entire career, and many have even forgotten about him. There's now talk of Oden trying to play again in the NBA, and reportedly, the Miami Heat are at the top of the list to make a run at him....
Game time: Thursday at 10:30 p.m. ET TV: Sun Sports As good as the Portland Trail Blazers have been at home, a visit by the defending NBA champion Miami Heat poses a serious threat to their winning streak. The Heat, however, are still searching for answers amid their recent struggles. The Trail Blazers will try for their ninth straight win at home and fourth in a row overall Thursday...
As you can clearly see (and hear) on this video as he covers "The Love Boat" theme song. This man has a very special gift. South Florida is blessed to have him.
PORTLAND, Ore. -- Wesley Matthews' shot wasn't falling -- until it had to in the clutch. Matthews' back-to-back 3-pointers in the final minute lifted the Portland Trail Blazers to a come-from-behind, 92-90 victory over the Miami Heat on Thursday night at the Rose Garden. Until that point, Matthews -- who finished with 18 points -- had made only five of 16 shots from...
As good as the Portland Trail Blazers have been at home, a visit by the defending NBA champion Miami Heat poses a serious threat to their winning streak. The Heat, however, are still searching for answers amid their recent struggles. The Trail Blazers will try for their ninth straight win at home and fourth in a row overall Thursday night when they take on slumping Miami, which...
All Sports News

Delivered to your inbox

You'll also receive Yardbarker's daily Top 10, featuring the best sports stories from around the web. Customize your newsletter to get articles on your favorite sports and teams. And the best part? It's free!
THE HOT 10: Who's Trending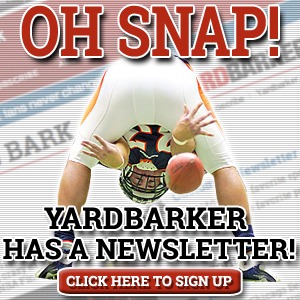 Latest Rumors
The Backyard

Today's Best Stuff

For Bloggers

Join the Yardbarker Network for more promotion, traffic, and money.

Company Info

Help

What is Yardbarker?

Yardbarker is the largest network of sports blogs and pro athlete blogs on the web. This site is the hub of the Yardbarker Network, where our editors and algorithms curate the best sports content from our network and beyond.