Found March 04, 2013 on Awful Announcing:
Monday's daytime SportsCenter thankfully didn't spend the entire morning on the Harlem Shake, but they did deliver inanity in spades once again.  This time it was resident debating expert Stephen A. Smith comparing the impressive streaks of the Miami Heat and the Chicago Blackhawks. The streaks are fundamentally different.  Miami has won 14 straight games.  Chicago has recorded a point in 22 straight to begin the season (19 wins, 3 OT losses).  But because this is "Embrace Debate", one has to be better than the other and ESPN had to trot out one of their analysts to take a side. Of course, who better than one of Bristol's resident expert debaters, Stephen A. Smith to rant on this topic... because he's such a respected authority on the sport of hockey, you know.  Just watch and cringe in pain and agony as Screamin' A. totally dismisses the Blackhawks point streak because of "ties." Then note that the NHL hasn't had a tie since April 4th, 2004.   For the record, it was 3 shootout losses for the Blackhawks, not 3 ties. This is what happens when you employ only one competent hockey personality and prefer bluster to knowledge.  You end up with an ESPN analyst talking about things that haven't existed for almost nine years.  Hockey is about points, yes.  So is soccer.  Hockey is a different sport than basketball and orders its standings differently, rewarding teams with points for not losing in regulation.  This is apparently a difficult concept to grasp. This is what also happens when you try to compare and debate the merits of two winning streaks when one isn't even a winning streak at all.  It's a point streak.  There's a difference. I just wonder if Stephen A. Smith's lack of understanding about the rules of the sport still counts as proof of ESPN talking hockey? If ESPN is really the worldwide leader in sports as they proclaim to be, maybe they can find someone to put on television next time to talk hockey who is aware of the existence of the Columbus Blue Jackets.  They've only been around for 13 years.
Original Story:
http://www.awfulannouncing.com/2013/m...
THE BACKYARD
BEST OF MAXIM
RELATED ARTICLES
This is the type of thing that I can't stand about ESPN.  Bringing in people that know nothing about a sport and having them comment on it.  If they had brought Barry Melrose in to discuss basketball, I would be just as irritated as when they brought Stephen A. Smith in to talk about hockey.  You pay certain analysts to discuss specific sports for a reason. On this segment,...
What you see above is a tweet from our old friend Stephen A. Smith. As you can see, this certainly seems like a tweet that was supposed to consumer one lucky person he calls 'Baby' and not by all of his followers. Amazingly, the tweet has not been deleted. But we'll just chalk that up to Smith being busy embracing debate on First Take. The post Here's a Stephen A. Smith tweet...
There are few things that infuriate me more than sports analysts ranting about the inferiority of the NHL when they clearly know very little about what they are talking about. Stephen A. Smith's comments this morning are precisely why I refuse to watch anything hockey-related on ESPN. Smith was asked whose streak was more impressive—the Chicago Blackhawks 22-game point streak...
ESPN is heavily criticized for their hockey coverage, or lack of hockey coverage. When the network actually covers the sport, it's usually basic, uninspiring "analysis" on the NHL's big stories and big teams. The network does the bare minimum in order to still call themselves the worldwide leader in sports. Stephen A. Smith was asked about the Chicago Blackhawks...
ESPN is the ********* thing this side of my toilet after some amazing Mexican food. For some reason, the higher ups believed that having Stephen A. Smith talk about hockey was a great idea. Who know what else is a great idea? Apparently throwing babies off balconies, searching Habs hashtags on Twitter and checking vulnerable places and then getting your face bashed in by Chara'...
It's not news to any hockey fan that the "Worldwide Leader in Sports" know absolutely nothing about hockey, nor do they care about anything that goes on in the NHL. I understand the NHL has far fewer fans than the NBA, the NFL, or MLB, but it's still a major sport not only in this country but around the world. So there is absolutely no excuse for the ignorance Stephen A....
After watching this clip, all I can do tip my hat in the direction of Mr. Skip Bayless for two reasons.  That was one great Stephen A. Smith impersonation that I just saw.  Also thank you for showing us what the talking heads/columnist in the media have become. In the past, analysts/columnists would voice their opinion but back it up with solid fact.  While today the most...
All Sports News

Delivered to your inbox

You'll also receive Yardbarker's daily Top 10, featuring the best sports stories from around the web. Customize your newsletter to get articles on your favorite sports and teams. And the best part? It's free!
THE HOT 10: Who's Trending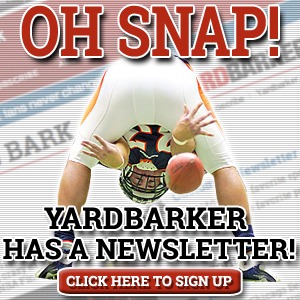 Latest Rumors
Best of Yardbarker

Today's Best Stuff

For Bloggers

Join the Yardbarker Network for more promotion, traffic, and money.

Company Info

Help

What is Yardbarker?

Yardbarker is the largest network of sports blogs and pro athlete blogs on the web. This site is the hub of the Yardbarker Network, where our editors and algorithms curate the best sports content from our network and beyond.