Found April 23, 2012 on Start 'N' Park Blog:
Welcome to the April 23, 2012edition of Start 'N' Park Blog's Stock Watch. Each week we'll take a look at who's rising, falling, and treading water in the world of NASCAR. This stretches all division and all aspects of NASCAR, including drivers, owners, crew members, media and fans. Finding their way onto this week's watch includes Turner Motorsports, Kurt Busch, AJ Allmendinger, Kurt Busch, Todd Bodine, and Kansas Speedway. Is your favorite NASCAR personality rising, falling, or treading water? Find out below what Greg and Mike have to say below. Rising Turner Motorsports – With James Buescher's win Saturday at Kansas that gives Turner Motorsports two wins in a row after Kasey Kahne won last Sunday at Rockingham. This team is rising as their Nationwide and Truck teams are finally running where they should be in each series. I've been a fan of them since they were once Braun Racing and good to see a team that supports both lowers series rewarded for their hard work. – Mike Todd Bodine – Bodine finished in 5th place Saturday in the Truck Series race to help bring him up to 11th in the standings. That doesn't sound overly good, but he needs to run well to try and impress sponsors. Bodine has Toyota's backing until Charlotte next month, so the better he does the easier (they hope) it will be to sell his quarter panels. – Mike Martin Truex, Jr – Yet another solid MWR race in general, Truex dominated the entire race until the last run, eventually settling in for a very hard to swallow Runner-Up finish. You really can't call this much of a fluke anymore. Truex has been on the lead lap at the finish of every race this season, with 3 top 5′s and 6 top 10′s. That is as many top 5′s on this season as he had in all 2011. The guy is really putting together a remarkable season for his team, and you really have to wonder if he might actually be a contender….. I'm not sold that far yet, but it's really beginning to look like he is almost a lock for the chase. And no, I can't believe I just wrote that, either. – Greg Falling AJ Allmendinger – Lofty expectations for Allmendinger going into this season and he has yet to really deliver. He won the pole for Sunday's race but finished in 32nd place. Ryan Newman found out in his run with Penske Racing that they do not award bonus points for poles, only wins. Allmendinger needs to turn that corner and get himself a win, or else the goals at the beginning of the season might drive him out of Penske after one year. – Mike Hendrick Motorsports Engine Department – For the umpteenth time this season, Hendrick engines had issues. Jeff Gordon dropped a cylinder and eventually blew up. Kurt Busch saw his first good solid run go by the wayside with his own cylinder issues. Gordon blew up at Daytona, and Jimmie "5-Time Playoff Champion" Johnson blew up (but as the checkers flew) at Auto Club Speedway. Hendrick has prided themselves on rarely having any issues for the last decade. This can not be a good sign for the future. – Greg Treading Water Kurt Busch – Busch turned in another mid-pack performance that is below what the former champion should be finishing. Why he's treading water is because he didn't tear up any equipment in the process of finishing 17th. This team, despite what they say, needs sponsorship and finishes like this will not bring them in. The catch is a team down on its budget needs finishes like this that don't involve ruining equipment. – Mike Kansas Speedway – The race this weekend, from what I saw and am catching up on reading reviews, was a good race. It went by quick with only 3 cautions and had a semi-close finish. If Truex doesn't get loose in the corner with three laps to go, he could have made it stuck and win. With that said Hamlin wouldn't just roll over either, so, could have been exciting. The problem is I'm talking in hypotheticals versus reality. The reality was quick, uneventful race, and leaves you with "eh, Kansas was ok, but Richmond is next and exciting!" I wonder what the re-pave will do to the track, improve or ruin what they've built in 11 years. Again, does it need two races? Probably not. – Mike Yellow Flags – These poor, neglected pieces of wayward fabric…..They have to be getting so bored sitting in the flag holders tray. Only 3 yellows this week at Kansas (with one being rather dubious….I fail to see how Montoya brought out a yellow for just scraping the wall. I've seen harder hits by girlscouts!). 5 cautions last week. Every blog out there has commented on the massive decrease in yellow flags. I wish I knew what was truly causing this phenomenon, but I certainly won't argue with it. – Greg
Original Story:
http://startnparkblog.com/?p=5689&utm...
THE BACKYARD
BEST OF MAXIM
RELATED ARTICLES
AJ Allmendinger celebrates his second career NASCAR Sprint Cup Series Coors Light Pole Award with Miss Coors Light Rachel Rupert and his No. 22 Penske Racing team on Saturday at Kansas Speedway in Kansas City, Kan. Photo Credit: Credit: Tyler Barrick/Getty Images By: Toby Christie – Follow on Twitter @Tobalical A.J. Allmendinger came into Kansas Speedway ona three-race top-15 finish...
AJ Allmendinger will be on the pole for the second time in his Sprint Cup career after turning the fastest qualifying lap for Sunday's race at Kansas Speedway. Allmendinger posted a lap of 175.993 mph in his Penske Racing Dodge to claim the top spot ahead of Kevin Harvick and Joey Logano, who had led the fastest times most of the day. It was the first pole for Allmendinger...
ROSWELL, GA – The SCOTT® Pro Shop Towels brand, a professional-grade clean up solution designed for automotive DIYers, announced today a new partnership with AJ Allmendinger, driver of the No. 22 Penske Racing Dodge Challenger in the NASCAR Sprint Cup Series. Allmendinger will serve as the official spokesperson for the SCOTT® Pro Shop Towels "Take the Challenge" sweepstakes...
Penske Racing did not miss a beat in time trials at Kansas Speedway on Saturday. Less than a year after the No. 22 Shell Dodge topped time trials for the STP 400 with Kurt Busch behind the wheel, AJ Allmendinger repeated the feat Saturday with a lap of 175.993 mph in just his eighth start with the team. His Penske teammates, Sam Hornish and Brad Keselowski, qualified 10th and 11th...
KANSAS CITY, Kan. (AP) -- A.J. Allmendinger will be on the pole for the second time in his Sprint Cup career after turning the fastest qualifying lap for Sunday's race at Kansas Speedway. Allmendinger posted a lap of 175.993 mph in his Penske Racing Dodge to claim the top spot ahead of Kevin Harvick and Joey Logano, who had led the fastest times most of the day. It was the...
Video Platform Video Management Video Solutions Video Player Despite a late draw on a slick track that warmed throughout Saturday's qualifying session, AJ Allmendinger claimed the pole for Sunday's STP 400 at Kansas Speedway, posting a lap at 175.993 mph (30.683 seconds). In winning the second Coors Light pole award of his career, his first [...]
A.J. Allmendinger posted a lap time of 30.683 seconds during pole qualifying at Kansas Speedway on Saturday to claim the pole starting spot for Sunday's STP 400 NASCAR Sprint Cup Series race at the track. "Obviously, Sunday is the important day," Allmendinger said. "We're just trying to get momentum." Throughout the 46-car qualifying session, Allmendinger was one of only...
KANSAS CITY, Kans. – AAA Dodge driver AJ Allmendinger started from the pole and led the first 44 laps of today's STP 400 here at Kansas Speedway.  What was shaping up to be another solid performance by Dinger and his Todd Gordon-led No. 22 Penske Team fell apart due to an unusual problem related to the fuel injection system.  The issue was totally different from the "pumping"...
KANSAS CITY, Kan. -- AJ Allmendinger rolled off the track and hopped out of his car, convinced that he'd put together a decent qualifying run but expecting to start somewhere in the top 15 on Sunday. Turns out he'll be starting up front. Allmendinger captured his second career Sprint Cup pole Saturday, turning a lap of 175.993 mph in his Penske Racing Dodge to knock Kevin...
Michael Shank Racing has filed an entry for Jay Howard to run the Indianapolis 500. The team said Monday it has the sponsorship in place for the May 27 race, but is still trying to put together an engine program. ''Filing the entry is just the first step for us,'' said Shank, who formed the MSR Indy team last October with NASCAR driver AJ Allmendinger and Ohio businessman...
AJ Allmendinger won the pole for Sunday's STP 400 from Kansas with a time of 30.683 seconds. Kevin Harvick, Joey Logano, Denny Hamlin, and Mark Martin round out the top five starting positions. Other notable qualifying positions include Martin Truex, Jr. in 6th, Sam Hornish, Jr. in 10th, Jimmie Johnson in 15th, Carl Edwards in 21st, and Kyle Busch in 25th. The drivers who did not...
All Sports News

Delivered to your inbox

You'll also receive Yardbarker's daily Top 10, featuring the best sports stories from around the web. Customize your newsletter to get articles on your favorite sports and teams. And the best part? It's free!
THE HOT 10: Who's Trending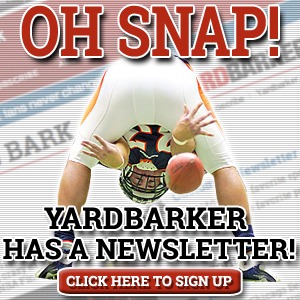 Latest Rumors
Best of Yardbarker

Today's Best Stuff

For Bloggers

Join the Yardbarker Network for more promotion, traffic, and money.

Company Info

Help

What is Yardbarker?

Yardbarker is the largest network of sports blogs and pro athlete blogs on the web. This site is the hub of the Yardbarker Network, where our editors and algorithms curate the best sports content from our network and beyond.