Found March 20, 2013 on Start 'N' Park Blog:
Welcome to the March 19, 2013 edition of Start 'N' Park Blog's Stock Watch. Each week we'll take a look at who's rising, falling, and treading water in the world of NASCAR. This stretches all division and all aspects of NASCAR, including drivers, owners, crew members, media and fans. Finding their way onto this week's watch includes Kyle Larson, the Gyro Cam, Jeff Gordon, and Travis Pastrana. Is your favorite NASCAR personality rising, falling, or treading water? Find out below. Rising Kasey Kahne (Sprint Cup Series) – Kahne picked up his first win of 2013 by leading 109 of 500 laps to capture the win. After a second place last weekend the win Sunday helped Kahne jump seven spots, up to 7th in points. He got behind early and spent most of 2012 trying to make up for that hole, I can safely say he is not repeating that this year. Look for Kahne to contend week in and week out. Gyro Cam (Sprint Cup Series) – I didn't fully grasp what the Gyro Cam was all about during Daytona Speedweeks. Phoenix it seemed silly based on how flat the track is. Las Vegas I didn't watch much of the race on TV, watched it in person. Now that I saw it in all its glory, it was really pretty cool on the Bristol high banks. Amazing how it was almost always cocked to one side during the course of the 15 second lap. This new feature gives Fox a plus 1 for their coverage this year. Kyle Larson (Nationwide Series) – Larson got himself redemption by almost pulling off the victory Saturday during the Nationwide Series race. Putting behind him a dreadful performance last weekend at Las Vegas (hopefully I didn't jinx him during my interview) he showed the skills that have made veterans like Mark Martin and Jeff Gordon gush about him. Logano Vs. Hamlin (Sprint Cup Series) – These two drivers were teammates for the last four years, but it might not seem like it. A Twitter battle last weekend and now contact on the track has escalated things between these two. Hamlin continued the feud in his Fox interview by saying Logano was gunning for him, but since he never sees him on the track it shouldn't be an issue. Too bad it's Auto Club Speedway next weekend, because I want the rivalry to continue. Falling Jeff Gordon (Sprint Cup Series) – Plain bad luck for Gordon Sunday at Bristol. He was leading and looking to finally get into victory lane in 2013 when a right front tire went down. It just so happened that he had Matt Kenseth on his tail for the lead, and took them both out. After winning Homestead, Gordon and crew seemed like they would start out 2013 with a bang. Through four races, not so much, with only one top-10 finish so far. Brad Teague (Nationwide Series) – Teague was a running (all be it slow) road block out on the track all day. He puttered to a 29th place finish, 29 laps off the pace. It was very clear at the beginning of the race that he was not running full speed, but was left out there to continue. I'm singling out Teague on this one, but this race really showed the divide between the haves and have nots of the series. There were others like Teague out there, Mike Harmon is another example, but he was only 15 laps down. It definitely adds excitement having the slower cars out there for the leaders to navigate through, but frustrating because you think they might wreck a top car by just being in the way. Treading Water Kyle Busch (Sprint Cup Series) – Busch started off Sunday's race in the right spot, that being position number 1. He won the pole with a record time, but when the race came around it was another error by the driver on pit road that hinder his ability to get a win. He was caught speeding in not one timing segment, not two timing segments, but three timing segments. He rallied back from that penalty, luckily it was early, and finished second. I just think he would have been in a much better spot not having to make up for that. It's just the little things that are getting Busch and his team each race on the Cup side. Travis Pastrana (Nationwide Series) – Coming off of his first top-10 finish last week at Las Vegas, Pastrana was back to reality at Bristol. He finished a respectful 16th (one lap behind) and brought his car home pretty much clean. It is a great learning day for Pastrana, but a reminder of how tough it is out there. Add to it he was out run by both his teammates, Trevor Bayne was 12th and expected to be better than Pastrana. Chris Buescher was seventh and making his first start of the year for Roush Fenway Racing. That might hurt Pastrana's ego a bit, but he logged laps, and gain valuable experience. 
Original Story:
http://startnparkblog.com/?p=23064&ut...
THE BACKYARD
BEST OF MAXIM
RELATED ARTICLES
Kasey Kahne started his first year at Hendrick Motorsports in a hole in 2012. With two victories, he was able to get into the Chase anyways and was fourth in the title fight. Even with that success, that doesn't mean Kahne wants to repeat that, and after Sunday's win, he knows he is in a better position after four races in 2013. "The championship is still a long ways away,...
Kasey Kahne looks to make it two in a rowCalifornia is about as far from Bristol as you can get, and that's just not geographically. California is a two mile superspeedway, Bristol is a half mile bullring. Kasey Kahne sits seventh in points, and looks to keep the momentum going for his Hendrick Motorsports #5 Chevy. Today, he spoke about looking forward to this weekend's...
BRISTOL RECAP: Most recently, Kasey Kahne drove the No. 5 Chevrolet SS to Victory Lane at Bristol (Tenn.) Motor Speedway after starting from the outside pole position and leading 109 laps. With his first victory of the 2013 season, Kahne climbs seven spots in the driver standings and now ranks seventh. He trails leader Brad Keselowski by 42 points. WIN IN FOUR: The last time Kahne...
photo credit:  getty images KERRY THARP:  We have our race winner for today's 53rd annual Food City 500 here at Bristol Motor Speedway.  What a great showing he put on here today.  That's Kasey Kahne.  He's joined by his crew chief, Kenny Francis.             This is Kasey's 15th NASCAR Sprint Cup Series win, your first here at Bristol.  Congratulations...
BRISTOL, Tenn. – Kasey Kahne, No. 5 Great Clips Chevrolet SS, won the 53rd annual Food City 500 at Bristol Motor Speedway today in a hard fought battle at the series' first short track event of 2013.   The win was Kasey's first ever victory at Bristol and his 15th career NASCAR Sprint Cup Series win.  It was also his first victory of 2013 and second top-ten finish.  The...
A race at Bristol Motor Speedway wouldn't be complete without drivers and teams confronting one another in the pits afterward, and Sunday's Food City 500 delivered just that. The close confines of running at the tight, fast track wore competitors' patience thin, and caused a few tempers to boil over. Kyle Busch, who claimed a commanding pole position, rallied from an...
A race at Bristol Motor Speedway wouldn't be complete without drivers and teams confronting one another in the pits afterward, and Sunday's Food City 500 delivered just that. The close confines of running at the tight, fast track wore competitors' patience thin, and caused a few tempers to boil over. Kyle Busch, who claimed a commanding pole position, rallied from an...
Bengals News

Delivered to your inbox

You'll also receive Yardbarker's daily Top 10, featuring the best sports stories from around the web. Customize your newsletter to get articles on your favorite sports and teams. And the best part? It's free!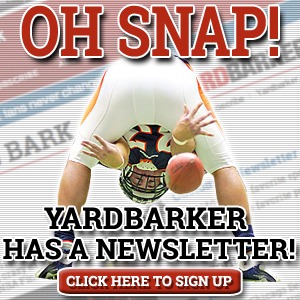 Latest Rumors
Best of Yardbarker

Today's Best Stuff

For Bloggers

Join the Yardbarker Network for more promotion, traffic, and money.

Company Info

Help

What is Yardbarker?

Yardbarker is the largest network of sports blogs and pro athlete blogs on the web. This site is the hub of the Yardbarker Network, where our editors and algorithms curate the best sports content from our network and beyond.