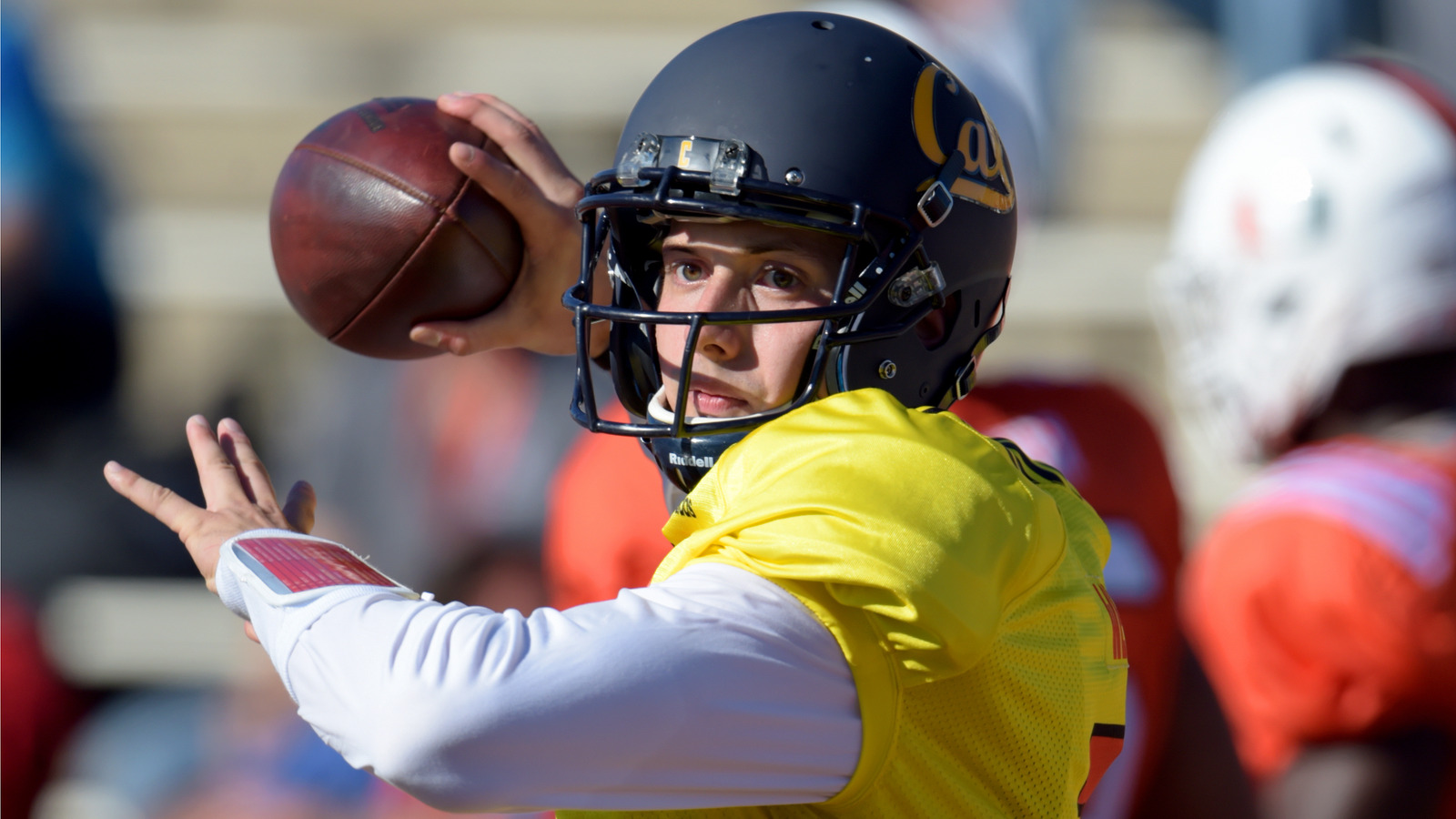 Jan 24, 2017; Mobile, AL, USA; South squad quarterback Davis Webb of California (7) throws a pass during practice at Ladd-Peebles Stadium. 
Glenn Andrews-USA TODAY Sports
The 2017 NFL Draft class runs deep with talent at many key positions, so it's only natural some of the best players aren't getting enough positive press.
Among them is a quarterback from Cal who is rarely mentioned among the top in this year's draft class — shades of the 2005 draft class maybe? — and the younger brother of an NFL star.
We've already covered a group of prospects getting more hype than they deserve. These upcoming players deserve more respect than they are currently getting. They'll end up making a big difference for the team's that draft them, despite not being as hyped as some of their peers.
1. Davis Webb, quarterback, Cal
Let's just start by saying we're not in any way suggesting Webb is going to be as good as Aaron Rodgers. Rodgers is in a class all by himself these days as the best the NFL has to offer. That out of the way, we will say Webb is being overlooked in much the same way Rodgers was when he came out of Cal Berkley before the 2005 NFL Draft.
While the likes of Mitch Trubisky, DeShone Kizer, Deshaun Watson and Patrick Mahomes are getting all the publicity, Webb remains very underappreciated on a national level. And he'll likely watch most of them get selected before him on draft day, much like Rodgers, who watched Alex Smith get selected before him in 2005.
It's understandable, to a degree. He only started one season for the Bears, which utilized a somewhat gimmicky offense. Before that, he had some huge games at Texas Tech his first two seasons as a collegiate athlete but didn't play an entire campaign in either of them.
Last year, Webb threw for 4,295 yards with 37 touchdowns and 12 interceptions. He is built like an NFL passer (6-foot-5, 229 pounds) and has some serious confidence to back up an NFL-caliber arm. He recently said teams have been telling him he's a first-round prospect, but we'll have to wait and see if that does come true.
2. T.J. Watt, EDGE, Wisconsin
It's pretty incredible how quickly Watt took to the defensive side of the ball. Originally recruited to Wisconsin as a tight end out of high school, he was asked to switch positions before the 2015 season. He appeared in eight games that year and was minimally effective before bursting onto the scene like a bat out of hell in 2016.
Last season Watt was a force off the edge for the Badgers. He racked up 63 total tackles, 15.5 tackles behind the line of scrimmage and 11.5 sacks. He turned his game up another notch in the final four games of the season as well, tallying 4.5 sacks, two forced fumbles and an interception, which he returned for a touchdown.
Playing with the same non-stop motor that has helped his older brother, J.J. Watt, into an NFL star, Watt has work ethic to succeed at the highest level. He also possesses the size (6-foot-5, 252 pounds) and athleticism to make big plays off the edge and had an outstanding combine that showed off these attributes.
As you can see above, his combine measurables were very similar to the ones his brother posted six years prior. And we all know what kind of impact Watt has had during his tenure with the Houston Texans.
Despite all this, T.J. Watt is seen as a Round 2 player. If that's indeed where he lands, then one lucky team will be counting its blessings.
3. Jeremy McNichols, running back, Boise State
One of the most productive college running backs the past couple of years, McNichols is usually not mentioned among the top running backs coming out in 2017.
All he did the past two seasons for the Broncos was total nearly 4,000 yards from scrimmage while scoring 53 touchdowns (43 rushing, 10 receiving). His ability to catch the ball out of the backfield makes him a perfect player for today's NFL, and he possesses the breakaway long speed that makes him a home-run hitter at the next level.
Furthermore, McNichols isn't a small guy, despite his short stature. He measure in at 5-foot-9 but weighed 213 pounds at the combine. He also ran his 40-yard dash in 4.49 seconds and was very quick on the 3-cone drill, running it in 6.93 seconds.
Now, it's worth pointing out that there are a bunch of very talented running backs in this year's class. So the fact that McNichols isn't getting much national publicity isn't all that shocking. Just don't be surprised if he ends up becoming one of the best of the bunch at the next level when it's all said and done.
4. Derek Barnett, EDGE, Tennessee
It's understandable that Myles Garrett has NFL scouts dancing a jig these days. In addition to the excellent game tape he put together the past three years at Texas A&M, he put up ungodly numbers at the combine and has prototypical size to dominate at the NFL level.
But he's not the only SEC edge player worth taking in Round 1 of the upcoming draft, and we're not talking about Auburn's Carl Lawson. Former Tennessee star pass rusher Derek Barnett deserves a bit more hype than he's gotten since the college season ended.
The past three years at Tennessee, he's improved his craft every single year and has the stats to show for it. Starting with nine sacks as a freshman, he landed 10 in 2015 and 13 in 2016. He's also brought down 52 ball carriers behind the line of scrimmage.
A guy who knows how to get around the edge and plays with strength against the run, Barnett is going to be a valuable player for an NFL team sooner rather than later.
5. Zay Jones, wide receiver, East Carolina
A guy most average fans hadn't heard of before the Senior Bowl or combine, Jones  has since opened up some eyes in a number of ways.
One of the big questions coming into the pre-draft process was what kind of impact the small-school receiver could have at the pro level. He answered at least some of them with flying colors during his week practicing for the Senior Bowl, a game in which he showed off his signature hands in spectacular style.
He also measured up as an NFL-sized receiver (6-foot-2, 201 pounds), ran a 4.45-second 40, showed explosion in his jumps and then wowed during the on-field portion of the combine workouts in Indy.
In particular, his 40 time stood out because there were questions about his speed heading into those workouts.
Of course, fans of East Carolina didn't need to see all that to know Jones is a special player. He is the all-time FBS leader in terms of receptions (399) and knows what to do with the ball once it's in his hands. In his four-year career with the Pirates, Jones hauled in 23 touchdowns and went for 4,279 yards.
He's a football-gobbling machine who often comes down with passes nobody else would have a chance at making.
6. Zach Cunningham, linebacker, Vanderbilt
In today's NFL game, a linebacker's ability to drop back into pass coverage cannot be overvalued. Of all the linebackers heading into the 2017 NFL Draft, Cunningham is the best of the bunch in this department.
A guy who didn't fly down the track at the combine (4.67-second 40) he plays with the frenetic energy of a hydrogen electron when pads are strapped to his frame. Though he's not the best linebacker out there in terms of taking on blockers, shedding them to make tackles at the line of scrimmage, Cunningham's ability to fly to the ball on running plays in addition to his coverage skills will make him an instant impact player at the next level.
The past two years at Vandy, Cunningham piled up 213 tackles, 4.5 sacks and 30.5 tackles behind the line of scrimmage. He also forced five fumbles, came up with seven fumble recoveries and defended four passes.
Because of guys like Reuben Foster, Hassan Reddick and Jarrad Davis, Cunningham is likely going to be a Day 2 pick in the upcoming draft. Those players have also overshadowed him in a huge way, and he deserves a bit more respect than he's getting.
7. Bucky Hodges, tight end, Virginia Tech
There are some darn good tight ends in this draft class. There are a couple first-rounders, in fact. Both O.J. Howard out of Alabama and David Njoku out of Miami will be off the board rather quickly.
But in terms of raw potential and a guy who could end up becoming a long-term starter and star, Hodges should be getting more recognition.
Hodges has played just three years at the tight end position after starting out as a quarterback. Yet he still managed to make an immediate impact as a redshirt freshman and was a steady producer for his three campaigns with the Hokies. During those seasons, he caught 133 passes for 1,747 yards and 20 touchdowns.
On top of that, he has the kind of size (6-foot-6, 257 pounds) and athleticism to become a star at the next level. That Hodges is an unpolished gem is unquestionably true. He still struggles as a blocker and must improve his hands. But there have been many NFL tight ends who went on to have big-time careers after entering the league with similar issues.
In a few years, Hodges might be viewed as one of the biggest steals of the draft. He'll probably come off the board late on Day 2, if not in the latter rounds on Day 3.
8. Ahkello Witherspoon, cornerback, Colorado
The NFL loves big bodied cornerbacks who can run fast and break up passes. Though still a raw prospect in terms of technical skill, Witherspoon fits this mold to a T.
He has an interesting backstory. Coming out of high school, he measured just 5-foot-8 (per NFL.com) and actually spent a season at Sacramento City Community College before making his way to Colorado as a sophomore in 2014.
He's now 6-foot-3.
A two-year starter at Colorado, Witherspoon really came into his own this past year, breaking up a jaw-dropping 19 passes to go along with his one interception. He a smooth mover for such a long-limbed fellow, has quick feet and proved his speed at the combine with a 4.45-second 40.
Just watch the Seattle Seahawks take this kid on Day 3 and turn him into the next Richard Sherman.
9. JuJu Smith-Schuster, wide receiver, USC
Okay. So we all understand that USC receivers have a bad rap for poor performances at the NFL level. But that doesn't mean every USC receiver will stink it up at the next level. One guy who hasn't in recent years is Marqise Lee, who is finally showing the promise that made him a second-round pick in 2014.
Smith-Schuster has some seriously impressive skill at running routes, finding open spaces between defenders and then making the most of his opportunities when he gets the ball. In three years with the Trojans, he caught 213 passes for 3,092 yards and 25 touchdowns.
He can also flip a switch and make some extraordinary plays (watch here).
Yet if you look around, many NFL draft analysts don't see Smith-Schuster as a guy worth taking until the third round for the most part. That's just crazy talk, as far as this scribe is concerned.
10. Marcus Williams, safety, Utah
And now we come to it. Our final entry. And it's a doozy.
Williams has the makings of a tremendous NFL free safety. He has the size (6-foot-1, 201 pounds), speed, quickness and best of all the instincts to be a dangerous NFL ball hawk.
In his three seasons at Utah, Williams was a productive player who developed into a feared defender on the back end for the Utes. He racked up 10 interceptions and eight other defended passes the last two seasons, hauling in five interceptions in each of them.
No, Williams isn't going to scare anyone defending the run, but that's not what he does. He's a pure free safety in the mold of Eric Weddle, who has been able to thrive in the NFL the past 10 years despite his smallish frame.
Yet we'll be surprised if Williams is drafted any earlier than the bottom half of Round 2. He will end up becoming more valuable in the long run than that, and he certainly deserves more respect.
PLAYERS:
Aaron Rodgers
,
Patrick Mahomes
,
T.J. Watt
,
Jeremy McNichols
,
Derek Barnett
,
Carl Lawson
,
Zach Cunningham
,
Reuben Foster
,
Bucky Hodges
,
OJ Howard
,
David Njoku
,
Ahkello Witherspoon
,
Richard Sherman
,
Marqise Lee
,
Eric Weddle
TEAMS:
Green Bay Packers
,
Seattle Seahawks
,
Baltimore Ravens
,
Houston Texans
,
Texas Tech Red Raiders
,
Wisconsin Badgers
,
Boise State Broncos
,
Tennessee Volunteers
,
Auburn Tigers
,
Vanderbilt Commodores
,
Alabama Crimson Tide
,
Virginia Tech Hokies
,
Miami Hurricanes
,
Colorado Buffaloes
,
USC Trojans
MORE FROM YARDBARKER
All Sports News

Delivered to your inbox

You'll also receive Yardbarker's daily Top 10, featuring the best sports stories from around the web. Customize your newsletter to get articles on your favorite sports and teams. And the best part? It's free!