Found February 05, 2013 on Puck Huffers:
Isles, last time we met it was the worst.  Tonight was for redemption. Win or lose, we had to get some honor out of this. And, of course, some goddamn awards.   MOST SILENCING The game has barely started and the Isles get a penalty for ***************. We can't even understand what they are doing yet in this game. Not because it's particularly bad, but because it's the Isles, and goddamnit haven't we played them five hundred times already?  What's that? Just once? But we're so sick of looking at them. You're about to say something ****** about the Pens PP being questionable, but before you can open your fat mouth, James Neal and Sidney Crosby show up at the faceoff circle like it's a duel. They pull their guns. Faceoff won, Sid passes it off the halfwall to James, who makes sure you'll wait until power plays are OVER to critique them. Out loud, at least. GOAL THAT HAPPENED THE LEAST Sid tries to get his first goal against Nabs, but it all ends up a *********** and Andrew ******' Macdonald, former Penguin, scrambles for it and tosses it out of the net. When you hear it's being reviewed you hope and pray it went over, but overhead cam tells you that there's no use hoping. Saved just in time. We'll pour one out for you, unborn goal. Right into our mouths.   THE LITTLE TANNER THAT COULD AWARD Things look kind of contentious on the ice early on. There are a lot of mumbles and grumbles. You can smell something brewing, and that just so happened to be Tanner Glass's hatred for anyone looking the wrong way at his captain. He throws down. He loses pretty bad.  Unlike when "it's the thought that counts" in gift giving (i.e. the gift is garbage and no one is getting laid) in hockey fighting it is true (read: even the loser will get laid.)  SATAN'S MOST CANDID APPEARANCE At first we assumed that God hated us. Then we remembered that God is dead so it must be the work of Satan when Sid hits the ice because of a high stick or a puck or a OH GOD I DON'T KNOW WHY IS THERE BLOOD HOLY ****. Pictures from before show that Sid saw Satan approaching. Pictures from AFTER are plentiful, because Sidney Crosby getting hurt is more important to any journalist than all of the players on the Pens and Isles scoring, combined.  We wish we could express our true unhappiness with that fact with Isles bloggers, who will obviously be facing the same photo pool as we are this evening. It's not that we think there should be fewer photos of sid, just can someone please god take more photos of goals? Maybe? Oh, **** it. He's off to the runway before we can throw our panties on the ice to let him know we're praying for his speedy recovery.  We throw them anyway. He's back before they hit the ice. Face of steel. GREATEST END TO HAZING Anytime something bad happens to babyfrenchie we assume that it's hazing - poor little guy, he's just playing for the after-game orange slices. We love him so hard. We don't think the guys will give him too hard a time after Kunitz got the puck to him and his response was to "WE'RE BUSY DIGITALLY ENHANCING SATURATION SO WE CAN SEE MORE OF SID'S BLOOD, GO AWAY" "No babyfrenchie?" "WHAT THE **** ARE YOU EVEN TALKING ABOUT." "Oh...nothing." "WAIT DID YOU MEAN THIS THING" "Yesssss!" "WOMEN AMIRITE" MOST COMFORTING 2 - 0 into the third? Guys, are we sure about this? Guys. This could be dangerous. Sutter hears our bellyachin' and wants to do something about it. The Isles look directly into a solar eclipse because a voice offstage whispered that it would be pretty. Thanks for the solid, buddy. Sutter makes the most of it. ... Well. Take our word for it. BEST $14 EVER SPENT Thirty five seconds. In thirty five seconds, it all almost falls apart.  Grabner and Boyes score consecutive goals. Isles fans piss their $14 seats in excitement. MOST THANKFUL TO DEAD GOD Kunitz uses the empty net to make it appropriate for us to yell "suck our dicks" at strangers in Isles jerseys. Well...more appropriate than it was before, at least.   Pens Win, dicks! INDIVIDUAL AWARDS GOOD GAME Nabs, boys, you did pretty well. It wasn't the prettiest game. Goddamn you for those two goals. But this one was fun as hell to watch. WORST HIGH FIVE "Come on Kris, we went over this in practice." ALT THREE STARS 1. Satan - for having bad aim and missing Sid's vitals. Dick. 2. Pepper. Always a professional. 3. Babyfrenchie. AWWWWWWW. Good hockey.  Team looking good. Loving it. Go Pens.
Original Story:
http://www.puckhuffers.com/2013-artic...
THE BACKYARD
BEST OF MAXIM
RELATED ARTICLES
VULCANIZED RUBBER HURTS
Tweet Pittsburgh Penguins captain Sidney Crosby is arguably the NHL's biggest superstar. However, he's had a difficult time maintaining his status of a household name over the past couple of years. Over two seasons from 2010-2012, Crosby missed 101 regular season games out of the 164 that were played due to complications from concussions. Knowing [...]
Pittsburgh Penguins star Sidney Crosby took a wicked puck to the face during the second period of Tuesday's game against the New York Islanders. The accident forced the Penguins captain out of the game and off the ice as he suffered considerable bleeding.The incident occurred during a Pittsburgh power play when Crosby got tangled up with Islanders defenseman Brian Strait. Crosby...
Perhaps it's anger over their team moving to Brooklyn. Maybe it's anger over their team being irrelevant for almost thirty years. Or maybe Sidney Crosby is just that hated around the NHL. Tuesday night, the NHL's poster boy Crosby took a puck to the face while his Penguins were in Long Island to take on [...]
Pittsburgh Penguins superstar Sidney Crosby was injured and missed a few shifts during Pittsburgh's game against New York Islanders at Nassau Veterans Memorial Coliseum on Tuesday evening. During a Penguins power play, Crosby skated across the offensive zone, outside the front of the crease toward the circle when a feed inside rode up and struck him in the face. Crosby immediately...
Pittsburgh Penguins captain Sidney Crosby was injured early in the second period against the New York Islanders when he was struck in the face by the puck, but quickly returned to the game. During a Penguins power play, Crosby skated across the right circle in the New York end -- near where Islanders defenseman Brian Strait was crouched -- and was clipped by the puck. Crosby'...
Pittsburgh Penguins captain Sidney Crosby was injured early in the second period against the New York Islanders when he was struck in the face by the puck, but quickly returned to the game. During a Penguins power play, Crosby skated across the right circle in the New York end - near where Islanders defenseman Brian Strait was crouched - and was clipped by the puck. Crosby's...
Yesterday, we posted a video of NHL referee Chris Rooney getting hit the face with a deflected puck and last night, Pittsburgh Penguins star Sidney Crosby was feeling the same pain. The incident happened in the second period of play against the New York Islanders defenseman Brian Strait attempted to get his stick on the puck: Watch as the puck deflects right off Crosby'...
Myles Crosby, a high school defensive back from Texas, announced earlier this week that he will sign a letter of intent to play Division I college football at SMU. The 6-foot-3, 205-pound safety is a two-star recruit and is ranked nowhere near the top at his position, but there's one particular bit of information that makes his story noteworthy — Crosby is a nationally-recognized...
Image courtesy of the Chicago Tribune If you thought Philly fans hated Sidney Crosby, apparently its not just us.  During Tuesday's game vs the New York Islanders, Sidney Crosby was struck in the face with a puck. Crosby, bleeding on the ice, was hearing cheers, and "Crosby Sucks" chants. See national media, its not just Philadelphia! (SB Nation) The Flyers defeated...
Forever linked, Sidney Crosby and Alex Ovechkin are going in different direactions...rapidly. (Clydeorama) The Washington Capitals are in Pittsburgh, Pennsylvania to take on the Penguins this evening as they continue to look for a boost in form.  The Capitals, having lost two in a row, most recently a 3-2 decision at the hands of the Leafs Tuesday are 2-7-1 on the season for...
By now, if you're a fan of hockey in the slightest, you've noticed a glaring initiative by officials to protect the game's players. Concussion awareness and player safety have been hot-button issues for years ever since devastating injuries to Marc Savard and Sidney Crosby. But as hard as the league has been coming down on players for hitting players in defenseless...
from ESPN, Top player jersey sales on NHL.com for January, according to a Sports Business Daily story that cites Shop.NHL.com: 1 Flyers RW Claude Giroux 2 Blackhawks C Jonathan Toews 3 Penguins C Sidney Crosby 4 Rangers RW Ryan Callahan 5 Penguins LW James Neal  continued (for 20 more)
Penguins News

Delivered to your inbox

You'll also receive Yardbarker's daily Top 10, featuring the best sports stories from around the web. Customize your newsletter to get articles on your favorite sports and teams. And the best part? It's free!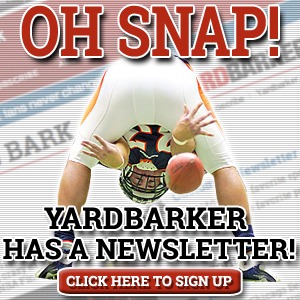 Latest Rumors
Best of Yardbarker

Today's Best Stuff

For Bloggers

Join the Yardbarker Network for more promotion, traffic, and money.

Company Info

Help

What is Yardbarker?

Yardbarker is the largest network of sports blogs and pro athlete blogs on the web. This site is the hub of the Yardbarker Network, where our editors and algorithms curate the best sports content from our network and beyond.