Found August 01, 2012 on Midwest Sports Fans:
During its coverage of the 2012 Summer Olympics Opening Ceremony, NBC cut away from a tribute to terrorism victims to air a Ryan Seacrest interview with Michael Phelps. Seacrest asked Phelps something to the effect of, "If you break the record for the most career Olympic medals, will you be the greatest Olympian ever?" The correct answer would have been, "That's a clown question, bro." Phelps instead said that he would wait until after the games to answer. Michael Phelps shows off his 19th career Olympic medal, a gold for the 4 x 200 freestyle relay. (Photo by UPI/Brian Kersey) Is Michael Phelps the Greatest Olympian Ever? Yesterday Phelps won career Olympic medals 18 (a silver in the 200 butterfly) and 19 (a gold in the 4 x 200 freestyle relay) to break Soviet gymnast Larissa Latynina's record and become the most decorated Olympian in history. (Latynina won 9 gold, 5 silver, and 4 bronze medals in 1956, 1960, and 1964.) Phelps has three more races and will likely add to his total. At the very least, he will almost certainly medal in the 4 x 100 medley relay; and it would be a surprise if he didn't also pick up some hardware in the 200 individual medley. Is he now history's greatest Olympian? Is it really fair to declare anyone the "greatest Olympian," whether of a single games or of all time? In my mind it is impossible to compare one person's performance in a team sport to another's performance in an individual sport. Even within individual sports, there's a big difference between match-play sports (such as table tennis and boxing) and sports in which an individual competes against a field (such as swimming and running). Some sports (volleyball and tennis, for example) require athletes to spend their entire two weeks at the games working toward one or two medals; others (swimming and gymnastics, for instance) give some athletes opportunities to win several medals in the span of a few days. Soviet gymnast Larisa Latynina held the title of "most decorated Olympian" for an incredible 48 years. And any discussion of all-time greatness must balance an athlete's greatness at his or her peak and his or her longevity. Who, for example, was greater? American Eric Heiden, who arguably had the greatest single Olympic games in history, winning gold in all five men's speed skating races at the 1980 Winter Olympics in Lake Placid, but only did it once; or Italian Edoardo Mangiarotti—who won his first of 13 fencing medals in 1936 in Berlin and his last 24 years later in Rome. One could make a strong case that any one of several Olympic athletes was the best ever. Latynina still has a strong case, even though Phelps has surpassed her record. (Oddly, I don't think I've ever heard anyone make that case. It may have something to do with lingering Cold War animosity.) Latynina won the individual all around in both 1956 and 1960, and she won silver in the event in 1964 at the age of 29 (which is, like, 72 in gymnastics years). But I think one can make a convincing case that Phelps is, in fact, the greatest Olympian ever, and not only because he has more medals than anyone else. The Case Against Phelps It seems obvious that the person with the most overall medals and the most gold medals would be the greatest Olympian ever. But the knock against Phelps is that he's a swimmer. The men's swimming program at the Summer Olympics includes 16 events (13 individual and 3 relays), each of which awards a gold, silver, and bronze medal. Like running races, swimming races vary in length; and a sprinter who specializes in the 50 and 100 freestyle is rarely suited to swim the 400 or 1500 freestyle. But unlike in running, swimming also has four different stroke disciplines. And it isn't unusual at all for a swimmer who excels in the 100 and 200 freestyle to also excel in the 100 or 200 butterfly or 100 and 200 backstroke. Someone who excels in at least two different strokes will probably do pretty well in the individual medley races as well. While swimmers can appreciate the differences between the stroke disciplines, these differences aren't nearly as stark as those between the different apparatus in gymnastics, the other sport in which athletes are known to win several medals at a single games. Swimmers have opportunities to win medals that aren't available to other Olympians. The Case For Phelps But Phelps is unique even among swimmers. No other swimmer has won more than 12 career medals (7 short of Phelps' 19); no other male swimmer has won more than 11. And while a few other swimmers (Americans Mark Spitz, Matt Biondi, and Natalie Coughlin, plus East German Kristin Otto) have won 6 or 7 medals at a single Olympics, Phelps is the only swimmer ever two win 6 or more medals twice. (He twice won 8.) It's not just the Phelps is doing things that have never been done before; it's that he's doing things that no one has ever come close to doing before. Phelps swims the 200 butterfly, one of his signature events. (Photo by Bob Donnan, USA Today Sports) Still not convinced? Here's a list of Phelps superlatives: Here's a List You Can Use in Phelps-Is-the-Greatest Arguments –There have only been three occasions in Olympic history in which an athlete has won 8 medals in a single games. Phelps did it twice (8 golds in 2008; 6 golds and 2 bronze in 2004). The other was Russian gymnast Alexander Dityatin, who won 3 gold, 4 silver, and 1 bronze at the 1980 games in Moscow, games that the United States and 64 other countries boycotted in response to the Soviet Union's invasion of Afghanistan. –Phelps currently owns 15 Olympic gold medals. No one else in history has won more than 9. (Among male swimmers Spitz has 9 and Matt Biondi has 8.) –Phelps holds the record for most gold medals in individual events, with 9 – 4 in 2004 and 5 in 2008. (Regardless of what happens the rest of the way in London, he will still be short of Latynina's record of 14 overall individual medals. Phelps currently owns 11 individual medals – 9 gold, 1 silver, 1 bronze – and could win two more this summer.) –Phelps is one of only two athletes to win 5 individual gold medals at a single games. The other was speed skater Eric Heiden, who won 5 individual golds at the 1980 Winter Olympics in Lake Placid. –Swimming is one of the few sports in which an athlete could realistically win 8 medals in a single Olympics or 19 during a career. But, as I mentioned above, Phelps stands alone even among swimmers. No other swimmer has won more than 12 medals. Three American women: Jenny Thompson, Dara Torres, and Coughlin each have a dozen medals to their credit. For the men, Spitz and Biondi are tied for second with 11. –Phelps broke 7 world records on his way to 8 gold medals in Beijing, matching Spitz's 1972 mark for world records in a single games. He also broke a world record in the 400 individual medley in 2004 in Athens. –Phelps has swam in four Olympics. He swam the 200 butterfly in 2000 in Sydney when he was only 15. As a 19-year-old, he won 6 gold and 2 bronze medals in 2004 in Athens; and when he was 23 he famously won 8 gold medals in Beijing. So far in London, he has one gold and two silver medals, with three races still on his schedule. –If swimmers have an advantage in the number of events available to them, they have a disadvantage when it comes to qualifying for the Olympics in the first place. Simply making the USA swimming team is an accomplishment. More than 1500 swimmers compete at the Olympic team trials, and only the top two swimmers in each event move on to the Olympics. It's not at all unusual for one of the world's best swimmers in a given event to fail to make the American team. Phelps qualified for 5 individual events at three consecutive Olympic trials. (He qualified for, but dropped, the 200 freestyle this year.) That's unheard of. *** And "unheard of" is a great description for Phelps' Olympic accomplishments, because they are truly are unprecedented. But whether or not he is the "Greatest Olympian Ever" is a subjective debate with reasonable arguments on both sides. Which side are you on? Note: There is a poll embedded within this post, please visit the site to participate in this post's poll. Feel free to present your argument below. *****
Original Story:
http://feedproxy.google.com/~r/Midwes...
THE BACKYARD
BEST OF MAXIM
RELATED ARTICLES
Michael Phelps, meet history. With the United States' gold-medal winning swim in the 4x200-meter freestyle relay Tuesday night at the Aquatic Centre in London, Phelps surpassed Soviet gymnast Larisa Latynina as the most decorated Olympian in history. Phelps' three medals in London give him 19 for his career, one more than the mark set by Latynina in three Olympics between...
Michael Phelps told them "thank you," which seemed like a pretty strange thing for a man who had just become the most decorated Olympic athlete of all time to say to teammates huddled around him after Tuesday's 4x200 gold medal-winning freestyle relay. "Thank you," American swimmer Ricky Berens said in response because, well, "you're welcome&quot...
Michael Phelps became the most decorated athlete in Olympic history two days ago, claiming his 19th medal over three different games and passing famed gymnast Larisa Latynina. Phelps now stands alone at the top of a prestigious mountain, one that few have ever been privileged enough to ascend. A little Taiwanese animation seems fitting for such a feat, wouldn't you agree?
Four years after he climbed to the top of Olympic achievement, Michael Phelps took the last step he needed to reach the absolute peak. The greatest swimmer of all time became the most decorated Olympian of all time when he won a record 19th Olympic medal at the London Games on Tuesday. With a little help from his American relay teammates (including Winnetka's Conor Dwyer), Phelps...
Phelps wins Olympic showdown with Lochte, earns 16th gold medal Michael Phelps wins men's 200 individual medley for record 16th Olympic gold and 20th overall today. He beat fellow American Ryan Lochte.
Ronda Rousey used her big mouth and devastating arm bars to become one of the most well-known female fighters in the country, but now she's upset with the media for making her look bad and she's trying to clarify her views. Rousey gave an interview to MMA Today where she talked about her controversial Kim Kardashian and Michael Phelps comments that received so much attention...
Michael Phelps may be the most popular athlete in the world right now, but that doesn't mean he's above acting like an excited fan when he receives tweets from celebrities. Phelps, who added to his record Olympic medals total with a gold in the 200-meter individual medley on Thursday, spent a portion of his time the past few days responding to congratulatory tweets. Two in...
It's fair to say the American medal magnet collected a sack full by conquering water the way England sacked the world when it ruled the seven seas. Everyone goes home a special prize. If Elizabeth I was brave enough to knight an old pirate like Sir Walter Raleigh, Elizabeth II ought to do the same for our newest buccaneer. Who wouldn't want to see that happen? Since he broke...
Michael Phelps won the gold in the 200 meter individual medley today, besting teammate Ryan Lochte who brought home the silver. Phelps became the first male swimmer to win the same event three... Full story at Bob's Blitz ~ http://www.bobsblitz.com
Joltin' Joe D As I am sitting here drinking a Founders Cerise Ale, watching Michael Phelps fly into the records books a question pops into my head.  Whose record will stand for a longer period of time: Joe DiMaggio or Michael Phelps?  This is a great barroom argument so have fun with it and let me know who you think will be standing tall in the record books for a longer period...
Congrats to Michael Phelps for breaking the all-time Olympic medal record. You've made your country proud. -bo — Barack Obama (@BarackObama) August 1, 2012 When Michael Phelps woke up Wednesday morning and began scrolling through thousands of Twitter mentions congratulating him on becoming the most decorated Olympian of all time, Michael Phelps found one name in particular that...
Go for the gold -- but should you succeed, be prepared to dole out some gold of your own. The U.S. Olympic Committee awards prize money to American medal winners: $25,000 for gold, $15,000 for silver, $10,000 for bronze. That prize money is taxed at a rate of 35 percent, Americans for Tax Reform calculated. On top of that, the medals themselves are taxed: You only have to fork over...
All Sports News

Delivered to your inbox

You'll also receive Yardbarker's daily Top 10, featuring the best sports stories from around the web. Customize your newsletter to get articles on your favorite sports and teams. And the best part? It's free!
THE HOT 10: Who's Trending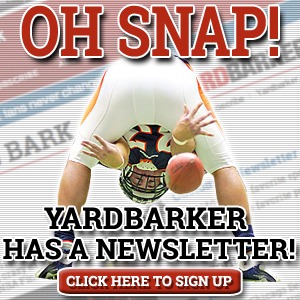 Latest Rumors
Best of Yardbarker

Today's Best Stuff

For Bloggers

Join the Yardbarker Network for more promotion, traffic, and money.

Company Info

Help

What is Yardbarker?

Yardbarker is the largest network of sports blogs and pro athlete blogs on the web. This site is the hub of the Yardbarker Network, where our editors and algorithms curate the best sports content from our network and beyond.