Found October 05, 2012 on Obsessed With Sports:
Michael Wilbon is currently in the midst of a mud-slinging beef with another DC-area writer Dan Steinberg. Read all about it (with some apparent biases) here.
I can sum this whole thing up in on sentence. Wilbon said D.C. is a "terrible" sports town, while Steinberg disagrees.
Magary (at Deadspin) finds Wilbon to generally act like a smug prick to the common man. I don't personally know either Steinberg or Wilbon. I've said maybe a dozen words to Wilbon at a conference or other sporting event. With that said, I wouldn't be surprised if he is an asshole.
The thing is, Wilbon is likely right — D.C. really does kind of suck as a sports town. Many inhabitant of the District aren't from there. In the long-run most could give a hoot about the Nationals, for example. But Wilbon did say one outright dumb thing during this whole thing. Wilbon, whose ritzy ass is said to be paid in the area of $8M by ESPN, stated that L.A. is a better sports town than D.C. What an awful example to use. L.A.? Really? I find those two cities to be two sides of the same coin. They both suck when it comes to sports fandome.
Yes, L.A. and D.C. are quite different in many ways. However, you can see in the picture above why L.A. and D.C. each have their flaws. That's Wilbon yucking it up with the Pres. That's what is most important about going to any event (including sports) in Los Angeles and the District. You go to these events to be seen at a game, not to see a game.
Of course, no one really gives two ***** about what is happening on the field of play. Both L.A. and D.C. are only one step above Miami when it comes to fanhood. Exhibit A.
These are cities that do "white out" nights, bobblehead give-a-ways, etc. You don't often see that stuff in Chicago, New York, and Boston. That fluff isn't needed to get people through the turnstiles in those cities.
Beyond his poor choice of a comparison point, Wilbon has other shortcomings here. Maybe most importantly, it's damn lame for Wilbon to tweet/facebook angry jabs at Steinberg. As I said; Wilbon is a HCE (highly compensated employee) at ESPN. To find it necessary to go after a blogger (albeit a great one), is a bit much.
I'm not sure where Steinberg's journalism degree is from. That's largely because (shockingly) when you search on Google there are dozens and dozens of Dan Steinberg lawyers and doctors flooding the results.
On the other hand, Wilbon and his Northwestern j-school degree certainly have an air of arrogance about them. The thing is, if Wilbon truly believes he is "above" someone like Steinberg, he shouldn't feel the need to trade shots. But as Wilbon put it…
So congratulations on that, Michael.
At first it was difficult for me to understand why Kobe Bryant or Jay-Z doesn't embrace social media the way other ballers and rappers do. But it's actually simple. They don't need it. If they were concerned with @replies and wall posts, they would find a whole lot of hate awaiting them. That's what happens when you are at the top of a profession. Right or wrong, that's where Wilbon is. He's at the pinnacle and is one of the faces of ESPN. Instead of using that position to **** on a newspaper writer, just watch the throne, Wilbon. Just watch the throne.
Original Story:
http://www.obsessedwithsports.com/201...
THE BACKYARD
BEST OF MAXIM
RELATED ARTICLES
Michael Wilbon, whom you know from his work as a co-host on PTI and ESPN/ABC's NBA coverage, got into a sparring match with The Washington Post's Dan Steinberg over Washington D.C.'s status as a sports town.The Internet fight began over Wilbon's criticism of D.C. as a sports town in the DC sports issue of ESPN the Magazine. Steinberg, who runs the outstanding DC Sports Bog...
Michael Wilbon stirred up the sporting world, especially the D.C. sporting world earlier in the week with comments he made disparaging the D.C. "sports scene". A D.C. sports writer, Dan Steinberg and fellow ESPN'er, Bram Weinstein took particular exception to Wilbon's comments. A nice synopsis of this feud can be read here as I choose not to bog down this post...
What if I told you the nastiest media feud of the year started with an innocuous Washington DC based edition of ESPN The Magazine?  What if I told you that feud involved notable DC columnists past and present?  What if I told you it also involved not-so-friendly fire between fellow ESPNers?  What if I told you one of the most prominent figures in the industry called a...
While We're Waiting serves as the early morning gathering of WFNY-esque information for your viewing pleasure. Have something you think we should see? Send it to our tips email at tips@waitingfornextyear.com. I'm unreasonably excited for the Cavs open scrimmage tonight. And it seems I'm not the only one, as the Cavs have distributed all of their free tickets. "The 6-foot...
Lakers News

Delivered to your inbox

You'll also receive Yardbarker's daily Top 10, featuring the best sports stories from around the web. Customize your newsletter to get articles on your favorite sports and teams. And the best part? It's free!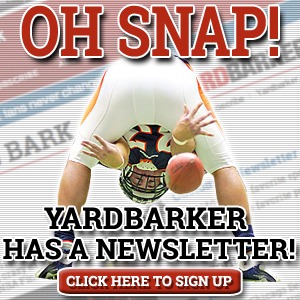 Latest Rumors
The Backyard

Today's Best Stuff

For Bloggers

Join the Yardbarker Network for more promotion, traffic, and money.

Company Info

Help

What is Yardbarker?

Yardbarker is the largest network of sports blogs and pro athlete blogs on the web. This site is the hub of the Yardbarker Network, where our editors and algorithms curate the best sports content from our network and beyond.