The bad thing about mid-season finales is just that: We're cut off halfway through the season. Just when we're in the midst of reflecting on all that we've seen and expressing our love and appreciate for a great show, like, 'The Walking Dead,' the rug is ripped out from under us. Us: Wow, AMC, this season has so many great characters and the dual storylines and crossover have been terrific, and you finally killed off Lori! Thank you! AMC: You're welcome. We love that you're loving it! And since you're loving it so much, we're going to go away while the getting's good! See you in a few months! Us: Oh…Uh…Well…OK… Yes, sadly, many cable channels take mid-season breaks, hibernate for a few months to and avoid low ratings during the holidays and maybe allow another show or two to have some airtime. BUT mid-season finales deserve more attention from the networks and as a result we get ONE OF THE BEST HOURS OF THE WHOLE SEASON! 'The Walking Dead' might be done until February, but at least it went out in gripping fashion. Rick and co. stormed Woodbury! Glenn and Maggie were rescued! Michonne stabbed The Governor through the right eye with a nasty shard of glass from one of his zombie-head fish tanks! Penny GOT OWNED by Michonne's sword! Axel is a borderline pedophile! Daryl got taken captive! We lost Oscar! Shane had a cameo! And…….CUTTY FROM 'THE WIRE' JOINED THE CAST! Thank goodness Rick entered the zombie apocalypse with significant police experience. The man is just flat-out ready for any situation involving guns and bad guys, including a tactical assault on a semi-fortified town in the middle of a zombie-infested county. Rick, Daryl, Oscar, and Michonne storm in quick (Michonne ditches them in, like, two seconds, because she's Michonne and does whatever she wants), they grab Glenn and Maggie, and make a break for the wall. The shoot-out in the street was pretty well-done. While there weren't significant casualties, the show followed through on its refreshing knack for single-frame kills, usually done with over-the-shoulder camera work. It's a tactic employed not nearly enough in general. The only thing Rick isn't prepared for: A random vision of Shane walking forward with a shotgun. Yes, Shane made his first (and likely only) appearance of the third season in hallucination form. Rick doesn't shoot him, and Shane holds up his shotgun and sends a round into Oscar's side. When Rick realizes he's seeing things (it beats hearing things, I guess?), it's too late. He pops one in fake-Shane and hops over the wall. Michonne, meanwhile, is just hanging out looking all sinister in The Governor's pad, waiting for the big man to come on in so she can plunge her sword through his chest. But a strange gasping sound in the adjacent room grabs her attention and who does she come upon? Penny, The Governor's zombified daughter, all chained up in her hole in the wall. Conveniently, it's also the zombie-head fish tank room. We see a true moment of softness in Michonne when she initially thinks it's a real little girl under the hood. But when the mask comes off she instantly reverts back to survival mode and is about to strike her down when The Governor walks in on them. But Michonne, ruthless as ever, doesn't let that stop her. She shoots her sword through the back of Penny's head, igniting The Governor's dark side. A huge brawl breaks out, fish tanks are smashed, and Michonne breaks off a sharp shard of glass and digs it into The Governor's right eye. Andrea hurries in to save the day, they have a brief standoff, and Michonne finally leaves her to tend to her injured boyfriend (The Governor and Andrea are totally dating now, right??). After The Governor gets his eye patched up, we learn Woodbury has Daryl as a hostage, and, in a really slimy move from their a-hole leader, the whole invasion of Rick and co. is placed on Merle's shoulders. Yup, after requesting his loyalty before Rick and Daryl stormed in, The Governor sells Merle out and pits him against Daryl in what we're expecting to be some sort of fight to the death. Talk about a dick move. Merle, appropriately, looks pissed. Imagine if Daryl and Merle somehow make it out together? They'll be like the redneck versions of The Bash Brothers from The Mighty Ducks. BUT THAT'S NOT ALL. The prison wasn't completely ignored in this episode. In fact, new house guests arrived! With walkers! The episode opens with a man named Tyrese (Cutty from 'The Wire'!) bashing in some walker heads as he's leading his own small group (five total) through the woods by the prison. One of the women gets bit before they make it safely inside and are rescued by Carl, who locks them in the same part of the cell block that Michonne was locked in when she initially showed up. They come off as good enough people — morally speaking — but obviously this will prevent a conflict when the season resumes, as Rick has no idea they've shown up. Speaking of morals, Axel has no problem awkwardly/creepily flirting with Beth, even blatantly asking her how old she is at one point (she's 17, man, so back off. Besides, she clearly already wants Carl's D). He then tries his moves on Carol, who he originally took for a lesbian because of her short haircut. Can he please be killed off next? The prison will be a target for the entirety of the second half of the season. The Governor and his Woodbury mercs know that's where the survivors are holed up, and obviously they're going to want to storm the gates to eliminate what they see as a threat. The first half of Season 3 of 'The Walking Dead' struck the perfect balance: We feel like so much has already happened (and, really, a lot has happened), but, at the same time, we feel like we're just on the cusp of soooooooooo much more. Join me in begrudgingly accepting the fact that we won't see this show again until February. Sure, it's not fair to leave us hanging smack in the middle of something so good. But, I think we're all willing to admit it's going to be worth the wait.
Original Story:
http://thenosebleeds.com/the-walking-...
MORE FROM YARDBARKER
All Sports News

Delivered to your inbox

You'll also receive Yardbarker's daily Top 10, featuring the best sports stories from around the web. Customize your newsletter to get articles on your favorite sports and teams. And the best part? It's free!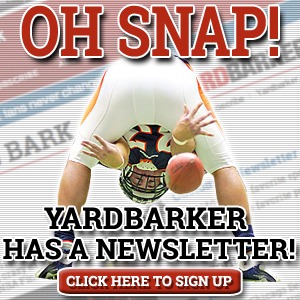 Latest Rumors
Best of Yardbarker

Today's Best Stuff

For Bloggers

Join the Yardbarker Network for more promotion, traffic, and money.

Company Info

Help

What is Yardbarker?

Yardbarker is the largest network of sports blogs and pro athlete blogs on the web. This site is the hub of the Yardbarker Network, where our editors and algorithms curate the best sports content from our network and beyond.