Found January 17, 2014 on Waiting For Next Year:
Terry Francona had much to celebrate in 2013(AP Photo/Ann Heisenfel) Sports Illustrated's Sportsman of the Year is an annual must-read. Given that the national recognition rarely has anything to do with the teams or individuals whom we cover, WFNY writers have been giving their nominees for our own Sportsman of the Year. After an internal vote, WFNY is pleased to announce the winner of the inaugural WFNY Sportsman of the Year award. What is a Sportsman? I wondered if it was even a real word. So I looked it up in the dictionary1, and sure enough, it is a real word. The definition of 'Sportsman' is "a person who engages in sports (as hunting or fishing)". But if you ask the staff of WFNY, the definition of 'Sportsman' is Terry Francona. As if there was ever any doubt. The exercise of nominating candidates has been a lot of fun. Taking a couple weeks to look back and reflect on all the different individuals who impacted our lives as Cleveland sports fans in some way in 2013. There was no singular way of looking at this award. Nominees came in all different types, roles, sports, etc. The one common thread found throughout all the nominees was a tangible sense of impact. And that's the neat thing about sports. "It's just a game", "It's just a bunch of grown men being paid millions to play a kids game", "Don't let the billionaires and millionaires ruin your day". We've heard them all. It's easy to downplay sports and the role they play in our adult lives. So why do we keep coming back? 2013 was mostly a rough year between the lines in Cleveland sports. But it was the Cleveland Indians that saved us all from total sports depression. And that's what brings us back to sports time and time again. For all the misery and heartbreak you can go through, the sense of community and fellowship you gain in sports trumps them all. Sports can be the generational bond between family and friends. Sports can provide us with some of the most impactful moments of our lives. Voting results from the WFNY staff Terry Francona may not be able to deliver the kind of in-game moments as nominees such as Josh Gordon, Kyrie Irving, and Jason Giambi delivered in 2013, but when it came time for WFNY to vote on our Sportsman, the unanimous winner was Francona. The reasoning is simple enough. TD beautifully laid out all the reasons in his nomination post, but to summarize, it essentially boils down to winning. Francona delivered Cleveland just a small taste of the one thing we've all been starving for, postseason play. Of course, there's more to Francona than just that. Winning 92 games and earning a wild card bid was exciting, but to really understand Francona's impact on Cleveland, you have to understand some of the context surrounding the wins. Remember, this is a guy that accepted the Cleveland Indians managerial post when all of us laughed at the suggestion of him being a candidate. We didn't laugh because we didn't think he was qualified. We laughed because there was no way such highly esteemed and respected figure in baseball would take a job managing the lowly 96 loss Indians. To all of our surprise, Francona jumped at the opportunity and started turning this team around from the very instant he set foot in Cleveland. That's the beautiful thing about a guy like Francona. He didn't see the Indians as a 96-loss team. He never waivered once…not in his own calm confidence in his abilities nor in his confidence in his guys. And make no mistake, these definitely became "his guys". Francona's success as a manager has always been a testament to his level headed demeanor and his genuine love for his players. Francona has always believed that if a team can come together as a family and truly care for one another, the players will all feel a responsibility and a sense of duty to do whatever they can for the good of the team. And when that happens, the team can become something more than the sum of its parts. Francona's managerial philosophy has perhaps never been tested quite like the 2013 Cleveland Indians. This wasn't a Major League-esque story. The Indians didn't miraculously win the pennant. They didn't even win their division. But what they did do was find a way to persist. Francona oversaw a club that refused to ever give in. They didn't give up in late innings when trailing. They didn't give up when the AL Central deficit grew. They didn't give up late in the season when the Wild Card odds appeared long. The team never panicked. The players took on the identity of their manager, and they remained focused on their own confidence. They stayed calm and level headed. And when they needed it most, they rallied for 10 straight wins to finish the season and to earn the city of Cleveland its first taste of playoffs since LeBron James left town. And in doing so, Terry Francona gave all of us a memory that will last forever. This wasn't the best Indians team we've seen in our lifetime, but it's one of the most memorable. I think all of us will carry a soft spot in our hearts for this team and its manager for the rest of our lives. Terry Francona wins by making sure his players become "his guys". But in 2013, Cleveland sports fans saw Terry Francona become "our guy". Francona knew what was at stake in Cleveland. He knew this wasn't a huge spending franchise. He knew the odds would always be against him. But he took the job anyway. He said 'yes' to Cleveland. And best of all, he won. He delivered on his vision and we all got to watch and celebrate vicariously through the TV as the Champagne Shower covered the Indians locker room. We all felt that moment together as a sports community. And none of it would be possible without Terry Francona. And so, from all of us at Waiting For Next Year, we could not be happier or more proud to announce the winner of our first ever WFNY Sportsman of the Year: Terry Francona.___________________________________________________ Footnotes: Actually, I looked it up on the internet. It's been a very long time since I've actually opened a physical Dictionary
Original Story:
http://www.waitingfornextyear.com/201...
THE BACKYARD
BEST OF MAXIM
RELATED ARTICLES
After a 2013 Wild Card game performance in which Asdrubal Cabrera went 0-for-4 with a strikeout and the single most deflating play of the season, a double play in the bottom of the 4th with the bases loaded, the phrase 'bounce back' was not an appropriate word for Cleveland audiences. However, as the Browns' and Cavaliers' seasons have progressed and impressed upon fans'...
Around the Farm (ATF) takes a quick look at some of the daily performances by Indians prospects. This is a special fall and winter ball version of ATF that recaps all the offseason action by Indians players in offseason winter ball leagues.  The positions listed below are where the player was playing in the game. Cabrera wants to play (The following details are from Venezuela news...
Carlos Santana is spending his offseason preparing for a potential move to third base, according to a report from ESPN Deportes. Santana hasn't played more than a handful of games at the hot corner since 2006, when he was in the Dodgers' minor-league system, but he has committed himself to re-learning the position during winter ball in the Dominican Republic. Santana recently...
New left-handed reliever Josh Outman agreed to a $1.25 million deal in 2014 with the Cleveland Indians, the first of likely many arbitration-eligible deals to be announced shortly. Famously, Cleveland has avoided going to an arbitration hearing since 1991. This season, six total players filed for arbitration — ace Justin Masterson, outfielder Michael Brantley, right-handers Vinnie...
The Indians avoided salary arbitration with reliever Marc Rzepczynski by agreeing to a one-year contract worth $1,375,000. The left-hander posted a 0.89 ERA in 27 games last season for Cleveland, which acquired Rzepczynski (zep-chin-ski) on July 30 from St. Louis. The 28-year-old was brought in to help Cleveland's issues in getting out left-handed hitters and he held lefties...
Indians All-Star starter Justin Masterson has asked for $11.8 million in salary arbitration, a figure that's $3.75 million above the club's offer for 2014. Masterson's gap - Cleveland is offering $8.05 million - is the largest among pending cases. Masterson went 14-10 with a 3.45 ERA in 32 appearances last season, when he was Cleveland's most dependable starter...
Around the Farm (ATF) takes a quick look at some of the daily performances by Indians prospects. This is a special fall and winter ball version of ATF that recaps all the offseason action by Indians players in offseason winter ball leagues.  The positions listed below are where the player was playing in the game. Dominican Winter League Carlos Santana (Leones del Escogido, 3B)...
The Indians have officially signed right-handed pitcher Danny Carela, shortstop Audy Ciriaco and shortstop Miguel Eladio to minor league deals. None of the deals carry a major league invite. Carela, 26, is a big, physical right-hander who has bounced around in the minors the last five years pitching with the Mets, Dodgers, Phillies and even Joliet from the independant Frontier League...
In this MLB News and Notes segment, I will be giving occasional reports on the latest news and rumors throughout the MLB. I also will try to tweet news and rumors as I see them, so feel free to follow me on Twitter: @ajnicholsIBI. Here are the stories from Friday, January 17th. Top Stories Cleveland's Carlos Santana continues to prepare in the Dominican Republic for possible...
During Michael Bourn's hey-day (2009-2011), he was one of the most controversial fantasy assets — a less polarizing version of what Billy Hamilton is this year. I've never been a huge fan of steals-only players, but that wasn't all Bourn did. He was usually good for 90+ runs, and in some years he hit for a .280-.290+ average. In those good years he was an above average-to...
There was a healthy dose of skepticism when it was reported in November that Carlos Santana was working out at third base, but it sounds like a position switch could actually happen. In a story (link in Spanish) by Enrique Rojas of ESPN Deportes, Santana said that he's "getting ready to play third base, no other position" and that "those are the plans of the team." The...
Posted by DANNY MADDEN Hey Tribe fans! As you probably already know, with February quickly approaching, that can only mean one thing: baseball season is upon us. That's right folks, our Cleveland Indians catchers and pitchers report to good ole Goodyear, Arizona on February 11.That just sounds great, doesn't it? I know I'm very much ready for baseball to start. With baseball...
All Sports News

Delivered to your inbox

You'll also receive Yardbarker's daily Top 10, featuring the best sports stories from around the web. Customize your newsletter to get articles on your favorite sports and teams. And the best part? It's free!
THE HOT 10: Who's Trending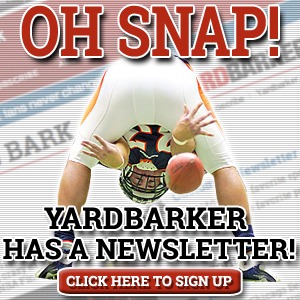 Latest Rumors
Best of Yardbarker

Today's Best Stuff

For Bloggers

Join the Yardbarker Network for more promotion, traffic, and money.

Company Info

Help

What is Yardbarker?

Yardbarker is the largest network of sports blogs and pro athlete blogs on the web. This site is the hub of the Yardbarker Network, where our editors and algorithms curate the best sports content from our network and beyond.