Found February 07, 2013 on The Southpaw:
PLAYERS:
John Gibbons
,
Esmil Rogers
,
Brett Cecil
,
Brad Lincoln
,
Chad Jenkins
,
Dustin McGowan
,
Aaron Loup
,
Henry Blanco
,
Josh Thole
,
Colby Rasmus
,
Curtis Granderson
TEAMS:
Toronto Blue Jays
,
New York Yankees
Like you, I grow increasingly frustrated with the long delays between posts. I'm going to have to break away from my love for long elaborate high-content posts because they never get finished. I have, on my spreadsheet, most of the data for a mega-post featuring a player by player comparison of all the teams in the AL East.  And yet, it seems sort of silly to do that much work demonstrating the Jays are the on-paper favorites when las Vegas has already told us as much.So i may or may not ever get THAT post up, but in the mean time, Spring Training opens in less than a week and I'm going to have to find a rhythm reacting to the news of the day. Which should be much more frequent in the coming weeks. So rather than  do a numbers post, let me wander through the virtual clubhouse in light of the rash of stories on the SotF event this week. (and yes, I know, 900 other Jays blogs have already plowed that ground in some fashion). Item: Starting pitchers - As you've no doubt read, John Gibbons showed his cards on the rotation order, listing them Dickey > Morrow > Buehrle > Johnson > Romero. That's as solid a set as you will find. Dickey, as the defending Cy, enjoys a presumptive entitlement to the first spot, no matter how managers might pooh-pooh that idea. Morrow and Johnson are interchangeable, and going with the returning player instead of the import is smart, plus the hard-thrower who follows Dickey probably gets an edge vs the same team, and you might as well not give that to the guy who's playing for a mega deal (Johnson). Eleven times in the first half alone, Morrow will follow dickey against the same opponent.Splitting up the hard-throwing righties with the finesse lefties is as "Baseball 101" as it gets, and given Romero's 2012, it would be hard to put him over Buehrle.  That said, a lot of speculation revolves around Romero having put too much pressure on himself to carry the staff last year. The pressure will be completely off this year, in that regard, so don't be shocked if he has a huge rebound. also, as I've done the last two years, so say I again: like for Morrow to be the best pitcher on the team and a Cy contender. Item: Bullpen - Janssen as the presumptive closer is only fair, but they say a bit more about Santos when the question is asked than I would like. I really really like Santos and am not worried on the health issue, but when you do as good as Janssen did you have proven you are up to the job. Don't mess with that. Listing those two and Oliver as the only locks makes sense to me...but why does Esmil Rogers keep making that list? AA always says "since he's out of options" BUT Brett Cecil and Jeremy Jefress are also out of options and they are not listed as likely locks. If options really do serve as major factors in who breaks camp with the Jays, then you have already accounted for six spots unless someone blows up well and truly. That would leave only one spot which you have to assume Delenbar is far ahead of the packon.So. I'm going to pencil in Janssen > Santos > Oliver forthe 8th and 9th, Delenbar for the key 7th inning guy (Frasor's old job, really) and fill it out with Rogers, Jefresss, and Cecil, pending failure. I've a hunch that Cecil comes into his own as a poor man's Scott downs this year and goes on to have an impressive career.   JA Happ and Brad Lincoln lead the Buffalo rotation and wait for a chance in Toronto. Followed by Chad Jenkins and some retreads. Pending, of course, the health of Dustin McGowan.  Relief wise, the Jays are well stocked with options, having Aaron Loup, Evan Crawford, on the doorstep and a few others, besides those already mentioned, with some skills.One of the noticeable things when it comes to comparing WAR totals between the AL East competitors is that you don't really know what to do with the WAR accumulated by guys like Happ that have been crowded off the roster. Item: Catchers - The Jays acknowledge the existence of a competition between Henry Blanco and Josh Thole. Personally, short of a health issue I can't conceive of Blanco winning that but all the reports say he has the presumptive edge going in.Item: Second - as Alex has previously noted, Izturus has the presumption as camp opens. Gibbons added that he's the one with the better Glove. I'm anxious to see Bonifacio in the lineup a lot. But I'm much more understanding on this point than i am the catcher question.Item: Whither Colby Rasmus? John Gibbons articulated my own view - that Rasmus is on the verge of putting it all together. Like Romero, he probably thinks too much for his own good and now here he is surrounded by team-carrying talent all around the diamond. he doesn't HAVE to be a star and sometimes, that's just the environment where such a player blossoms. I wouldn't be at all shocked if he stepped up to the level of players Like Curtis Granderson, and he could be even better than that. Keep in mind he had an .823 OPS in the first half last year, and that's with a slow start. What remains is for him to put together a whole season as he did at his best. And finally, for tonight, let me take a moment to acknowledge the elephant. YES, we will have to worry, for a while, about Bautista's hand. It MIGHT screw up his whole year. But before early season panic sets in, let's remember that last year, he was sitting on May 10, 2012, he was hitting .177 - and until his hand was hurt returned  it around pretty darn nicely. So don't look for me to dwell on that possibility much.With all that said, I'm ready to get this party started!
Original Story:
http://thesouthpawbaseball.blogspot.c...
THE BACKYARD
BEST OF MAXIM
RELATED ARTICLES
Mark Buehrle may be playing for the Toronto Blue Jays in 2013 but that does not mean that his family will be joining him. The veteran left-hander's family will spend the season in St. Louis with their two-year-old pit bull Slater. "We're not trying to make people feel sorry for us," Buehrle explained. "Obviously they're going to say, 'You make a lot of money. Boo hoo...
DOG DAY AFTERNOON
Blue Jays pitcher Mark Buehrle's family will not be moving to Canada with him because of a Toronto city ban on pit bulls, meaning the family dog would not be able to join them.
Former pitcher Jack Morris is returning to the Toronto Blue Jays as a television analyst. Sportsnet announced Tuesday that Morris will provide analysis on its radio broadcasts and website, as well as make appearances on game telecasts and the show ''Blue Jays Central.'' Morris was a member of Blue Jays teams that won consecutive World Series titles in 1992 and ...
Break up the Jays! Many think this retooled team is the AL East favorite, and there's plenty of fantasy production waiting to be plucked from their roster. Offseason moves: Traded C Jeff Mathis, SS Yunel Escobar, IF Adeiny Hechavarria, OF Jake Marisnick, SP Henderson Alvarez, SP Anthony DeScalfani and SP Justin Nicolino to Marlins for C John Buck, SS Jose Reyes, UT Emilio Bonifacio...
Updates. With AP Photos. By IAN HARRISON Associated Press A lot has changed about the Toronto Blue Jays since John Gibbons last managed them. Seeking to end a playoff drought that dates to their second straight World Series crown in 1993, the Blue Jays remade their roster this winter. They pulled off two huge trades that landed, among others, reigning NL Cy Young Award winner R...
Free-agent reliever Brandon Lyon is finalizing a one-year contract with the New York Mets, according to a major league source. The two sides continue to negotiate the guarantee, which will be between $750,000 and $900,000, the source said. Whatever the base turns out to be, the contract will include incentives that could bring the total value of the package to $2.4 million. Lyon...
According to a tweet by John Heyman of CBSsports.com, the Mets have signed free-agent closer Brandon Lyon. are in agreement on deal with Brandon Lyon, pending physical — Jon Heyman (@JonHeymanCBS) February 7, 2013 One of Sandy Alderson's main priorities this offseason was to stabilize the bullpen, and this signing is definitely a step in that direction. Lyon's role is yet...
Bovada has released its Odds to win the 2013 World Series and...the Mets are not in the running: Toronto Blue Jays 7/1 Los Angeles Dodgers 8/1 Washington Nationals 8/1 Detroit Tigers 9/1... Full story at Bob's Blitz ~ http://www.bobsblitz.com
All Sports News

Delivered to your inbox

You'll also receive Yardbarker's daily Top 10, featuring the best sports stories from around the web. Customize your newsletter to get articles on your favorite sports and teams. And the best part? It's free!
THE HOT 10: Who's Trending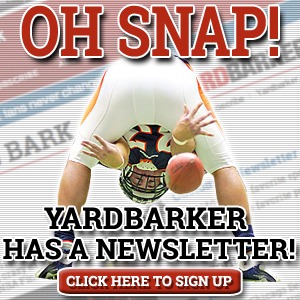 Latest Rumors
The Backyard

Today's Best Stuff

For Bloggers

Join the Yardbarker Network for more promotion, traffic, and money.

Company Info

Help

What is Yardbarker?

Yardbarker is the largest network of sports blogs and pro athlete blogs on the web. This site is the hub of the Yardbarker Network, where our editors and algorithms curate the best sports content from our network and beyond.