The Bills annual "home game" in Toronto takes place this Sunday against Seattle. The Bills are about finished for this season, but they can play spoiler to the 8-5 Seahawks who are battling for a Wildcard spot. Can the Bills do it? Perhaps. As for other predictions, let's see what the writer's of Queen City Sports think about this game! Writer's Note: Due to unforeseen circumstances this post was not placed pre-game. For that reason, I will not post my own predictions as it's already 14-0 Seattle. 1. Marshawn Lynch will end with more rushing yards than C.J. Spiller. Michael Bundt: True. One team likes to give the ball to their star, the other team doesn't. Guess which team the Bills are. Robert Quinn: True. Even with Fred Jackson out for the year, I don't see Spiller getting more than 15 carries in the game. This is a recipie for another 30+ pass attempt game for Ryan Fitzpatrick. Marshawn Lynch has led the Seahawks offense all year long. He's averaging 4.9 yards per carry, and already has a career high in yardage, with 1,266. Plus, he's averaging 20 carries per game. The Bills' defense has gone 4 games without allowing 100 yards on the ground, but the Seahawks are a run-first team, and that trend will continue. Brandon Hess: True.  If for no other reason than Seahawks coach Pete Carroll knowing how to actually utilize a star running back. 2. C.J. Spiller will go over 125 yards rushing. Bundt: False. He definitely can but that would require Chan giving Spiller a big load of carries which we haven't seen all year. Quinn: False. Unless he has an 80 or 90 yard run, this isn't happening. Coach Gailey doesn't utilize him or the run game enough to warrant Spiller having a 125+ yard day. Maybe he will change his whole coaching philosophy over the course of the week, but he has been stubborn all year long, so I don't see this happening. Hess: False.  If for no other reason than Bills coach Chan Gailey not knowing how to utilize a star running back. 3. The Bills will hold the Seahawks under 20 points. Bundt: False. The Bills defense has been playing well lately but will be going up against an improved Seattle offense. Quinn: False. The Bills defense has been playing really well in recent weeks, but that's got to end soon, right? The Seahawks just put up a ridiculous 58 points last week, and while they aren't going to score that many this week, I think they score around 30 this week. They have pretty good receivers in Sidney Rice, Golden Tate, and Doug Baldwin. With Marshawn Lynch pounding the ball, they are going to score in bunches against the Bills' D. Hess: False.  Unlike Arizona, the Bills will manage to keep Seattle under 50 points, but under 20…I think not. 4. Stevie Johnson will finish the game with the most receiving yards on both teams. Bundt: True. Johnson is poised for a big game and this Sunday might be it. Quinn: True. Stevie's had at least 71 yards in six of the Bills' last eight games, and is really the only consistent receiving option on the team. Stevie always has a way of shining against top tier cornerbacks (see: Darrelle Revis), and he should keep that going this week. Also, Stephon Gilmore has been lights out, and has done a good job of containing opposing teams' No.1 option since he has earned that role on the defense. Hess: True.  Seattle's offense is predicated on the run, much like Buffalo's should be, but there isn't a prime candidate to out gain Johnson on either team, I'll take Stevie. 5. Russell Wilson will throw for more yards than Ryan Fitzpatrick. Bundt: False. Seattle will try to focus running the ball down the Bills throats while the Bills will probably continue to prematurely abandon the run for their mediocre passing attack. Quinn: False. Wilson has been really efficient this season, and has done a good job of limiting turnovers, but he hasn't put up gaudy pass numbers. Fitzpatrick often has a way of posting some good yardage stats, especially in losses. Hess: True.  I'm going with true not because I believe Wilson is going to lead an aerial assault on Buffalo, but I just don't see the Bills having much offensive success against Seattle.  Particularly in the air against the Hawks' secondary. The post True or False: Bills/Seahawks Edition appeared first on Queen City Sports.
Original Story:
http://queencitysports.net/uncategori...
MORE FROM YARDBARKER
All Sports News

Delivered to your inbox

You'll also receive Yardbarker's daily Top 10, featuring the best sports stories from around the web. Customize your newsletter to get articles on your favorite sports and teams. And the best part? It's free!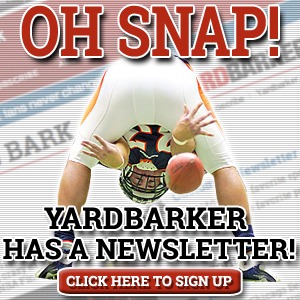 Latest Rumors
Best of Yardbarker

Today's Best Stuff

For Bloggers

Join the Yardbarker Network for more promotion, traffic, and money.

Company Info

Help

What is Yardbarker?

Yardbarker is the largest network of sports blogs and pro athlete blogs on the web. This site is the hub of the Yardbarker Network, where our editors and algorithms curate the best sports content from our network and beyond.