Found October 26, 2012 on Turn On The Jets:
PLAYERS:
Tyson Chandler
,
Carmelo Anthony
,
Amare Stoudemire
,
Brook Lopez
,
Kris Humphries
,
Andray Blatche
,
Joe Johnson
,
Deron Williams
,
Jerry Sloan
,
Jason Kidd
,
Rex Ryan
,
Brandon Marshall
,
Jay Cutler
,
Cam Newton
TEAMS:
New York Jets
,
Brooklyn Nets
,
Boston Celtics
,
New York Knicks
,
Chicago Bears
Week 7 Record: 1-2  Season Record: 8-12-1 In honor of Hurricane Sandy, Snowicane, The Frankenstorm – whatever you want to call that crazy thing we're supposed to get early next week that's supposed to turn New York City on its ear, I'm going to flip things around this week and start my piece off with my Bonus Non-Football Bet of The Week. I'm 3-4 on the season with these, but the game I'm going to pick this week is one that's closer to my heart than any other pick I've ever made on this site – next Thursday's season opener for the New York Knicks against the Brooklyn Nets, Round 1 of the New York-Brooklyn turf war. Now it's way too early for the line for this game to have come out, but this pick is much more symbolic anyway. I'm taking the Knicks outright, whatever the moneyline is. I guess its natural that the Nets are being overrated heading into this season. The shiny new arena, all the Jay-Z crap, a new name and all will do that for you. But let's get one thing patently straight here – the Nets ARE being overrated heading into this season. Many people are picking them as a 50+ win team, saying they're so much clearly better than the Knicks, and that they're closer to the Boston Celtics than anyone else in the Atlantic Division. I'm here to tell you that that's false, and that if the Nets were still the New Jersey Nets, playing in Newark, with those old uniforms, but had the EXACT SAME ROSTER – nobody would have them as a 50-win squad. As a Knicks fan, I've watched enough bad defensive basketball to know how truly important defense is in the NBA. For years, the Knicks were an embarrassment on defense – last year that changed with the addition of Tyson Chandler. And all anyone who hates the Knicks wants to point out is how bad their stars – Carmelo Anthony and Amare Stoudemire are on defense. They're not wrong in that criticism at all. So then why is everyone totally ignoring that the Nets have, without question, the worst defensive frontcourt in the NBA? Scour every roster and I dare you to find a starting center-power forward combination that would struggle to defend a potato and a desk chair on a pick and roll more than Brook Lopez and Kris Humphries. The Nets are a good team, don't get me wrong. They have a lot of talent and have a good coach in Avery Johnson. They'll make the playoffs. But can we stop with waxing on and on about how great they're going to be? This has reached insane levels – when the media is writing "ANDRAY BLATCHE REDEMPTION" stories, you know we're on Mars with this whole thing. If the Knicks signed Andray Blatche, I can only imagine the crap they'd be getting. And if the Nets don't win this year, I really don't see how they're going to improve from here on out. Like the Knicks, they're pretty strapped with who they have. They signed Lopez and Williams to max deals and they traded for Joe Johnson and his crazy contract. Unless Lopez improves as a defender and rebounder in the coming years, I don't see how they possibly get anywhere close to Miami. And oh yeah, while I'm at it, how about we call Deron Williams what he is – an insanely talented top NBA player who has never won anything and bickered and pouted and drove a Hall of Fame coach to QUIT. Do people remember this? When Williams drove Jerry Sloan so mad that he quit in the middle of the season? Why is this ignored, but all people want to mention about Carmelo Anthony is that he was selfish and un-coachable and forced his way out of Denver? Why is Deron Williams allowed to have essentially done the same thing and gotten away with it? Okay, I'm done with the questions. As for the game, I'm not going to go into crazy specifics as to why I think the Knicks will win. It's one out of 82 games, they could lose by 40 for all I know. But if I'm New York (as long as Tyson Chandler is healthy), I run pick and rolls with Ray Felton/Jason Kidd and Chandler/Amare Stoudemire all night. Chandler is a marginal offensive player at best, but he should put up 40 points on 20 dunks. Oh yeah, this is a Jets site – let's get to my picks for this week. Jets -2 vs. Dolphins  The Jets absolutely have to win this game. They're at home against a rookie quarterback – a situation they've done well in under Rex Ryan. New York's defense has been a lot better as of late, so I don't think the Dolphins will quite gash the Jets on the ground the way they did in Week 3. Also, the Jets are in a pretty good rhythm in the passing game (BUT HERP DERP SANCHEZ SUCKS YOU MORON LOLZ), and Miami's pass defense isn't very good. You'll get my official prediction a bit later, but the Jets cover. Oh yeah they do. Bears -7.5 vs. Panthers I really like the way the Bears are playing right now; they're a balanced offensive team, Brandon Marshall is quite possibly the best receiver in the league right now, and their defense is all-world. Even Jay Cutler can't screw this thing up…yet. The Panthers on the other hand are a total mess. Teams have either figured out Cam Newton or he's just not very good. It will take time to find that out for sure – like with all quarterbacks ahem ahem – but right now Carolina is one of the worst teams in the league. At home and on a roll right now, I like the Bears pretty big. Saints +6 at Broncos We know how bad the Saints' defense is, but they're still averaging almost 30 points a game. I just feel like anytime you give an offense like this an additional six points, you take it. This is likely going to be a wild, high scoring game. I don't love the Saints outdoors, but I'm still going to take these six points and hope for the best.  
Original Story:
http://turnonthejets.com/2012/10/turn...
THE BACKYARD
BEST OF MAXIM
RELATED ARTICLES
Bart Scott has pushed himself for weeks, trying to tough out a painful toe injury. This week, though, the New York Jets' linebacker might have to sit this one out. Scott's streak of playing in 119 straight games could end Sunday because of a hyperextended big toe that has ailed him since the third game of the season. He missed his second day of practice Thursday after he...
ANOTHER COUNTRY HEARD FROM
The Jets and Dolphins have been trading trash talk all week, and Antonio Cromartie finally got in on the act responding to Reggie Bush.
Hot Sauce for everybody!  Joe Caporoso – 12 Pack Chris Gross - Jets 24, Dolphins 10 – Contrary to popular belief, the Jets have been playing some of the most consistent football that they have in about a year over the course of the past three games. The defense is beginning to get back form, despite lacking their best player, as well as an extremely inconsistent pass rush....
Jets defensive coordinator Mike Pettine's job just got a little bit harder, and it's all because a couple of guys couldn't keep their mouths shut. The back and forth between the Jets and Dolphins running back Reggie Bush continued this week with the teams squaring off in the Meadowlands on Sunday. But while we'll have to wait and see what unfolds...
Of all the things to take Bart Scott out of a game, would anyone have expected it to be turf toe?  The New York Jets linebacker, who has played in 119 straight games, will miss tomorrow's game against the Miami Dolphins.  Scott has not missed a game since 2005, and his streak has been an inspiration for the Jets' defense. According to Manish Mehta of the New York Daily...
DAVIE, Fla. During a conference call Wednesday with South Florida reporters, New York Jets coach Rex Ryan used the word "huge" five times in describing his team's game Sunday against the Miami Dolphins. That might not have been enough. "He understated the word huge,' " said Dolphins cornerback Nolan Carroll. "Thats how big it is." A Super...
According to TMZ (who else are you going to turn to regarding matters such as these?), the breakup between Hollywood starlet Eva Longoria and New York Jets quarterback Mark Sanchez was not caused by hectic schedules, age difference or several of the other purported causes that have been speculated. Instead, a source says that Longoria kicked Sanchez to the curb because he was so...
FLORHAM PARK, N.J. (AP) -- Mike Pouncey took his turn at firing up the back-and-forth banter between the Miami Dolphins and New York Jets. The Dolphins center was angered Thursday by comments made by Jets linebacker Aaron Maybin, who told ESPNNewYork.com on Wednesday that New York wants to "knock out" Miami running back Reggie Bush, "but we're out to do it legally...
Dolpin Digest's Alain Poupart goes behind enemy lines to find out the latest scoop on the New York Jets from Green and White Report's Rick Laughland
All Sports News

Delivered to your inbox

You'll also receive Yardbarker's daily Top 10, featuring the best sports stories from around the web. Customize your newsletter to get articles on your favorite sports and teams. And the best part? It's free!
THE HOT 10: Who's Trending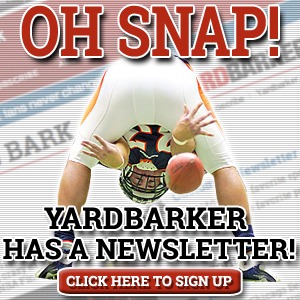 Latest Rumors
Best of Yardbarker

Today's Best Stuff

For Bloggers

Join the Yardbarker Network for more promotion, traffic, and money.

Company Info

Help

What is Yardbarker?

Yardbarker is the largest network of sports blogs and pro athlete blogs on the web. This site is the hub of the Yardbarker Network, where our editors and algorithms curate the best sports content from our network and beyond.