Found November 05, 2012 on NorthWest Sports Beat:
Where to Begin? The tumultuous season the Washington State Cougars have had was recently given an exclamation point with a 49-6 ass-kicking from the Utah Utes. The Cougars came out flat, continued to play flat and ended the game flat, adding another loss to a six-game skid under Mike Leach, and assuring the new head coach his first losing season. There is no longer optimism in the Cougar nation. It is well known that Leach's scheme comes with a strict learning curve, but this output was unexpected. It's fair to say that this far of a step back from the previous season was not anticipated from anybody. This game was a complete negative, and it leaves a bitter taste in the mouths of Cougar players and fans. What Went Right? Nothing. What Went Wrong? How much time do you have? The Cougars came out with a steady drive to open the first half. Their drive reached Utah territory, but on a 4th-and-13, Leach elected to go for it. This was highly controversial, and it resulted in a pass thrown behind Marquess Wilson for an incompletion and a turnover on downs. That was the highlight of the Cougars' afternoon. It is well known that Leach's scheme comes with a strict learning curve, but this output was unexpected in 2012. The rest of the half was 3-and-outs from the Cougars' offense and long runs from Utah's John White IV. Pac-12 network didn't refrain from informing its viewers of the famous stat that every game White runs for over 100 yards, Utah is 10-0. The games he ran under 100 yards, 0-10. This stat was constantly shown on the television screen before and after White reached 100 yards in the first half, further informing the Cougar fan base of the unlikeliness of a victory. The score at halftime was 31-0. After the competitive outing the Cougars had in Stanford the week previous, this was a shot to the stomach. Then Utah decided to go for the jugular. The opening kickoff of the second half was returned for 100 yards for a touchdown by Reggie Dunn, who has done so three times in the past two weeks. The Utes then elected to go for the two-point conversion, and got it with ease. The score was 39-0 after the opening seconds of the second half. There was no fight in the first half from Washington St. – and there wouldn't be for the remainder of the game. Overall Observations The most effort that was shown all day was Leach sprinting out onto the field to call a timeout with 12 seconds left, simply to refrain from going scoreless for the first time in his career. The post-game interviews were entertaining as always from coach Leach. He called the team pathetic, weak, sad and several other adjectives that don't exactly identify a proud coach. Leach was so disgusted with his offensive line's performance that he sent them all out to the press for a Q & A. They deserve the embarrassment. The Aftermath The Sunday practice was reportedly cancelled, but Leach simply changed it into a conditioning practice. This was a result of Leach's anger toward the Cougars' performance. Spectators that watched the practice stated that "a football was never picked up, and players were seen kicking their helmets in exhaustion" from the intense practice. The practice was apparently too rough for Marquess Wilson, who left the drills 20 minutes in and reportedly cleaned out his locker. It isn't confirmed if he was suspended from the team or if he quit, but this could very well be a sour end to the bitter saga that was the Wilson-Leach relationship. …Go Cougs. CLICK HERE CHECK OUT THE COUGARS BLOG IN OUR CLUBHOUSE TODAY AT NWSB!
Original Story:
http://www.nwsportsbeat.com/washingto...
THE BACKYARD
BEST OF MAXIM
RELATED ARTICLES
Washington State is having a tough season. We knew that Mike Leach was taking over a tough job but with reports of mutiny and a 2-7 record(0-6 in conference) things are getting weird out there in Pullman. I'm actually hoping the team gets better so that we can get more Mike Leach but they have The post Video: Full Bizare Mike Leach Press Conference appeared first on No Coast Bias.
Unquiet on the Western Front. A Few Small Repairs. Arizona head football coach Rich Rodriguez promises to work of the Wildcats issues with getting penalties. (The Tuscon Citizen) Running Out of Days? Avinash Kunnath wonders if USC defensive coordinator Monte Kiffin may be on the Hot Seat after two big back-to-back losses to Arizona and Oregon. (Pacific Takes) Mark your...
ON THIS SATURDAY, it seemed that the real show started after the game ended. Mike Leach's postgame remarks were explosive, accusatory and, in their own right, just as big of a disaster as his team's 49-6 loss at Utah. The Utes outgained the Cougars 453 to 255 in total yards as the hapless crew from the Palouse gave up six sacks and tallied negative-4 rushing yards.
OVER THE PAST several weeks, Washington State coach Mike Leach has publicly criticized his football players. The Cougars are 2-7 and deserve criticism, but coaches typically yell at their players at practice or rip them in private. They don't berate them in front of the media.
Today I think its important that we all take a step back and look at our current coaches behavior and how it is being perceived outside our crimson bubble of unquestioned Mike Leach worship and adulation. The consensus? Not necessarily in favor of our new coach: Dave Boling Stewart Mandel Vince Grippi Bud Withers John Blanchette Jim Moore Look...
PULLMAN – The absence of All-American wideout Marquess Wilson is already taking a toll on some players and coaches. And while head coach Mike Leach didn't have much to say on the matter, wide receivers coach Dennis Simmons took a more emotional approach. Oh, and Travis Long is the Cougs' new punter – at least for today.
Happy Sunday Cougs.  We'll skip the formalities after yesterday's steamroller loss in Salt Lake, as the Cougs barely got off the plane in their 49-6 disaster of a game.  And let's just get right down to it, shall we? It's funny, the hope that can exist as a sports fan and all that comes with it.  A week ago at this time, after watching the Cougs came awfully...
10. Legalize The Forward PassMarijuana may be legal now in Colorado, but it's their offense that needs a referendum.  Twenty points in three weeks isn't high enough.  9. Why So Serious? The Joker is out in Lexington.  Who will be their white knight?8. HomebodiesIt's bad enough that Auburn and Tennessee scheduled two doormats this late in the season, but would it kill...
JUNIOR WIDE RECEIVER Marquess Wilson could be the 18th scholarship player by Cougfan.com's count to leave Washington State since Mike Leach took over, but the coach could not confirm that during his Monday teleconference. Leach declined to speculate on whether the Cougars' top wide receiver will return, although Leach's precedent does not look promising for Wilson.
All Sports News

Delivered to your inbox

You'll also receive Yardbarker's daily Top 10, featuring the best sports stories from around the web. Customize your newsletter to get articles on your favorite sports and teams. And the best part? It's free!
THE HOT 10: Who's Trending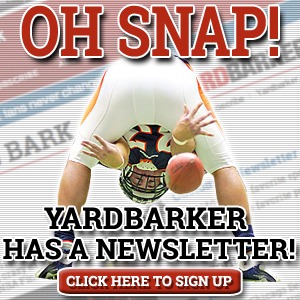 Latest Rumors
Best of Yardbarker

Today's Best Stuff

For Bloggers

Join the Yardbarker Network for more promotion, traffic, and money.

Company Info

Help

What is Yardbarker?

Yardbarker is the largest network of sports blogs and pro athlete blogs on the web. This site is the hub of the Yardbarker Network, where our editors and algorithms curate the best sports content from our network and beyond.