Found April 18, 2013 on Fox Sports:
PLAYERS:
Bobby Cox
,
Troy Tulowitzki
,
Michael Cuddyer
,
Jhoulys Chacin
,
Mike Matheny
,
Robin Ventura
,
Don Mattingly
,
Dennis Eckersley
,
Dave Parker
,
Jim Leyland
,
Tony La Russa
TEAMS:
Colorado Rockies
,
Chicago White Sox
,
Los Angeles Dodgers
,
Detroit Tigers
Talking to Walt Weiss on the phone, I could have sworn I was talking to Tony La Russa. "I want these guys to enjoy the competition," said Weiss, the Rockies' new manager. "It might sound kind of elementary. But it's really important." That's what La Russa was all about -- the competition. Weiss played for La Russa in Oakland at the start of his career. He played for Bobby Cox in Atlanta at the end. And evidently, he learned a few things from the two future Hall of Fame managers. The Rockies, at 10-4, are one of baseball's biggest early surprises, maybe the biggest considering that they lost 98 games last season and finished with a 5.22 ERA, the worst in the majors by nearly a half-run. Health is the primary reason for the Rockies' quick start -- shortstop Troy Tulowitzki, right fielder Michael Cuddyer, right-hander Jhoulys Chacin and left-hander Jorge De La Rosa all are back after missing significant time in 2012. I know, I know -- the Rockies' pitching could fall apart, as it does seemingly every season. But Weiss -- who, like the Cardinals' Mike Matheny, White Sox's Robin Ventura and Dodgers' Don Mattingly, had no previous managing experience -- is making a difference, too. Cuddyer, a 13-year veteran, said that the tone set by Weiss, new hitting coach Dante Bichette and the front office at the start of spring training was "a confidence boost." "Walt came in using aggressive terminology," Cuddyer said. "We started believing and we started doing things. We were aggressive on the basepaths. Our pitchers were getting groundball outs. It allowed us to believe in what they were preaching, and we've been able to accomplish that in the first two weeks of the season." Two games already stand out to Weiss, confirming to him the Rockies' desire, in La Russa's words, "to play a hard nine." The first was April 14 in San Diego, the finale of a six-game road trip. The Rockies already had won the first two games of the series. Weiss said he anticipated a possible letdown. But the Rockies broke a scoreless tie in the seventh to prevail 2-1. "We could have just checked out, but we found a way to win that game," Weiss said. "It spoke volumes about our club, who we are, how we compete." The second, even more vivid confirmation of the Rockies' resolve occurred Tuesday night at Coors Field, in the second game of a doubleheader against the Mets, on a night that Weiss described as "absolutely miserable -- bitter, bitter cold." The Rockies won the first game, fell behind 8-2 in the fifth inning of the second, then rallied for a 9-8 victory in 10 innings, earning the sweep. La Russa, who now works in the commissioner's office, said that he watched the Rockies' comeback, and couldn't help but be impressed. "Compete, compete, compete, everything flows from that," La Russa said. "It was something that was passed on to me, and I passed it on, and our guys embraced as well. "Walt understands it. The name of the game is not being distracted by fame and fortune, whatever. It's when the game starts, take your best shot." Weiss, 49, played that way from the moment he joined the Athletics in September 1987, La Russa said. That A's team had established veterans such as Dennis Eckersley, Dave Stewart and Carney Lansford. The following season, they added Bob Welch, Dave Henderson, Dave Parker. Weiss gained their immediate confidence, La Russa said, winning AL Rookie of the Year in '88, playing for three straight World Series teams. To La Russa, the "classic" way to become a manager is to work your way through the minors the way his friend Jim Leyland did, learning the craft, gaining practical experience. But La Russa acknowledged that he once was something of a novice himself -- he had scant minor league experience when the Chicago White Sox named him manager at age 34 in 1979. And he said former major leaguers such as Weiss, Matheny, Ventura and Mattingly command instant respect from players because of what they accomplished in their careers. Weiss, like La Russa before him, wants his players to display a certain edge, saying, "It's tough to play in our league without a chip on your shoulder." But La Russa didn't succeed merely by establishing a mindset, and Weiss won't, either. The game demands so much more. Indeed, Weiss already is demonstrating his acumen with some of his smaller touches. For example, even though the Rockies have played only 14 games, Weiss has rested each of his regulars at least once. The manager, who played for the Rockies from 1994 to '97, knows that playing at altitude can exact a physical toll. "My first year here was '94, playing shortstop every day," Weiss said. "That was the year of the strike. It started on Aug. 12. If we didn't have the strike, I would have had a tough time making it. I was done." The Rockies also are trying some new methods to combat altitude, including hiring a full-time chef and emphasizing in-game replenishment (something other teams also do). But they've played only five home games, so it's difficult to know if any of their changes will make a difference. Cuddyer said the Rockies are playing well because of "the things we're doing on the field, the belief we have in ourselves." "No question it's real," Cuddyer said. "I firmly believe last year was an anomaly, a snowball effect in a bad way. It's easy to get caught up in our season last year, our record, our ERA. But we definitely believe in ourselves." Which, of course, reflects on the manager. La Russa said he spoke with Weiss around the time that Weiss interviewed with the Rockies, and came away thinking, "Wow, he's got a helluva shot. He's learned a lot over the years." If anything, La Russa is even more convinced now that Weiss will succeed -- adding the caveat, of course, that his players must perform. "I'll put it this way -- there's no doubt in anybody's mind that knows him that he's ready and will do a heck of a job," La Russa says. "He's got it. He's definitely got it. If he gets the support of ownership and the front office to get past bad times, he's going to be very special."
Original Story:
http://msn.foxsports.com/mlb/story/co...
THE BACKYARD
BEST OF MAXIM
RELATED ARTICLES
Jon Garland has been a great pickup so far for the Rockies.Six. That number is significant for the Colorado Rockies.On Thursday, in 28 degree weather, the Rockies won their sixth straight game. In 2012, a year ago, the Rockies accomplished that feat exactly zero times. They won five straight, but never six.On April 18th, the Rockies also reached another milestone. They achieved their...
In this young season, much has been made of all the high profile teams off to slow starts. Kicking the Jays, Rays and Angels while they are down has become something of a recreational sport at this point. However teams on the opposite side of the coin aren't receiving nearly the same level of attention. To see what I mean look no further than the NL West leading Colorado Rockies...
MLB News: The Colorado Rockies made one guy happy and another sad Friday, recalling lefty Josh Outman from Triple-A Colorado Springs while optioning righty Chris Volstad to the same club. Despite Outman's 2012 struggles, the Rockies are hoping for a change-of-luck for the 28-year old pitcher. Fantasy Ramifications: None. This move reeks of desperation. Neither player holds any...
Because it's cold outside, get it? The MLB.com description of this clip is adorable:A Rockies fan takes in the first game of the Mets-Rockies doubleheader with a snowman friendHere's the clip, followed by the best idea I've ever had (ever).Your browser does not support iframes.Okay, so, it's technically two ideas.1. This is a great option for baseball teams struggling with...
DENVER (AP) -- Jhoulys Chacin pitched effectively into the seventh inning and became the first Colorado starter to throw 100 pitches in a game since last June before leaving with an injury as the Rockies beat the Diamondbacks 3-1 Friday night. Troy Tulowitzki hit a two-run homer and Chacin helped himself by driving in a run with a sacrifice fly as the Rockies won their seventh in...
A lonely Colorado Rockies fan took advantage of all the snow that covered Coors Field the last couple of days and built himself someone to talk to.  During the first game of Tuesday's doubleheader against the New York Mets, this creative young man created someone that actually likes seeing baseball played in arctic climates. The problem was figuring out why the dude in a purple...
The game between the New York Mets and the Colorado Rockies has been postponed as another spring snow storm passed through the Mile High City. No makeup date has been announced for Wednesday's game. Monday's game was pushed due to flurries and made up as part of a doubleheader Tuesday that was swept by the Rockies. Team employees, including owner Dick Monfort, shoveled...
While the weather in Denver has been frigid of late, the Colorado Rockies have been red hot. The surging Rockies try to extend the best home start in franchise history Friday night when they open a three-game set against the Arizona Diamondbacks. After a pair of games were postponed due to heavy snow, Colorado (11-4) completed a shortened three-game sweep of the New York Mets with...
With the Angels absent from the playoffs since 2009, and off to a 4-10 start this season — below even the lowly Astros in the AL West — there's already heavy speculation about manager Mike Scioscia's job security. Scioscia is baseball's longest-tenured manager and is signed through 2018, but after the Angels signed Albert Pujols and Josh Hamilton to huge, multiyear deals...
All Sports News

Delivered to your inbox

You'll also receive Yardbarker's daily Top 10, featuring the best sports stories from around the web. Customize your newsletter to get articles on your favorite sports and teams. And the best part? It's free!
THE HOT 10: Who's Trending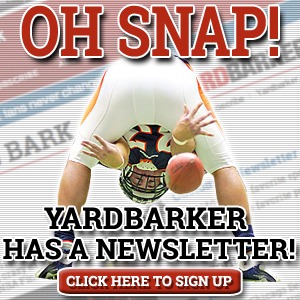 Latest Rumors
The Backyard

Today's Best Stuff

For Bloggers

Join the Yardbarker Network for more promotion, traffic, and money.

Company Info

Help

What is Yardbarker?

Yardbarker is the largest network of sports blogs and pro athlete blogs on the web. This site is the hub of the Yardbarker Network, where our editors and algorithms curate the best sports content from our network and beyond.