Found April 08, 2013 on World Series Dreaming:
In nature a peak is always accompanied by a valley. Our fundamental understanding of this fact extends itself into other areas of thought and reason in our lives. We are taught by the natural order of things that the highs are usually followed by the lows, and vice versa. Tall peaks tend to have deep valleys. The rate of descent may vary but eventually everything that rises has to come back down. So it is with Carlos Marmol, whose peak was astounding, and whose rapid descent into a ghastly valley is equally astonishing. As of April 08 he has pitched 1.2 innings and carries an ERA of 27.00 and a WHIP of 4.80. Marmol always led a dangerous dance with command but it always ended with Carlos in the lead, escaping various situation on stuff alone. The old Marmol slider was truly one of the best pitches in all of baseball. Now the stuff has taken a hit, the batters aren't swinging at his pitches and Marmol is now in a career free fall eerily reminiscent of so many one pitch relievers before him. Marmol has long drawn comps to Brad Lidge, Armando Benitez, and Rob Dibble. None had very effective careers deep into their 30′s, relievers rarely do, and only Lidge managed to salvage a small career after a drop off in talent. Carlos Marmol is not the Cubs closer anymore. How did this happen? How did Carlos go from a historic 2010 season to the depths of what he is today? Let's look at two charts. This is the basic chart which shows that Marmol's ERA was rising as his K-BB% Ratio started to edge dangerously close together. The difference between Marmol's stuff was shrinking. Whiff percentage measures Swings and Misses. Marmol's ratio of swings and misses was dropping. Marmol never had an elite fastball, but they absolutely started creaming it after 2010. Marmol simply lost control of his slider, opposing batters stopped swinging at it, and usage of his fastball increased from 36% in 2011 to 51% in 2012. Simply put, Marmol lost just enough on his slider to mitigate what little value his fastball had as a show me pitch. When Marmol had to concentrate on throwing strikes with the fastball his results plummeted. Marmol isn't fooling anyone and the slider that was his bread and butter is now completely ignored by opposing batters. It's a popular opinion, but I think it's the right one. Marmol is completely done.    
Original Story:
http://worldseriesdreaming.com/2013/0...
THE BACKYARD
BEST OF MAXIM
RELATED ARTICLES
Chicago Cubs closer Carlos Marmol has been pulled from his ninth inning role after his first blown save of the year last night in Atlanta. Kyuji Fujikawa will replace Marmol as the Cubs' fireman, according to reports. Marmol is actually reportedly taking the demotion well, stating "You can't complain about it. They say it's better for me and for the team. I&...
It was only a matter of time before the Chicago Cubs made a change.  Carlos Marmol has never proven himself capable of handling Major League closer duties.  He lost his job early last season only to earn it back.  And now, he's lost it again. Jesse Rogers of ESPN Chicago says the Cubs stripped Marmol of his closing duties after three outings that resulted in stressful...
Following Saturday's meltdown the Chicago Cubs have removed Carlos Marmol from the closers role. Marmol blew a save after allowing two solo home runs in the inning. Marmol will be replaced by 32-year-old Kyuji Fujikawa according to Chicago Tribune writer Paul Sullivan. Entering the eighth inning the Cubs held a 5-1 lead over the Braves. Fujikawa pitched the eighth inning for the...
Carlos Marmol still believes in himself as a closer. It's hardly safe to say the Chicago Cubs feel the same way. Marmol failed to convert a save for the second time in three chances this week - this time giving up solo homers in the ninth inning to brothers B.J. and Justin Upton as the Cubs blew a four-run lead and lost 6-5 to the Atlanta Braves. ''I'm trying,...
To update a situation we've been following rather closely, we want you to actually prepare to have your mind blown. Tonight in a game at Wrigley Field, the Cubbies defeated the Brewers 6-3 in a game the baseball universe will forget forever in 24 hours. The key to take home is that John Axford was actually responsible for Carlos Marmol getting awarded a win. Axford did his usual...
Chicago Cubs manager Dale Sveum says Carlos Marmol is out as closer and rookie Kyuji Fujikawa will take over the role. Marmol blew a save opportunity in Saturday's 6-5 loss to the Atlanta Braves when brothers B.J. and Justin Upton hit solo homers in the ninth inning. Sveum made the decision before Sunday's game. Fujikawa didn't fare much better in a three-run eighth...
Chicago Cubs manager Dale Sveum says Carlos Marmol is out as closer and rookie Kyuji Fujikawa will take over the role. Marmol blew a save opportunity in Saturday's 6-5 loss to the Atlanta Braves when brothers B.J. and Justin Upton hit solo homers in the ninth inning. Sveum made the decision before Sunday's game. Fujikawa didn't fare much better in a three-run eighth...
The Cubs lost in Cublike fashion to the Atlanta Braves 6-5. The focus fell on the ineffective closer Carlos Marmol who gave up the game tying and game winning homeruns in the span of three batters. Going by Fangraphs, Carlos Marmol deserves the lion share of the blame for the loss, but is that really the end of the #narrative on this game? Source: FanGraphs The Cubs had the bases...
Carlos Marmol is the Chicago Cubs closer; at least he was as of last night. Many people are furious with Dale Sveum for keeping him in the closers role when everyone knows that he simply is unable to do the job at any level in professional baseball. After last night, I have a hard time defending the use of Marmol at all in situations when the game in on the line. However, I do believe...
The Pirates have played five games thus far in 2013 and they've scored six runs. Three of those runs have come against Carlos Marmol, so they probably shouldn't count. Today, they'll face Hyun-Jin Ryu in his second start in America. Last week, he made his Dodger debut against Giants and served up 10 hits in 6 1/3 innings, despite only allowing one earned run. That'...
Here's some bit of good or maybe not-so-good news, depending on how you think of things:   Fuji closing now. He's a little surprised it came this quick : "Came here as a set up man". — Jesse Rogers (@ESPNChiCubs) April 7, 2013   Here's a recap of what happened last night. Kyuji Fujikawa only threw 23 pitches, so he should be okay to go should there be a save situation...
BJ Upton (left) and Justin Upton became the first brothers in major league history to homer to tie, then win a game Saturday against Cubs closer Carlos Marmol. I mentioned earlier this week how Carlos Marmol has been absolutely dreadful for the Cubs. Now he's so bad he's in the record books. Marmol allowed the game-tying home run to B.J. Upton, then the walk-off winner to his...
All Sports News

Delivered to your inbox

You'll also receive Yardbarker's daily Top 10, featuring the best sports stories from around the web. Customize your newsletter to get articles on your favorite sports and teams. And the best part? It's free!
THE HOT 10: Who's Trending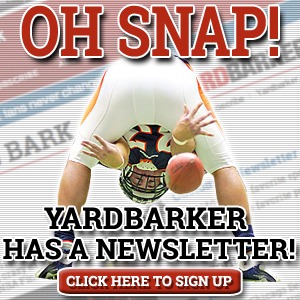 Latest Rumors
Best of Yardbarker

Today's Best Stuff

For Bloggers

Join the Yardbarker Network for more promotion, traffic, and money.

Company Info

Help

What is Yardbarker?

Yardbarker is the largest network of sports blogs and pro athlete blogs on the web. This site is the hub of the Yardbarker Network, where our editors and algorithms curate the best sports content from our network and beyond.