Found December 01, 2012 on Blue Seat Blogs:
Scrooge McJacobs With the season on the brink of destruction, and the loyalty of the fans wavering, the NHL is going to need to come up with some very creative marketing schemes to get fans back in the stands. I, along with many others, am fed up with the game of chicken that is going on in the negotiating room, and am particularly fed up with Jeremy Jacobs and his all-or-nothing tactics. Don't get me wrong, both sides are to blame for this mess, but it's the owners and the league as a whole that will need to come up with ways to get back in the stands. Right now they assume we will all be back if and when the puck drops, and I pray that I am not the only one that will boycott and not spend a cent of my own money on the NHL. Side note: I say I won't spend a cent of my own money, but if someone wants to buy me tickets, I'll gladly go. It's not my money at that point. See? I can make loopholes too. But back on point, what will it take for you to begin to trust this league again? For me, I would require at least some of the following concessions: Replace Jeremy Jacobs with as chairman of the Board of Governors. His time has run it's course, and one man should never have the power to cripple a league like this. Fire Gary Bettman. I'm aware that Bettman's job is to please the owners, and he is doing his job fairly well in that regard. However, we have seen three work stoppages in his reign. Replace him, and I will at least try to believe that the league won't do this to us again. Ensure the new CBA lasts more than five years, and have it expire before free agency. We can't have this situation again where owners (Craig Leipold) sign players to contracts that they never intended to fully honor. Free NHL Center Ice for whatever is left of this season and all of next season That's all I can think of for now. What would it take for you to get back in the stands? Tweet
Original Story:
http://www.blueseatblogs.com/2012/12/...
THE BACKYARD
BEST OF MAXIM
RELATED ARTICLES
(Illustration: Mike Spicer) Do you have a NHL fan on your Christmas list that is EXTREMELY PISSED OFF about the latest & GREATEST Lockout? Then the "Dynamic DOUCHE Nozzle Jeremy Jacobs" action figure is for you! For JUST $182 million dollars, you can RAISE the blood pressure of any hockey loving fan! The Dynamic DOUCHE NOZZLE Jeremy Jacobs comes with the following features...
My point is this. I have talked to and met some of these guys. I don't think any one man, even Jeremy Jacobs, will be the reason these men don't get what they want...which is hockey to be played again...as one owner put it "If there is a date to get this done, that date is yesterday." All facts courtesy of Wikipedia....so... Larry Tanenbaum -Maple Leafs...
We are waiting today on whether or not the players will agree to a one on ones cage match with the owners this week. I am hearing an answer could be forthcoming and that there is already some talking between the sides regarding the rules and who will attend. It is widely known the only owner the players are very much against being in these meetings is Jeremy Jacobs. While the...
The NHL lockout seems to be dragging on and on and the end doesn't appear to be in sight. Commissioner Gary Bettman is usually the target for both players and fans voicing their displeasure with the lockout. However, Boston Bruins owner Jeremy Jacobs has seemed to come across as worse than Bettman and making it [...]
Twitter is abuzz right now with Jeremy Jacobs bashing and it is fabulous. If tweets were throwing knives, Jacobs would be sliced, diced and cut into a fine mash. He's getting CRUSHED and rightfully so. The guy is a total asshole. He's currently the President of the NHL Board of Governors, which basically means he's running the lockout while people are too busy blaming...
If I get my Christmas wish, Ryan Miller will be seated three feet away from Bruins owner, Jeremy Jacobs, for the owners-NHLPA meeting which is scheduled to take place in Manhattan on Tuesday 12/4. Miller has made his feeling about Jacobs and the owners abundantly cleaqr during this NHL lockout. I feel like Miller is best suited to be one of six players at the table for these reasons...
Will there be any CBA progress this week? I'm still not ready to say the 2012-13 season will be canceled. But I don't have much optimism about this week's NHLPA/NHL owners' meetings. I suspect both sides continuing to dig in their heel and more time being wasted. I felt that way even before it was confirmed that Jeremy Jacobs will be part of the meeting, and now...
As the NHL lockout lumbers on, the league and its players' association are finally trying something different this week to try to hash the remaining issues out. Six NHL players will meet with six NHL owners on Tuesday in New York City to take a new approach to solve the lockout. The six owners meeting will be Jeremy Jacobs of Boston, Ronald Burkle of Pittsburgh, Mark Chipman of...
from Pierre LeBrun of ESPN, So if you're the PA, what do you do here?  On the one hand, players have long ago and predictably tired of Bettman -- name-calling and all -- so the opportunity to see him removed from the bargaining room seems like an offer too good to resist.  On the flip side, some people were quick to argue on Twitter Thursday night that the NHL...
NHL Deputy Commissioner Bill Daly announced the names of the owners who will be in attendance at the players/owners CBA meeting on Tuesday... "We expect the following NHL owners to attend: Ron Burkle (Pittsburgh Penguins), Mark Chipman (Winnipeg Jets), Murray Edwards (Calgary Flames), Jeremy Jacobs (Boston Bruins), Larry Tanenbaum (Toronto Maple Leafs) and Jeff Vinik (Tampa...
All Sports News

Delivered to your inbox

You'll also receive Yardbarker's daily Top 10, featuring the best sports stories from around the web. Customize your newsletter to get articles on your favorite sports and teams. And the best part? It's free!
THE HOT 10: Who's Trending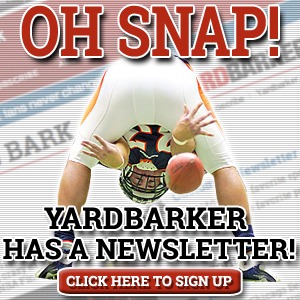 Latest Rumors
The Backyard

Today's Best Stuff

For Bloggers

Join the Yardbarker Network for more promotion, traffic, and money.

Company Info

Help

What is Yardbarker?

Yardbarker is the largest network of sports blogs and pro athlete blogs on the web. This site is the hub of the Yardbarker Network, where our editors and algorithms curate the best sports content from our network and beyond.