Found May 10, 2012 on Fox Sports:
For swim fans of a certain vintage, Gary Hall Jr. was Michael Phelps. Only with a bigger personality. With more style. With more swagger. Hall Jr. used to waltz onto a pool deck dressed like Apollo Creed in Rocky III, blowing kisses and kissing his biceps and hoping desperately that persona would be enough to confront everything that goes into traveling 50 meters in 20-some seconds. Once the stuff was off and it was just Hall Jr. on the blocks, it was easier to see him for what he was -- the fastest man in the world at that moment. It is quite remarkable when you think about just how thin of a line it is between fast and fastest at the Olympics. "In my two individual gold-medal races, the cumulative margin of victory was 1/100th of a second," Hall Jr. said when we talked a couple of days ago. "Think about that, 1/100th. That is incredible. That is unbelievable if you think about it. And that is how close these races are in the sprints, and what is crazier is it is usually the same folks touching the wall and medaling." What is also true and somewhat crazier is those people are not Americans, not in sprinting, not in the men's events, not right now. The American sprinter, if not dead, is most definitely an underdog. And this, quite frankly, feels un-American. We are the country of Hall Jr. and Mark Spitz, Matt Biondi and Johnny Weismuller, who are the legends of the speed events in swimming. Now the Australians and French are faster. This is blasphemy. Sprinting should be our Olympic domain given our propensity for short attention spans and immediate gratification. We are the country of drive-thrus and TiVo-ing through commercials. We speed date and speed read. We like everything fast and preferably faster. So why aren't we better at this? This is the question Olympic hopeful Nathan Adrian and I were discussing on the pool deck a couple of weeks ago at a meet in Indianapolis. There are two things you need to know about Adrian: 1) He's America's best hope to medal in the sprint events in London. 2) He's pretty awesome in that laid-back, Cal-student, swimming way of not quite realizing just how good he is. "I am trying to bring it back," he said without a hint of bravado. "I am trying my hardest to make it America's event again." So why did it stop being our event? "That is good question," Adrian said. "I think it's maybe a little bit of a bigger deal in some other countries to be a sprinter. For instance, France, to be a French 100 freestyler, you are a household name. In Australia, you know, to be a 50 or 100 guy, you are a household name. Look at Cesar Cielo in Brazil, he is their Olympic hero. It is a big deal." It is still a big deal here, too, or as big of a deal as anything can be in the US of A when we are not the best at it. We tend to like winners, after all. At the World Championships in Shanghai, Australia and France finished ahead of the US in the 4x100-meter men's freestyle relay. In the 100-meter freestyle, it was Australia (gold), Canada (silver), France (bronze). In the 50, it was Brazil, Italy and France. And what the Australians did at their Olympic trials was just nasty. The thing about Olympic swimming is you cannot simply be the fastest swimmer in, say, Bahrain. To qualify for the Olympics, you have to make an A cut. Some countries don't even have a single person making the A cut. Some countries might have two. "Australia," Adrian said, "They had six." For perspective this means all six members of their relay team are fast enough to swim the event at the Olympics. This is insane for no other reason than to find six people wired for this kind of swimming. Sprinting is like playing goalie in hockey or being the closer in baseball, it requires a certain personality type to be successful. In sprinting, it is not an absence of fear. It is a willingness to dive into the fear and all of its accompanying symptoms -- adrenaline, panic -- and flail away at it, relying on exhaustive training and guts to get you through an event that on its best day takes 20-point-something seconds. "Yes, it does take an uninhibited approach in a lot of ways," Hall Jr. said. "I will, sometimes, give a dismissive response 'Oh, I was running on adrenaline.' The truth is it is a very methodical approach, the training, the detail. Once you are in the arena, though, it is a little bit chest bumping, kind of primal, alpha male demonstration." This feels like the right time to mention Adrian's butt, more specifically his bare butt and how we came to be talking about it at that meet in Indianapolis. He swam with a slit up his swimsuit. "It was my whole butt crack," Adrian said. "I was ending over on the block and feeling the snap. I was bending over. Well, I mean what could I do? It was near take your mark. I am not going to stop. There was a split second when I was like 'Whatever, I am just going with it.'" This is exactly what Hall Jr. was talking about needing in sprints, and at least partially why Adrian is so good at them. He rolls with things, which is what you have to do in an event where four years of training comes down to 1/100th of a second. It is a paralyzing thought unless you are one of those crazies that love the chaos. Adrian is one of those crazies. "It's just really fun. It fits my personality well," Adrian said. "Like you said, America has a short attention span, I have a really short attention span and (this event) is great (for that)." The 100-meter freestyle is start, breakout, turn, breakout, finish. "There is not as much of a buffer. I like that," Adrian said. "That makes me crazy, right. I know, I know." Doing the 400-meter individual medley is crazy. It is grueling. The 50 and 100-meter freestyle events require a different kind of guts, the kind seen by Spitz and Biondi, Weissmuller and Hall Jr. and lacking since them. So is the American sprinter dead? Or is he just an underdog ready to break out in London and take back this very American event? "I don't know," he said with a laugh. "I don't know. It's tough. Every event is getting faster, not just sprinting. Sprinting has been used as kind of an example but even in the events Michael wins, he wins by a little less every year. The world is plain and simple getting faster. But, like I said, I am trying." And for swim fans of this vintage, he is our best hope in the speed events.
Original Story:
http://msn.foxsports.com/olympics/swi...
THE BACKYARD
BEST OF MAXIM
RELATED ARTICLES
Michael Phelps easily beat Ryan Lochte in their last race before the US Olympic trials. Don't read too much into the results. Heck, Phelps didn't win either. Ricky Berens beat them both to the wall in the 200-meter freestyle at the Charlotte Grand Prix on Friday night, touching in a relatively slow time of 1 minute, 47.32 seconds. Phelps finished second in 1:48.01, while...
Michael Phelps easily beat Ryan Lochte in perhaps their final race before the U.S. Olympic trials, but they both wound up trailing hometown favorite Ricky Berens at the Charlotte Grand Prix. Berens won the 200-meter freestyle Friday night in a relatively slow time of 1 minute, 47.32 seconds. Phelps finished second in 1:48.01, while Lochte was far back in sixth place in 1:49.70....
Four years ago in Beijing, when Michael Phelps wasn't amazing us with the preposterous things he was pulling off in a swimming pool, the stories about his compulsive eating habits were. His diet appeared to resemble that of a competitive eater rather than a record-breaking Olympian, and its ascendance from the sports world into pop culture lore all but signaled the diet's legendary...
At long last, the 4-year-old New York Post story that angered people trying to lose weight all over the country  has been denied by Michael Phelps.  Yes, he did smoke marijuana, but that is not what this is about.  While speaking with Ryan Seacrest today, the 14-time Olympic Gold Medalist denied the notorious report that [...]
Burned out by the rigors it took to amass eight gold medals in Beijing in 2008, Michael Phelps wasn't sure if he'd have enough motivation to want to compete in another Olympic games. But, thankfully for swimming fans and Team USA's medal count, Phelps was able to rekindle his enthusiasm, and he says some of the credit for getting him over the hump belongs to a famous NFL player...
Chloe Sutton won the 1,500-meter freestyle and Chad LaTourette took the 800 free on opening night of the Charlotte UltraSwim Grand Prix meet. Sutton touched first in 16 minutes, 23.96 seconds Thursday night at the Mecklenburg County Aquatic Center. Ashley Twichell was second in 16:25.25 and Andreina Pinto was third in 16:38.64. LaTourette won the men's race in 7:58.91. Connor...
Chloe Sutton won the 1,500-meter freestyle and Chad LaTourette took the 800 free on opening night of the Charlotte UltraSwim Grand Prix meet. Sutton touched first in 16 minutes, 23.96 seconds Thursday night at the Mecklenburg County Aquatic Center. Ashley Twichell was second in 16:25.25 and Andreina Pinto was third in 16:38.64. LaTourette won the men's race in 7:58.91. Connor...
All Sports News

Delivered to your inbox

You'll also receive Yardbarker's daily Top 10, featuring the best sports stories from around the web. Customize your newsletter to get articles on your favorite sports and teams. And the best part? It's free!
THE HOT 10: Who's Trending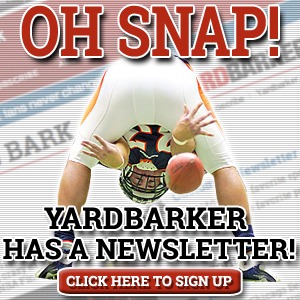 Latest Rumors
The Backyard

Today's Best Stuff

For Bloggers

Join the Yardbarker Network for more promotion, traffic, and money.

Company Info

Help

What is Yardbarker?

Yardbarker is the largest network of sports blogs and pro athlete blogs on the web. This site is the hub of the Yardbarker Network, where our editors and algorithms curate the best sports content from our network and beyond.