Found March 17, 2013 on Waiting For Next Year:
PLAYERS:
Jason Giambi
,
Josh Cribbs
,
Brian Cashman
,
Terry Francona
,
Paul Kruger
,
Desmond Bryant
,
Quentin Groves
,
Phil Taylor
,
Ahtyba Rubin
,
Ubaldo Jimenez
,
Travis Hafner
,
Deshaun Thomas
,
Sam Thompson
,
Kyrie Irving
,
Prince Fielder
,
Adrian Beltre
,
Rajon Rondo
TEAMS:
Cleveland Indians
,
Arizona Cardinals
,
New York Yankees
,
Cleveland Browns
,
Colorado Rockies
,
Cleveland Cavaliers
,
Detroit Tigers
,
Texas Rangers
,
Boston Celtics
,
Ohio State Buckeyes
While We're Waiting serves as the early morning gathering of WFNY-esque information for your viewing pleasure. Have something you think we should see? Send it to our tips email at tips@waitingfornextyear.com. Jason Giambi: elder statesman. "Giambi hopes to make the Indians' roster as a pinch-hitter and occasional designated hitter, the kind of bench player his old general manager with the Yankees, Brian Cashman, calls a big, hairy monster. Two years ago, Giambi hit 10 home runs in 99 at-bats against right-handers. He still has pop, probably. He definitely has wisdom. "He's not a veteran, he's the veteran," Manager Terry Francona said. "I've already gone to him three or four times asking him questions. He's solid. Brings a lot." Francona and Giambi have something in common: each interviewed for manager's jobs after last season. Giambi interviewed twice for the job in Colorado, where he played the last four seasons. The Rockies hired Walt Weiss but offered to make Giambi their hitting coach. He declined, he said, out of respect for Weiss; if the team started slowly, Giambi did not want to be seen as looming in the background, angling for his job. He also wanted to squeeze one more season from a career that stretches to 1995." [Tyler Kepner/New York Times] - Browns might actually have depth this season. DEPTH! "By focusing their efforts on the defensive side of the ball with Paul Kruger, Desmond Bryant and Quentin Groves, the Browns brought in players at key spots to give new defensive coordinator options for his defense. "I think if we keep building the defense the way we are, it's like that pyramid system where you keep stacking blocks on top and you get to the top and you've got that pinnacle of players or player that's your leader," Horton said on the team's website. "One of those guys is D'Qwell (Jackson), and I think bringing Paul Kruger in, that's another where he's been there and done that. That adds instant credibility in the locker room, on the field, for the opponents that the Cleveland Browns are going to get quality, good football players." The addition of Bryant to the defensive front gives the Browns something they haven't had in … well, we're not sure, let's say quite a while, which is depth. As of today, the Browns have a six-man rotation on the defensive line and Bryant, at age 27, is the oldest player among the group. In one of those Only in Cleveland moments, seeing the Browns build depth at a critical position is confusing to some, but it really shouldn't be. One thing you can count on in the NFL is injuries – just last year Phil Taylor missed eight games with a torn pectoral muscle, while Ahtyba Rubin missed three with an ankle injury. Guys are going to get hurt and having a deep position group can never be a bad thing. [Thomas Moore/The Cleveland Fan]. - So excited for another year of Ubaldo, you guys. "As the curtain rises on the Cleveland Indians' 2013 season, a lone figure walks to center stage. At 6'5″ and 29 years old, he is long, lean and in the prime of his career. The right-hander stands at the mark and simulates throws for the audience while his 2012 numbers show behind him: 5.40 ERA, 17 losses, 1.51 SO/BB. Most in the crowd want to throw tomatoes, a few reserve judgment with roses at the ready. As the assembled descend into argument, Ubaldo Jimenez keeps throwing. This year is the third and perhaps final act of The Ubaldo Jimenez Show in Cleveland, and the first two-thirds of the performance have not impressed. Jimenez joined the Tribe from the Colorado Rockies on July 30, 2011. On the day of the trade Cleveland was 1.5 games out of first in the AL Central, and Ubaldo's acquisition was met with great fanfare. "Finally the Indians were buyers at the deadline," fans raved. "Here is the missing piece, that key mid-season pickup that so many great postseason teams make," critics lauded. So what if we had to surrender two top-tier prospects and shell the farm system to make the deal? There was champagne to buy and playoff tickets to print. Those bottles sadly remained corked as Jimenez went a pedestrian 4-4 with a 5.10 ERA in Cleveland and the Wahoos missed the postseason yet again. The following year was hardly better: 9-17, 5.40 ERA, etc. Indians GM Chris Antonetti pulled the trigger on the deal partially because of how affordable (and lengthy) Jimenez's contract was. Cleveland didn't want a three month rental; they wanted a workhorse on whom they could depend. So far Ubaldo has been less workhorse and more ******* on the North Shore. But could 2013 be another 2010 for the righty?" [Corey Barnes/The Cleveland Sports Report] - That whole "sports are your girlfriend" metaphor keeps popping up. "Josh Cribbs was great for civic pride, whatever that means in 2013, but as far being a Browns player he hasn't been good for the team recently. In fact, in the past three seasons he's been one of the biggest complainers and disappointments in the organization. Remember in 2010 when he cleaned out his locker and said he wasn't going to honor the three remaining years on his contract? I guess he thinks he's the prize we're all supposed to be after? Then he used you, the fans, and your emotions to get ownership to reward him with a new contract. Ask yourselves, has he lived up to the $20 million-plus this team has paid him since he was drafted? Josh Cribbs is the biggest fraud in Cleveland sports. Many of you will argue Travis Hafner is, but his failures can easily be blamed on injuries. Hafner never used and abused you like Josh Cribbs did." [Damien Bowman/More Than a Fan] - Previewing the Big Ten title game. "This doesn't project to be a particularly beautiful game, but championships are championships, now matter how ugly the getting there. If the Buckeyes win, an NCAA two seed is probable, a thought that seemed completely out of the question back on the 17th. Ohio State knows how ugly things can get in a hurry if they get lazy in late shot clock situations, or rush shots and fall right into Wisconsin's desired pace. The role players for Ohio State are hitting their stride at exactly the right time, even if Deshaun Thomas hasn't been exceptional yet. Ross has emerged as a dynamic three point threat, and Chicago-native Sam Thompson has played two great games in a row. If those two are shooting well, and a merely competent Craft emerges, Ohio State is going to be an exceptionally tough out, not just today, but in the Big Dance as well." [Mat Brown/Land Grant Holy Land] - Kyrie Irving's name seems to be popping up everywhere. "This list is a Bloomberg Sports and Horrow Sports Ventures collaborative project published annually, quantifying active athletes' brand power. The Power 100 uses a combination of on-field statistics, endorsements and social media influence to compile their ranking. A complete breakdown of the methodology can be found here. With a total power score of 47.43, Irving came in at No. 77 overall—sandwiched between MLB'ers Prince Fielder (76) and Adrian Beltre (77). Irving was the youngest of only 17 NBA players included in this year's ranking. The Cavaliers second-year point guard finished four spots behind James Harden (73) and 10 spots up on Rajon Rondo (87) as the next closest NBA players to Irving on the list. [Brendan Bowers/Stepien Rules].
Original Story:
http://www.waitingfornextyear.com/201...
THE BACKYARD
BEST OF MAXIM
RELATED ARTICLES
Before people even had a chance to recover from their St. Patrick's Day hangovers, the Indians were hard at work once again trimming down the roster as Opening Day looms now just two weeks away. As the team prepared to take on the Brewers Monday at Goodyear Ballpark, numerous players were either optioned to a minor league affiliate or simply reassigned to minor league camp. Additionally...
Vinnie Pestano will be joining his Tribe teammates in Goodyear, AZ a little earlier than he and Team USA had hoped. The US was eliminated from the World Baseball Classic at the hands of a 4-3 loss to Puerto Rico on Friday night. With one on and two out, trailing 1-0 in the 6th, Pestano took the mound for Team USA replacing starter Ryan Vogelsong of the Giants. Pestano gave up a single...
The Indians minor league teams were in action on Saturday against the Brewers, and Tony provides a recap of how everyone did in each game. T.J. House and Toru Murata were crisp in their outings for Columbus, Michael Goodnight struggled for Akron, Leonardo Castillo was perfect on the day for Carolina, Nelson Rodriguez showed the power (again) for Lake County, and tons more.
The Indians minor leaguers took on the Rangers on Sunday, and there were plenty of noteworthy performances and some not so good showings. Tony was there to witness the action yesterday and provides all the stats for all four teams, and touches on the great day at the plate for the likes of Jose Ramirez, Dorssys Paulino, Manuel Boscan, Francisco Mejia and lots of others, and also...
There is a lot of excitement in Cleveland about the upcoming baseball season, particularly since the club landed players like Nick Swisher and Michael Bourn. Still, fans remain cautiously optimistic about their team's chances this coming season. In Cleveland, cautious optimism is typically the feeling that precedes crushing defeat. This year, Cleveland fans hope that changes. Fortunately...
Asdrubel Cabrera and Jason Giambi each homered to lead Cleveland to a 4-3 win over a Giants split squad on Saturday. Cabrera, recently returned from the World Baseball Classic, hit his first spring home run off Double-A pitcher Chris Heston. Giambi, a non-roster invitee hit his second home run off Jake Dunning. The Indians held a 2-1 lead going into the ninth. Carlos Carrasco...
Overview Right-hander Brett Myers pitched four uneven innings, and the Cleveland Indians fell 4-3 to the Milwaukee Brewers at Maryvale Baseball Park on Friday. Across four innings, Myers allowed seven hits and four earned runs, and he also walked three while striking out two. The start certainly left a lot to be desired, and Myers now has a 7.11 ERA in 12 2/3 innings this spring...
The Goodyear Notebook is back for another run this spring, and Tony will be updating us for most of the next 10-12 days on the happenings at minor league camp for the Indians. He will be providing daily comments from the front office and does so today with info on the plan for Trey Haley and more. Tony also has details on the rehabs of Austin Adams and Geoff Davenport, the impressive...
GOODYEAR, Ariz. (AP) -- Daisuke Matsuzaka will not make the Cleveland Indians' opening-day roster. Matsuzaka, trying to make a comeback after pitching in just 11 games last season with Boston following elbow reconstruction surgery, may accept an offer to stay in the club's minor league camp. The 32-year-old Japanese right-hander was trying to win a spot in Cleveland's...
GOODYEAR, Ariz. — Daisuke Matsuzaka will not make the Cleveland Indians' opening-day roster. Matsuzaka, trying to make a comeback after pitching in just 11 games last season with Boston following elbow reconstruction surgery, may accept an offer to stay in the club's minor league camp. The 32-year-old Japanese right-hander was trying to win a spot in Cleveland's rotation...
The minor league spring games kicked off on Friday, and the IBI has the full detail on how every player did in all four games. Columbus was awesome on the mound throwing a one-hit shutout, Jeremy Hermida, Francisco Lindor, Juan Romero and others had big days at the plate, and several players returned from injury.
All Sports News

Delivered to your inbox

You'll also receive Yardbarker's daily Top 10, featuring the best sports stories from around the web. Customize your newsletter to get articles on your favorite sports and teams. And the best part? It's free!
THE HOT 10: Who's Trending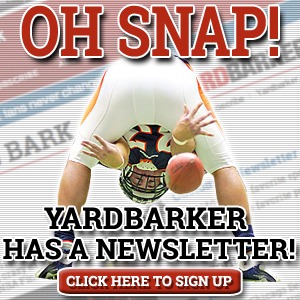 Latest Rumors
Best of Yardbarker

Today's Best Stuff

For Bloggers

Join the Yardbarker Network for more promotion, traffic, and money.

Company Info

Help

What is Yardbarker?

Yardbarker is the largest network of sports blogs and pro athlete blogs on the web. This site is the hub of the Yardbarker Network, where our editors and algorithms curate the best sports content from our network and beyond.