Found November 13, 2012 on The Nosebleeds:
After aimlessly wandering through the internet/facebook. I came upon this fan page Yeah, She Squats. The description states " Yeah, She Squats is a page dedicated to empower women (to show off that hard earned ass!). If you've got a booty, message it through, let the world see, and it may just be posted anonymously. For guys, enjoy the eye-candy." Now I don't know about you but this has been a clear message by God. The lord himself has sent divine wisdom to all women on this mortal planet to simply "FCK*** SQUAT!". Yes ladies, men will drool over a well define badonkadonk, but I am not here to speak of such things………………………..but seriously. Why don't women squat? From what I have observe from the majority of women on a daily basis at the gym, I can narrow it down to 5 things. 1) A ******* amount of miles on the treadmill/elliptical/bike 2) Team/ Group triceps extensions at 5lbs (while talking to each other) 3) Donkey kicking on yoga mats( very slowly) 4) 15 sets of variant abs crunches (more like neck strains) 5) Between 2 to 5 reps of the hip abduction machine My theory is that maybe some women at gyms are intimidated by men in the weigh lifting section, or have a fear of "getting too bulky", or are just not knowledgeable enough about the benefits of weight lifting, especially squats. Squatting alone will not only "tone" you legs, but your glutes, hamstrings, calves, abs, and lower back. There are very few movements that rival the squat in regards to the activation of multiple muscle groups, the only other exercises that activates more muscle groups is the deadlift (you should these too!) How about cardio? you ask. I challenge anyone to do 20 Deep Breathing Squats with your body weight and compare it to a moderate jog, elliptical, or bike ride for 30minutes. You want too look good in your jeans? lifting weights is the fastest method to alter the shape of your body, its called hypertrophy. aerobics may reduce body fat and tone your legs, but why not reap the benefits of both in half the time? It's too hard? I refuse to believe that. If women are able to run for long distances multiple times a week, can house a child in their belly for 9 months, multi task fantastically (scientifically proven that women are better multi taskers than men). I see no reason why women cannot squat! If your a women worried about exuding strength, power, and overall badassness let me respectfully tell you, YOUR ARE FCK*** WRONG! Times have changed. No longer are women "weak", or labeled to clean, cook, and watch over the kids. Its sexy to have girl who takes care of herself, to have a literally "strong" woman who motivates their partners to be stronger, who don't have to depend on the help of their bf, guy friends, or husbands , to move boxes or sometimes a feather from the floor. TIMES HAVE CHANGED! And for those who may see this as a threat to their femininity…I challenge you to try a squat, with some weight and tell me in a month your ass won't be making strides to a butt like this.
Original Story:
http://thenosebleeds.com/why-dont-gir...
THE BACKYARD
BEST OF MAXIM
All Sports News

Delivered to your inbox

You'll also receive Yardbarker's daily Top 10, featuring the best sports stories from around the web. Customize your newsletter to get articles on your favorite sports and teams. And the best part? It's free!
THE HOT 10: Who's Trending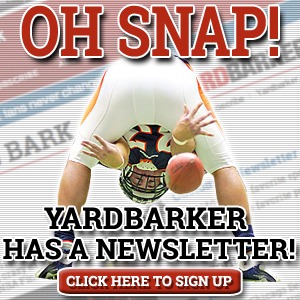 Latest Rumors
The Backyard

Today's Best Stuff

For Bloggers

Join the Yardbarker Network for more promotion, traffic, and money.

Company Info

Help

What is Yardbarker?

Yardbarker is the largest network of sports blogs and pro athlete blogs on the web. This site is the hub of the Yardbarker Network, where our editors and algorithms curate the best sports content from our network and beyond.