Found October 25, 2012 on Philly Sports World:
PLAYERS:
Chase Utley
,
Ryan Howard
,
Jimmy Rollins
,
Cliff Lee
,
Cole Hamels
,
Jonathan Papelbon
,
Hunter Pence
,
Shane Victorino
,
Placido Polanco
,
Roy Halladay
,
Carlos Ruiz
,
Tommy Joseph
,
Sebastian Valle
,
Darin Ruf
TEAMS:
Philadelphia Phillies
,
San Francisco Giants
,
Los Angeles Dodgers
Phillies' 2nd Baseman Chase Utley 2012 is a distant memory now for The Philadelphia Phillies. Thankfully. All attention can now be turned on 2013, and what the Phillies can do to bounce back and be competitive again. After all, 2013 may represent their last chance at winning with this core of players in tact. Ryan Howard, Jimmy Rollins, Cliff Lee, Cole Hamels and Jonathan Papelbon will all be here (presumably) in 2014, but several key faces may not be. That's in addition to Hunter Pence, Shane Victorino and Placido Polanco who played for the Phillies last year and already won't be returning. Chase Utley enters the final year of his contract with the Phillies with way more questions than answers. The main question being will Utley be able to start the season healthy after failing to do so for the last two years? If he is healthy and able to control the pain in his knees, will he be anything close to the player he once was? In light of Utley's health concerns during his career, it would seem unlikely and unwise for the Phillies to entertain signing him after this deal expires. Chase Utley has been one of the faces of this franchise's rebirth, but his time in Philly may be small. Roy Halladay has a vesting option with the Phillies for 2014. That option vests based on the number of innings pitched between 2012 and 2013. Roy Halladay, after missing two months of the season with a lat strain, will be hard pressed to get to the 400+ innings needed for that option to kick in. What does that mean in short? Roy Halladay will likely be a free agent after next season with the Phillies. Like Utley, Halladay's health and effectiveness have become questions where none used to exist. After returning from that injury, Halladay never seemed to be the same pitcher that the Phillies expect. The hope for Doc is that the extended rest this winter will help him regain his form. Another Phillie entering the final year of his contract is catcher Carlos Ruiz. Unlike, Halladay and Utley, Ruiz has been aging like a fine wine. At 33, Ruiz turned in the finest season of his career batting .3xx with 16 HRs and 64 RBI. It was a breakout performance for Chooch and earned his 1st All Star nod. The issue with Ruiz is his age. It is not typical to see a player in his 30′s putting up the kind of numbers he put up last year for very long. A lot of what happens with Chooch's future with this team will be likely be predicated upon what he does offensively in 2013, AND what catching prospects Tommy Joseph and Sebastian Valle do in the minor leagues. Joseph was acquired for Hunter Pence at the trade deadline and is a highly regarded prospect. If the Phillies don't fare we'll next season, they may decide to blow the team up and go with a younger catcher. Time will tell on that one. In the face of potentially losing some of their best talent, the Phillies also have huge holes to fill this year. The outfield for the Phillies is a train wreck of potential and the great unknown. Can Darin Ruf play? Can Domonic Brown play? Who will man centerfield? It's amazing how a team has gone from having its outfield start in the All Star Game in 2009 to not having an outfield. It all happened so quickly. And then there's third base. Placido Polanco will not be back. There are rumors that A Rod is available from the Yankees, but how do you replace a 37 year old broken down body with a 38 year old broken down body and expect to gain traction? I get that A Rod could provide you the right handed power threat, but I'm just not convinced his antics would play well in Philly. The question I keep coming back to is how will the Phillies approach this offseason? Will they try to patch as they did last year, or will they go all in one final time? It's the big question this offseason, and it's answer may reveal whether this team can take one more shot or whether they will fade into history. Similar Posts: Utley to 3B? Not So Fast 6 reasons to look forward to Phillies baseball in 2013 Who's on third? Not Chase Utley Phillies dispatch Braves 6-2, pull within 3 of Wild Card Phillies Odds and Ends – Rain Out, Charlie Will Be Back, Polanco May Not Be Back & Injury Updates
Original Story:
http://phillysportsworld.com/will-the...
THE BACKYARD
BEST OF MAXIM
RELATED ARTICLES
Pete Orr was removed from the 40-man roster.  In parts of two seasons in Philly, Orr played 2nd and 3rd base, batting .253/.616 over 81 games.  Signing him to a minor league deal for a third straight season would be wise because he provides depth at Triple-A and is passable in short spurts in the Majors.  Plus, he's Canadian, so that's cool.Minor league veteran catcher...
PHOTO: AP Cliff Lee had perhaps the strangest season of any Phillie in 2012. He had a 3.16 ERA but went 6-9. He averaged 7.0 innings per starts but had no complete games. He had 7.39 times as many strikeouts as walks but wasn't as dominant as he could have been because he allowed 26 home runs, nine more than his season average the previous three years. Lee's season really hammered...
Categories: BREAKING NEWS News PhilliesTags: Cole HamelsPhillies2012 Expectations Everyone expected a big year from Cole Hamels. The starter was coming off of one of his best years a major league starter, finishing the 2011 season with a 14-9 record and a 2.79 ERA. With his contract set to expire, the general consensus was that Hamels would have a big season to put himself [...](Read more...)
My love of the Phillies was passed down from both my grandfathers. My dad's dad was an Italian immigrant who came to America in the early 20′s. He settled in Philly and told me in his broken English how he started to follow the Phillies and go to Connie Mack Stadium. He said he could see both the A's and the Phillies there. He passed his passion for the Phils to my dad. I can...
Last October, we collected fan photos of Phillies jack o'lanterns, costumes and other spooky Halloween stuff. This year, anyone who sends in a photo will be eligible to win a free Phillies hat (people who sent in a photo last year are eligible, too)! Check them out below and upload your own. A winner will be randomly selected at midnight on November 2nd. ...
2012 was a disappointing year for an aging Phillies team. The house of cards collapsed as numerous lpayers suffered injuries, and the Phillies just couldn't get a streak going all season. Going into 2013, the team is in an extremely interesting position, with lots of money tied up in older players that are fading fast. Needs A third baseman is probably the prime target...
Photo: MiLB.com Former Phillies second baseman Wally Backman will return to the Mets' Triple-A coaching staff as manager and follow the team from Buffalo to Las Vegas. Why is this newsworthy on a Phillies blog, you ask? In addition to being a former Phil, Backman was among the candidates to replace Ryne Sandberg at Triple-A Lehigh Valley with Sandberg's promotion to the Big...
Polly is likely on his way out. Would Chavez be a better fit? (AP) The Phillies will decline Placido Polanco's $5.5 million option for 2013, buying him out for $1 million. The formal decision hasn't come down the pipeline, but it's essentially a foregone conclusion. This opens up a spot at third base that the Phillies will need to fill internally, via trade or through the...
The Toronto Blue Jays claimed right handed pitcher David Herndon off waivers from the Philadelphia Phillies. That's the second player the Jays have claimed off waivers in two days. Yesterday, the team claimed catcher Bobby Wilson off waivers from the Angels. Herndon, 27, went 0-1 with a 4.70 ERA, 1.2 HR/9, 1.2 BB/9 and 9.4 SO/9 in 7.2 innings with the Phillies in 2012. Image...
John Mayberry received more playing time this year, playing in 149 games with Domonic Brown in the minors, the mid-season trades of Hunter Pence and Shane Victorino and Ryan Howard's injury. His overall production was below average. He hit for power but didn't reach base all that much and struck out 23% of the time. His defense was solid at first base and in the corner outfield...
All Sports News

Delivered to your inbox

You'll also receive Yardbarker's daily Top 10, featuring the best sports stories from around the web. Customize your newsletter to get articles on your favorite sports and teams. And the best part? It's free!
THE HOT 10: Who's Trending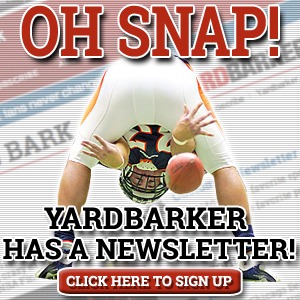 Latest Rumors
The Backyard

Today's Best Stuff

For Bloggers

Join the Yardbarker Network for more promotion, traffic, and money.

Company Info

Help

What is Yardbarker?

Yardbarker is the largest network of sports blogs and pro athlete blogs on the web. This site is the hub of the Yardbarker Network, where our editors and algorithms curate the best sports content from our network and beyond.