Found July 07, 2013 on The Rhino and Compass:
Over the last couple of months, I have heard many assaults on the Twins front office and management, whether it be from uncles and cousins or just anonymous malcontents on Twitter. It's to the point that I feel the need to stick up for Terry Ryan and, yes, even Ron Gardenhire. I will start with Terry Ryan. I had my issues with him during his first tenure, and that lay entirely on his reluctance to make big moves to get the team over the top. More often than not, the team stood pat at the trade deadline, and watching other contenders upgrade drove me insane. There were complaints about the complacency among the players as well, which I found even more bothersome. This is no longer an issue, as he inherited a team in his return that was no threat to contend. It was also a team that had no hope of contending in the near future either, thanks to a barren farm system to go along with their bleak output at the major league level. Bill Smith had been more aggressive early in his tenure, but now was seized by indecision and unwilling to admit that the team needed to rebuild. IT was really no fault of his own, as the Twins were riddled with injury and rocked by attrition early in his tenure, but  not beginning the process of reinventing the team was an error that fell entirely on Smith's shoulders. Smith was replaced by Terry Ryan with the mission of rebuilding a team, bringing them back to contention. In this regard, Terry Ryan has been much more aggressive, and by most accounts, he has quickly cobbled together the best farm system in the league, thanks to savvy draft picks, international signings, trades and patiece. Sure, he hasn't been able to field a winning tea over the past two years, but it's hard to blame him for that either. I've pointed out the fact that the primary issue with the Twins has been pitching, but it's also been clear to me that free agent pitchers simply have not been interested in coming to Minnesota. He has instead been prudent with his expenditures, realizing that there were no quick fixes available. If you have a better solution, I would love to hear it. Now for the manager. I've never been Ron Gardenhire's biggest fan, but the primary reason for that was the credit he received that I didn't feel he had earned, and all of his unwavering apologists. The Twins were able to win the AL Central because the division was mediocre and they simply had superior talent. Say what you want about managers, but more often than not, over the course of the regular season, talent usually wins out. The Twins at present do not have talent on their roster, not more than the Tigers or Indians, in any event, and may even be worse off than the Royals. As I won't give Gardenhire the credit others have for winning the AL Central last decade, I won't vilify him for the struggles the team has had lately. In my mind, manager skill is most well represented in the post season, where you can see how relaxed his players are, in game strategy is more magnified and the state of his bullpen is critical. Ron Gardenhire is 0 for his last 12, and the team has been tense, used bad strategy and a shaky bullpen. I fault him for that, but not the last couple seasons. Managers shouldn't have to be teachers at the major league level, as players should come to the Majors as nearly complete projects that need a bit of guidance. Still, with a tea as young as the Twins, there is a learning curve. Gardenhire was a former infielder, and I have to believe that he is part of the reason that Brian Dozier and Trevor Plouffe are getting more comfortable in the field. The Twins aren't going to make the postseason this year, so who cares if his in game strategy is crummy? (For the record, Buck Showalter is the only manager who is significantly impacting his team's fortunes this year). At least there are players who will be part of the future, and are getting better Instead of whining about the team, and their slow return to relevance, perhaps we all just need to look at the bigger picture and anticipate what is to come.
Original Story:
http://ryanhenning.com/?p=6365
THE BACKYARD
BEST OF MAXIM
RELATED ARTICLES
The Minnesota Twins have been lauded for the talent in their minor league system. It turns out they may have the best prospect in all of baseball. According to its midseason prospect update, Baseball America ranks Twins minor leaguer Byron Buxton as the No. 1 prospect. Not far behind him is fellow Twins prospect Miguel Sano, who lands at No. 3 on the list. Minnesota took Buxton with...
Minnesota outfielder Aaron Hicks has looked like a different player since returning from the disabled list earlier this month, and he had perhaps the best offensive game of his young career in Monday's 7-4 loss to the Tampa Bay Rays. Hicks finished Monday's game with a four-hit night -- the first of his career -- which included two doubles and a triple. In seven games since...
Oswaldo Arcia digs into the batter's box without much fear. The Twins' free-swinging outfielder has seen major league pitchers adjust to him since his debut on April 15, but he's made the appropriate adjustments in return. The left-handed Arcia isn't afraid to face some of the league's top left-handed pitching. Such was the case last week when Arcia lined a base...
Here they were going again. Like so many Twins defeats this season, a rocky first inning appeared to be putting them away before two-thirds of their lineup had even picked up a bat. Three straight walks from starting pitcher Mike Pelfrey in the opening inning, and Toronto was already on the way to extending a painful Minnesota losing skid, not to mention the Twin Cities franchise...
Scott Diamond seemed to have figured things out during his last start against the New York Yankees. He didn't earn a win, but he allowed just two earned runs in 6 23 innings. More importantly, he avoided a blowup in the fifth inning in that game. One start later, Diamond's fifth inning woes made a resurgence. The Minnesota Twins left-hander surrendered four runs in the bottom...
Jim Leyland didn't have to do too much digging to deem Twins closer Glen Perkins All-Star worthy. Four appearances against his team this season provided for the Detroit Tigers and American League manager an ample sample size. Perkins closed out a quartet of Minnesota victories over the Tigers during the season's first half, never allowing a run. Add that to the eight-year...
Minnesota Twins left fielder Oswaldo Arcia exited yesterday's contest against the Toronto Blue Jays after he was hit on the hand by a pitch, according to Rhett Bollinger of MLB.com. The Twins are listing Arcia as day to day with a bruised right hand. Arcia was struck on the hand by a 78-mph knuckle ball from Blue Jays right-hander R.A. Dickey. Following the HBP, Arcia...
Brian Dozier hit a three-run home run, Mike Pelfrey and three relievers combined for a four-hitter and the Minnesota Twins beat the Toronto Blue Jays 6-0 on Saturday. Dozier had two hits and four RBIs, connecting off knuckleballer R.A. Dickey for his eighth homer as the Twins snapped a six-game skid and won for just the fourth time in 14 games. Minnesota came in having lost 17...
If Ron Gardenhire had it his way, Glen Perkins would be an All-Star. There's no rule saying a manager can't vote for his own player, and Gardenhire does indeed fill out a ballot. But there's only so much one manager can do to get his player onto the All-Star team. "He's got my vote," Gardenhire said of Perkins. "His numbers match up. They're right...
All Sports News

Delivered to your inbox

You'll also receive Yardbarker's daily Top 10, featuring the best sports stories from around the web. Customize your newsletter to get articles on your favorite sports and teams. And the best part? It's free!
THE HOT 10: Who's Trending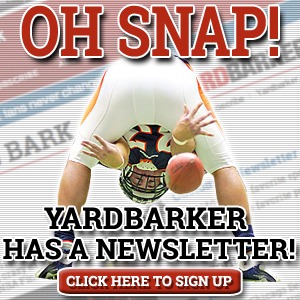 Latest Rumors
Best of Yardbarker

Today's Best Stuff

For Bloggers

Join the Yardbarker Network for more promotion, traffic, and money.

Company Info

Help

What is Yardbarker?

Yardbarker is the largest network of sports blogs and pro athlete blogs on the web. This site is the hub of the Yardbarker Network, where our editors and algorithms curate the best sports content from our network and beyond.