Found February 26, 2013 on Goon's World:
English: Wisconsin Badgers men's ice hockey pregame huddle in a game against Boston University on October 8, 2010 at the 2010 Warrior Ice Breaker Tournament. (Photo credit: Wikipedia) In years past, the Wisconsin Badgers hockey team have been the pace setter for attendance numbers in division I college hockey and in the WCHA. They have the biggest building and they've packed it to the roof with rabid screaming fans. The Kohl Center used to be one of the most intimidating places to play in all of college hockey. Now the Kohl center has become friendlier for the opposition teams. This season, the Kohl season has been known more for the dwindling crowds and unimpressive showings by the home team. Currently, the Badgers have a 7-7-3 record on home ice. The Badgers didn't win a game at home until the December 13, 2012, when they beat lowly Huntsville 5-0. On the road the Badgers have an impressive 6-2-4 record. That reign as the national attendance leaders will come to an end this season, North Dakota leads the nation in attendance with 187,397 through 16 dates for an average of 11,712 per game. If you have noticed, the Wisconsin Badgers hockey team is experiencing a decline in attendance numbers for couple of years now.  Andy Johnson from Bucky's Fifth Quarter wrote an article about this recently. If you watched the Badgers last two games on television, you would have noticed a lot of fans posing as empty red seats.  The Badgers aren't packing them in like they used to. Each year, since the 2009-10 season, the Wisconsin Badgers have been the leaders in attendance for Division I college hockey.  Since the 2010-11 season, those numbers have been in decline. There are some in the Wisconsin fan base that are already starting to point the finger. Some of the blame is landing on the shoulders of head coach Mike Eaves. There could be some factors that are playing into this? You have to wonder, if the Badgers last series being on Sunday-Monday also figured into the poor showing, at least for this past week.  There was also a series against Huntsville earlier this season that only drew 17,011 for two games when the arena seats 15,209 for a hockey game according to the Kohl Center web site. According to Andy Baggot of the Madison.com, there are going to be more of these odd ball non-traditional series on Sunday-Monday, but they're certainly not going to be the norm. Who is to blame for not the Badgers not filling the Kohl Center? I suppose you "could" blame the economy, let's face facts we are in an economic decline as a nation. People don't have as much disposable income as they used to. Barring a heroic late season run through the WCHA playoffs, culminating with a Broadmoor Trophy, the Wisconsin Badgers are probably going to miss the NCAA playoffs for the third season in a row and the fifth time in the last seven seasons. The Badgers put themselves in a tough spot starting the season off going 1-7-3 before going on an amazing run of 13-4-4. Then there is the elephant sitting it the room. Maybe it's the fact that no one really wants to watch the product on the ice. Not with that style of play. But let's be frank, who really wants to watch the Wisconsin Badgers hockey team play hockey? The casual hockey fan might not. While I am not a fan of the team per-see, I am hardly a casual hockey fan, I tried to watch the Badgers play the other night and I found the product on the ice to be unwatchable. Honestly, I couldn't watch them play; it was an absolutely brutal hockey game. I literally turned the game off and rented the movie Skyfall on DirecTV instead of watching college hockey. I have to admit, that doesn't happen very often at my house. Hockey is on from the first week in October to the last face off of the Stanley Cup Finals. I know some in Badger nation are going to be mad at me, but I am going to call it like it is. If you want to watch a hockey team that is sound defensively, that is bookended by two great goaltenders the Wisconsin Badgers are your team. Don't count on the Badgers to score a lot of goals. This isn't the 2005-06 team that won the National Championship that had two forwards with 50 or more points and two players that scored 20 or more goals. This is a team that is starved for offense, that's going to try to slow things down and clog up the neutral zone. The Badgers are ranked 50 out of 59 teams for offense nationally. In their 11 loses they have scored 17 goals that's an average of 1.54 goals per game. In my opinion, the best way to beat the Badgers is to get an early lead because they're offensively challenged. Mike Eaves has been the Badgers head coach since the 2000-03 season and he has compiled a respectable record of 223-167-51 (.563) in eleven seasons at Wisconsin. But after eleven seasons, there are some in the Wisconsin fan base that would like to see Eaves shown the door. During Eave's tenure, Wisconsin hasn't won a Broadmoor Trophy (1997- 1998) or a McNaughton Cup (1999-2000).  However, Eaves' teams have done well in the national tourney, when they have gotten there, as the Badgers won an NCAA title in 2005-06 and were the Runner up in 2009-10. If the Badgers don't win some game next year, make the NCAA tourney and start playing a more exciting brand of hockey they're going to risk alienating their fan base. That being said, I am thankful that I am not their audience, because If I had to watch their on ice product on a regular basis I would be frustrated and bored with it. It will be interesting to see how this plays out in the future. Here are the Badgers Attendance numbers for the last six seasons, incase you wanted to see the numbers. 17 games — 2012-13   171,966—10,116 20 games — 2011-12   235,458—11,773 22 games — 2010-11   290,970—13,226 21 games — 2009-10   316,014—15,048 22 games — 2008-09   303,261—13,785 18 games — 2007-08    242,184—13,455 Cross Posted at the Hockey Writers Combine.  Related articles This weekend's NCAA Division one television schedule (3/01 -3/02) (thehockeywriters.com) WCHA Power Rankings: Week 20 (thehockeywriters.com)
Original Story:
http://feedproxy.google.com/~r/blogsp...
THE BACKYARD
BEST OF MAXIM
RELATED ARTICLES
MADISON, Wis. Wisconsin forward Mike Bruesewitz is no stranger to the spotlight when it comes to his hairstyle. The red-headed senior has sported a mop-topped fro, worn cornrows and shaved his head to raise money for multiple sclerosis. And now comes a new look, one seemingly inspired by the fictional character Cosmo Kramer on Seinfeld. This week, Bruesewitz's 'do features...
MADISON, Wis. When Ryan Evans gathered the basketball with 2:35 remaining in the first half of Tuesday night's game, a palpable buzz settled across the Kohl Center.The collective hum of Wisconsin's curious fan base suggested everyone had the same question on the brain: Would Evans actually attempt a jump shot from the free-throw line as he suggested days earlier?Sure enough...
Wisconsin's Ryan Evans has been horrible shooting free throws this college basketball season. Entering the game with Nebraska he was shooting 40 % from the line. He had made just 51 of 126 attempts at the charity strike. So it was time for Evans to try something else. Considering it was bottom feeder Nebraska Evans could afford to try a new strategy at the line. So he decided to...
MADISON, Wis. Confidence may be an unquantifiable characteristic, but Sam Dekker's level of self-belief is almost always filled to the brim. Just watch the way he jogs down court after burying a 3-ponter, three fingers held high in the air for the crowd to see what he's accomplished. There is a fine line between confidence and cocky, of course, and Dekker has straddled...
As another off season of College Football material kicks off, this year marks the third year I'll throw my hat in the ring and look at a number of topics and categories. In the process I'll look to do everything from predicting next year's 25 best teams, identify the games of the year, narrow down the Heisman field, identify those replacing 2012′s stars and ultimately make...
This video is on pretty much every sports blog on the internet, but I thought Ryan Evans and his jump shot free throw needs to be addressed. Evans is shooting 41% from the line this season. That's pitiful. BUT! BUT! BUT! He's only shooting 39% from the field. Oh, it gets better – he's just 2-of-23 from 3-point range. Evans told the Madison newspaper that he'll stick with...
Wisconsin Badgers forward Ryan Evans has started taking jump shots instead of regular free throws in hopes of raising his percentage.
Check out what Wisconsin running back Montee Ball had to say to the media at the NFL Scouting Combine.
Freshman Sam Dekker tied his career high with 19 points while Ryan Evans (14) and Ben Brust (13) each reached double figures, as No.17 Wisconsin crushed Nebraska, 77-46, to move into a second-place tie in the Big Ten, one game out of first place with three to go.
After nearly a week off, the #17 ranked Wisconsin Badgers (19-8, 10-4) are back in action Tuesday night to host the Nebraska Huskers (13-14, 4-10) at the Kohl Center. BTN has TV coverage with tip-off at 8:00 PM CT. These two squads met on January 6th in Lincoln for Wisconsin's first B1G road game of the year. The Badgers and Huskers both debuted their alternate "Bleed...
All Sports News

Delivered to your inbox

You'll also receive Yardbarker's daily Top 10, featuring the best sports stories from around the web. Customize your newsletter to get articles on your favorite sports and teams. And the best part? It's free!
THE HOT 10: Who's Trending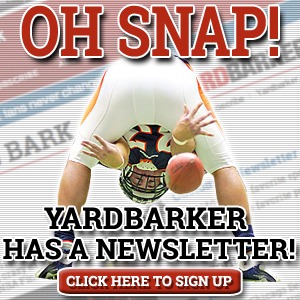 Latest Rumors
Best of Yardbarker

Today's Best Stuff

For Bloggers

Join the Yardbarker Network for more promotion, traffic, and money.

Company Info

Help

What is Yardbarker?

Yardbarker is the largest network of sports blogs and pro athlete blogs on the web. This site is the hub of the Yardbarker Network, where our editors and algorithms curate the best sports content from our network and beyond.