The Minnesota Timberwolves organization asserted itself as a team on the rise thanks to an active offseason highlighted by the acquisition of Jimmy Butler. But with the influx of talent — including bringing in Jeff Teague, Jamal Crawford and Taj Gibson — one is left to wonder how Tom Thibodeau will put together the pieces of an improved roster that already boasted young stars Karl...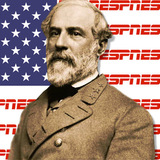 Front Five: The top stories that shaped both sports & politics this week "Is this even real life anymore?" - Clay Travis, conservative sports blogger who broke the Robert Lee/ESPN story.In an effort to desperately avoid entering the political arena, ESPN inadvertently threw itself right in the middle of it after conservative blogger Clay Travis outed the company on Tuesday for...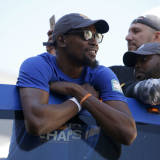 Golden State Warriors superstar Kevin Durant way back in 2011 tweeted out an interesting comment that proved beyond a doubt he harbored a major crush on actress Scarlett Johansson. Although perhaps "interesting" isn't the best way to characterize Durant's social media musing, as the then-Oklahoma City Thunder superstar argued he'd… drink Johansson's bath water. Alrighty then.Now...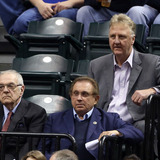 Larry Bird's resignation as Indiana Pacers president of basketball operations may have just been the first of some major changes in the organization.In the latest episode of his self-titled podcast that was released on Friday, The Ringer's Bill Simmons said that there are rumors within the NBA that Pacers owner Herb Simon may be selling the team."I think stuff's going on with that...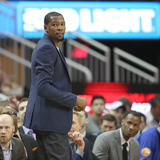 Kevin Durant bears no ill will toward Oklahoma City Thunder fans for the reception he got in his return to the city.In a wide-ranging chat on the Bill Simmons Podcast, Durant admitted that he wanted to see what playing the villain was like when returning as a member of the Golden State Warriors, and doesn't fault Thunder fans for the boos, cupcake jibes, and hostile reception."Man...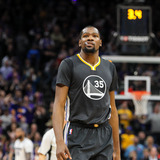 One of the reasons some people branded Kevin Durant a hypocrite after he joined the Golden State Warriors was a 2010 tweet in which he seemed to deride LeBron James and Chris Bosh for joining the Miami Heat.Durant sent the tweet eight days after LeBron James announced his decision to join Miami, and it read as a criticism of the "super-team." Durant was immediately ripped for the...
Ben Affleck, Bill Simmons and Tom Brady finally get their revenge on Roger Goodell for Deflategate.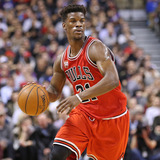 Jimmy Butler doesn't necessarily want to leave the Chicago Bulls. But when talking about his situation on the Bill Simmons Podcast, the Bulls swingman made it clear that whether he plays on the Bulls is not his call. "Trust me, I get enough on my Instagram and Twitter about going to Boston," Butler said (H/T Jay King, MassLive) "But the funniest part about it is everybody's like...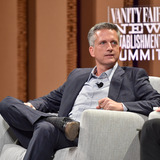 Bill Simmons took some more shots at ESPN in an interview that was published this week, and he made one remark that seemed particularly harsh. While chatting with The Hollywood Reporter about the way things ended at the World Wide Leader, Simmons implied that ESPN has fired or moved on from all of its respectable employees. "They've now gotten rid of everybody who is a little off...
MORE STORIES >>
All Sports News

Delivered to your inbox

You'll also receive Yardbarker's daily Top 10, featuring the best sports stories from around the web. Customize your newsletter to get articles on your favorite sports and teams. And the best part? It's free!
THE HOT 10: Who's Trending