Jayson Tatum has been struggling a little bit lately. He's cooled off significantly after coming out of the gates hot and leading the NBA in 3-point shooting percentage for a while. After posting true shooting percentages of 62.8% and 65.7% in November and December, Tatum has dropped to 48.9% and 49.5% in January and February. There's been some speculation about what's been behind...
Jayson Tatum is having a fantastic rookie season and looks like he may have been the steal of the NBA Draft, but the first-round pick learned this week that nightclubs may not be willing to overlook his age just because he's a budding NBA star.With the Boston Celtics in Los Angeles to face the Clippers on Wednesday, Tatum tried to join some teammates for a night out at Warwick in...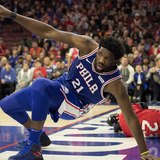 While the team has not offered up an official date at which Joel Embiid will be cleared to play in back-to-backs, the sophomore Sixers center would like to do so by the end of the month, Keith Pompey of The Philadelphia Inquirer writes.Embiid, who was voted in as an All-Star Game starter earlier today, has averaged 23.8 points and 10.9 rebounds per game for the Sixers this season...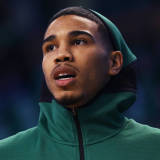 He's been doing it all season. Big shots down the stretch. Huge defensive plays. The baseline dunk against Brooklyn. The James Harden block. The late-game, lead-expanding three in Detroit. He is a forward, a Celtic and a rookie. He can hoop but understands the limitations of his role. He is soft-spoken but will yell obscenities at you after big plays late in the game. He is everything...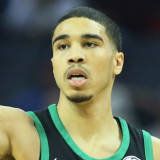 Celtics forward Jayson Tatum may be a rookie, but he's been a contributor for his team from the moment he first stepped foot on the court He also showed that he doesn't back down from anyone during Friday night's game.Tatum made a nice cut to the hoop and was challenged at the rim by seven-foot center Karl-Anthony Towns, and rather than adjusting his shot, he elected to elevate,...
How much does Mike D'Antoni like Jayson Tatum? So much that he had to make sure he wasn't tampering before he went on to praise the Boston Celtics rookie.D'Antoni was asked about Tatum prior to Thursday's game between the teams and was extremely complimentary."I think he's really good, first of all," D'Antoni said after a very long pause, according to MassLive.com. "I'm trying to...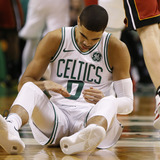 Jayson Tatum suffered a dislocated finger during the Boston Celtics' game on Wednesday night, but he was able to return pretty quickly.Tatum appeared to suffer the dislocation when he jammed his right hand against a Miami Heat defender while chasing a loose ball in the first quarter: It was pretty evident that Tatum had dislocated his finger, which the team announced. Tatum got his...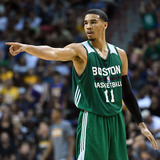 Kyrie Irving may no longer have LeBron James to pal around with on the court, but he seems to be truly excited to be out of the King's shadow.In talking about his new Boston Celtics teammates during the team's kickoff party for its new uniforms, Irving had some tremendous words to lob in the direction of rookie No. 3 pick Jayson Tatum."He works extremely hard, and, of course, having...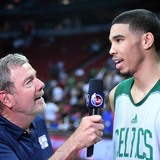 A popular player comparison for Boston Celtics rookie forward Jayson Tatum is none other than C's legend Paul Pierce, and The Truth himself believes it.In an interview Thursday with A. Sherrod Blakely of CSN New England, the retired 10-time All-Star discussed the similarities between Tatum and himself."He looks like an older version of me, when I started doing the step-back and stuff...
The Celtics elected to select Jayson Tatum over Josh Jackson (and others) with the No. 3 overall pick in the 2017 NBA Draft, and while it remains to be seen who will eventually develop into the better player, we already have some insight for a very important metric — golf swing.Tatum recently hit up a Top Golf, and yeah, he didn't really come all that close to connecting.Swing and...
MORE STORIES >>
Celtics News

Delivered to your inbox

You'll also receive Yardbarker's daily Top 10, featuring the best sports stories from around the web. Customize your newsletter to get articles on your favorite sports and teams. And the best part? It's free!