WITH AUTHORITY
The New Jersey Nets may not have many things going their way this year, but they now have a legitimate candidate for dunk of the year. Gerald Green was on the receiving end of an alley-oop from Marshon Brooks and did a windmill which brought down the house. Click here to view the embedded video. via B.S.O. Article found on: Cosby Sweaters
SING THE TUNE
Parody songs are really all the rage today. In the spirit of it, NOC has released a March Madness parody song title "Bracket Man." This song is a parody of the famous Elton John song "Rocket Man." With any luck, this song will go viral. The lyrics are great, plus it takes a shot at the awful Pac-12. This could easily become the March Madness theme song.
REACHING OUT
The University of Kentucky actually put up a billboard of Anthony Davis in New Orleans for the SEC Tournament. The billboard was put up by the Big Blue Nation to promote Kentucky's basketball team during the SEC Tournament and before the NCAA Tournament. This has to be some sort of violation. Anthony Davis is an amateur athlete and his image his being used. There has to be a rule...
COMING THROUGH
Florida and Kentucky are trading blows right now in the SEC Tournament semifinals. There are some big name players on the court, but the first half highlight came from a role player in Casey Prather. If you're a Kentucky fan or Kyle Wiltjer, you probably shouldn't watch the below video. For everybody else, here is a thunderous funkadelic slam to brighten your Saturday afternoon...
SMACK
Ever wondered what would happen to a guy who took an Aussie Rules Football to the face? This happened tonight in Australia during a match featuring West Coast vs St Kilda. As you'll see, bro on the ground went for what the locals call a 'smother.' It's like blocking a punt. Except these guys are going in face-first without a helmet. Guess who got knocked the #$*@ out? Yep...
SPITTING IMAGE
Jason Whitney Warning: You may laugh pretty hard once you lay your eyes on this super crazed, Dirk look-a-like fan! Practically facsimiles right? This brother Dirk fan may have a little too much time on his hands. Nevertheless, this is still hilarious! Technorati Tags: Dirk fan, Dirk look a like, Dirk Nowitzki Sports-Kings - The Kings of Sports Lists
IT HAS A DISCO!
Mark Teixeira must be a little angry that Sean Payton leased his house for a year and then went and bought this gigantic pad in the Vaquero subdivision in Westlake, Texas. Let this be a lesson, Tex. You didn't have a disco room in your house. Payton moved a few streets away and now has 7,700 sq. ft. of rock walls, Mediterranean stylings and a room with chalkboard walls. Just...
THE GREAT RATATOUILLE
Now that's one marsupial with some serious snowboarding mojo. Dude. Via LibertyMountainPA: Meet Ratatouille…not only a snowboarding opossum but the world's greatest snowboarding opossum! Watch him as he tears up the slopes on his Burton Riglet Snowboard! Rock on opossum…rock on! While his snowboarding skills are indeed impressive, the best part of the video has [...]
JUUUST A BIT OUTSIDE
The Portland Trail Blazers are getting dominated in Boston as we speak (write?). One of the lowlights was center Marcus Camby throwing a lob pass. Too bad the pass went to no one, as it hit the backboard and set up a fast break lay up for the Celtics. The best part was Camby's reaction. His "aw s***" came through clearly on the mics, summing up the Blazers effort. Maybe...
AM I MY BROTHER'S KEEPER?
Lionel Messi has a lot of fans. When you are one of the world's best players in the world's best sport, that goes with the territory. If we have learned anything from the story about his mother chasing his ex with a frying pan, it's that Messi's family is protective of him. Little did we know, however, that his brother is his biggest fan. The gentleman you see in the photo...
'A CONSPIRACY THEORY'
Serious penalties are likely headed the New Orleans Saints' way after an NFL investigation brought forth allegations last week of a pay-for-play bounty system under former defensive coordinator Gregg Williams that rewarded players for injuring opponents. But former Saints quarterback and current New Orleans sports talk radio host Bobby Hebert thinks it's all one big plot by...
COMFORTABLE IN OWN SKIN
If you couldn't tell by his annual get-up during Midnight Madness, Tom Izzo is 100% comfortable in his own skin. The guy who is no stranger to pounding his fist to light a fire under his players and isn't afraid to give an official a death stare is appearing in a new line of Dove Men+Care spots. I don't think there is anyone more suited for these ads than Coach Izzo...
All Sports News

Delivered to your inbox

You'll also receive Yardbarker's daily Top 10, featuring the best sports stories from around the web. Customize your newsletter to get articles on your favorite sports and teams. And the best part? It's free!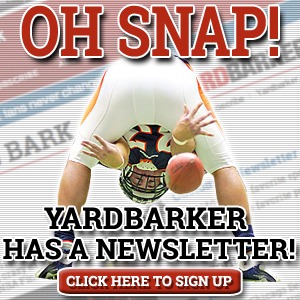 THE HOT 10: Who's Trending
Latest Rumors
Best of Yardbarker

Today's Best Stuff

For Bloggers

Join the Yardbarker Network for more promotion, traffic, and money.

Company Info

Help

What is Yardbarker?

Yardbarker is the largest network of sports blogs and pro athlete blogs on the web. This site is the hub of the Yardbarker Network, where our editors and algorithms curate the best sports content from our network and beyond.