Top 10 from the Playboy Mansion
Posted June 27, 2008 on YB_BunnyTime's Blog:
Without too much difficulty, I could have put together a Top 25 list. Instead, I'll stick with 10 and also include six videos from the Mansion. Seems like a fair compromise. Before we get to numbers two through 10, let's first take care of numero uno. 1) The Yardbarker women (Crystal, Sandy, Samantha and Jessica). I learned the hard way that it's not easy to interview a beautiful, naked woman. What's there to ask? "When was the last time you had to buy your own drink at the bar? Never? OK." Fortunately it was an easy lesson to swallow, and frankly I feel fortunate my brain didn't entirely shut down from sensory overload. For a minute or five, I thought it might. Here's a video with Crystal, Sandy, Samantha and Jessica. Now on to the remainder of my personal top 10 list from Fight Night at the Playboy Mansion. 10) Watching Brian Norman get KTFO by Henry "Sugar Poo" Buchanan. Norman's entire upper body was blasted through the ropes, and his head hung limp over the edge of the ring. Nearly immediately he began telling the ref that he was OK. That he wanted to continue. But he had already run out of gas, and Sugar Poo was a few punches away from destroying Norman, who started the fight strong and looked initially to be the better fighter. That's my only boxing moment on this list. I figured I had to include at least one. But one is enough. ESPN aired the fights but didn't even bother to so much as a write a legitimate fight preview beforehand, so I feel like I've done my due diligence with the above half-brained attempt to write about boxing. And here is a short fight preview that we filmed in the backyard of the Playboy Mansion. 9) Hugh Hefner has his own zoo. I don't, no one at Yardbarker does, and I bet you don't either. If you do, call me. We'll have a few drinks and teach the monkeys some mixed-martial-arts moves. Unless of course that would be illegal. Don't want to end up in the clink like Mike Vick. Still, though, think about it. Monkeys. Fighting. Cages. Here's a quick look inside Hef's private zoo. 8) I have some video from the Mansion's "Boom Boom Room," but I think that's going to stay off the Internet. At least for now. I'm not entirely sure it's officially called the Boom Boom Room; however, I do know that it's a small room adjacent to the game room. The floor is more like a bed than anything else. There is also a trapeze nearby. Let your imagination run wild. Don't let me know what you're thinking, though; I don't want to know. Please. 7) The Game Room. I don't care how old I get. Game rooms will always be awesome. Especially at the Mansion, where "Hugh likes to gobble up those balls." 6) I get the impression that Hugh Hefner doesn't grant very many interviews, which is why I was somewhat surprised that he spent a few minutes with the Yard. So without further adieu, please welcome the one and only Hugh Hefner to the Yard. 5) Hugh Hefner wore entry-level Reeboks to the party. If you weren't Hugh Hefner and you tried to wear them to, say, anything other than a pickup tennis match, you probably would be laughed at. But Hugh is Hugh, and Hugh can do whatever Hugh wants. I sincerely regret not snapping a photo of them. 4) The Playboy bunnies, "The Girls Next Door," and the women in the crowd. There were scores of beautiful women in the crowd, dressed appropriately, which was good because the outfits on the bunnies and also "The Girls Next Door" were dated. They looked like something out of 1986. I think the bunnies need a makeover. Not that I'm complaining. But seriously. Step up your game. (I can't believe I just managed to complain about Playboy bunnies. I deserve to be punched in the face.) 3) Motocross rider Mike Mason made an appearance. It's always good to meet verified-athlete Yardbarker bloggers, but it's even better when it happens at the Playboy Mansion. Mike's a cool guy. Crystal agrees with me. 2) The Grotto. End of story. - Dewey HONORABLE MENTION: Pete attempting to do aerial tricks on the trapeze; meeting Chuck Liddell
THE BACKYARD
BEST OF MAXIM
MMA News

Delivered to your inbox

You'll also receive Yardbarker's daily Top 10, featuring the best sports stories from around the web. Customize your newsletter to get articles on your favorite sports and teams. And the best part? It's free!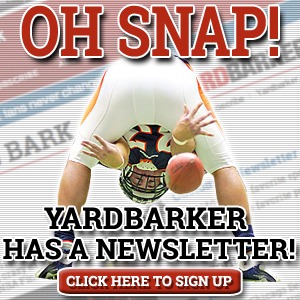 Latest Rumors
Best of Yardbarker

Today's Best Stuff

For Bloggers

Join the Yardbarker Network for more promotion, traffic, and money.

Company Info

Help

What is Yardbarker?

Yardbarker is the largest network of sports blogs and pro athlete blogs on the web. This site is the hub of the Yardbarker Network, where our editors and algorithms curate the best sports content from our network and beyond.