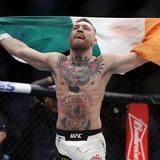 In the never-ending tug of war between boxing and mixed martial arts, Conor McGregor is beginning to pull for the wrong side. The UFC superstar is finally looking to make his way back into the Octagon. Well, sorta.McGregor, the former concurrent UFC featherweight and lightweight champion, is looking for a rematch with Floyd Mayweather. But this time, on his mat. After a relatively...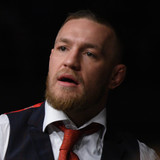 In recent weeks, Floyd Mayweather has been teasing a trip into the Octagon. But fight fans are skeptical. After all, Mayweather is in his 40s and has no mixed martial arts experience. When it comes to boxing, he's second to none. But when you add every other layer? It's difficult to assume he would hold his own.But Conor McGregor has a few things to say about him trying."I'd do as...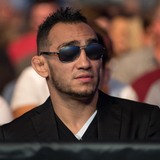 UFC 223 is shaping up to be a beast of an event. But on Monday, things got even a little more interesting. According to Khabib Nurmagomedov, Dana White says Khabib's bout with Tony Ferguson is for the undisputed lightweight title."I talk with Dana (White), I spoke to everybody about this situation. But they say we are going to fight for a vacant belt, vacant undisputed belt. This...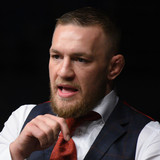 Is Conor McGregor ever going to defend his UFC lightweight title against Khabib Nurmagomedov? We don't know. But he sure as heck isn't going to stop talking trash about it. On the morning of Jan. 1, McGregor would engage. This, of course, comes after Nurmagomedov's Performance of the Night honors over the weekend.Needless to say, the Irishman isn't impressed. But Khabib isn't backing...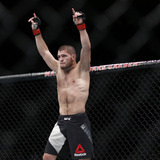 Dana White was upset on Friday with Khabib Nurmagomedov's team for the way they handled the fighter's weight cut struggles ahead of UFC 209 on Saturday.Khabib's scheduled fight with Tony Ferguson was called off on Friday after Khabib went to the hospital following a failed attempt at a weight cut. Doctors recommended that he not go through with his scheduled fight.Appearing on FS1...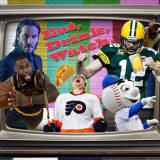 It's been a long week. You're tired. You're hungry. You're thirsty. You just want to find something to watch and unwind only to find not only do you have too many games to choose from on any given night to watch, there is an entire catalog of shows and movies you can barely keep up on. When did our weekends turn into so much work?Let's make it simple. Here is what you want to eat...
EA Sports UFC 2 is one of the most popular video games on the market right now. However, it seems that the game is going to have an update pretty soon after making a religious mistake with fighter Khabib Nurmagomedov. The mistake had to do with Nurmagomedov's post-game win celebration in the game, which shows him making a cross gesture on his chest, which is pretty popular with many...
UFC lightweight Khabib Nurmagomedov has been out of action for some time now due to a series of injuries that nearly forced the Dagestani fighter to retire. However, he is planning to a make a return to the octagon soon. He also wants to do it in a big way and knows exactly how to do so. Nurmagomedov explained in a recent interview that he wants to return in March against Rafael...
Khabib Nurmagomedov's latest injury setback has left the Dagestani fighter fearing that he may never be able to return to fighting in the Octagon. The 27 year-old pulled out of his intended match-up with Tony Ferguson earlier this week due to a rib injury, and after having already spent 18 months on the sidelines with knee injuries it's clear that he's starting to feel down on his...
MORE STORIES >>
MMA News

Delivered to your inbox

You'll also receive Yardbarker's daily Top 10, featuring the best sports stories from around the web. Customize your newsletter to get articles on your favorite sports and teams. And the best part? It's free!