Bernard Hopkins was literally knocked out of the ring in a loss to Joe Smith Jr. on Saturday night in Inglewood, Calif. Smith had Hopkins cornered up against the ropes and landed several shots that knocked Hopkins out of the ring during the eighth round at The Forum. Hopkins fell out of the ring and was saying that he was OK despite the fall. He even was arguing that he was pushed...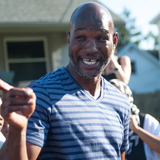 The curtain is about to come down on the fabled fighting career of boxing legend Bernard Hopkins, but not before one last hurrah. Golden Boy promoter Oscar De La Hoya told Dan Rafael of ESPN on Monday that the 51-year-old Hopkins (55-7-2, 32 KOs) will fight 27-year-old Joe Smith (22-1, 18 KOs) on Dec. 17 at The Forum in Inglewood, Calif., in his final career bout. Hopkins, a former...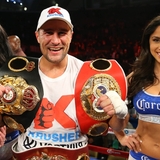 The Rev attended his first boxing title bout of his life at Boardwalk Hall Saturday night, witnessing greatness in the 49-year-old Bernard Hopkins losing to Sergey Kovalev in a dominating, awe-inspiring match. The post Shock The World Chronicles: Bernard Hopkins Vs. Sergey Kovalev At Boardwalk Hall appeared first on The Sports Fan Journal.
Bernard Hopkins was defeated in almost every way by Sergey "The Krusher" Kovalev, but Hopkins remains an otherworldly talent and specimen among athletes. The post A Defeated Bernard Hopkins Still A Man For The Ages appeared first on The Sports Fan Journal.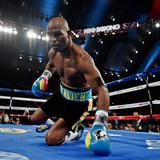 Bernard Hopkins (55-7-2, 32 KOs) says he will think about retirement following what turned out to be the worst loss of his career. Hopkins was walloped by Sergey Kovalev (26-0-1, 23 KOs), who united the light heavyweight division via a unanimous decision win Saturday in Atlantic City. The Russian landed nearly three times as many punches as Hopkins, who was overmatched from start...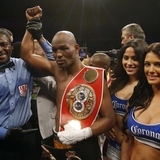 It's the holiday season and HBO boxing is outshining Showtime boxing with fight cards that are more likely to deliver exciting fan-friendly fights. The post What To Watch: Who Has The Better Boxing Lineup, HBO Or Showtime? appeared first on The Sports Fan Journal.
Bernard Hopkins and Sergey Kovalev could hardly be more different in terms of their fighting styles. Right here, you'll have a chance to check out the best moments from each of those diverse styles, with a collection of Hopkins and Kovalev video highlights from HBO Boxing. HBO presents the Greatest Hits of Bernard Hopkins, and the Greatest Hits of Sergey Kovalev, and you can watch...
One of the most anticipated fights of the year, Bernard "The Alien" Hopkins vs. Sergey "Krusher" Kovalev, has the boxing world split with the fight just weeks away. Check out this round-up of media predictions for Hopkins vs. Kovalev to see where everyone stands. (Answers compiled by Jack Obermayer) BOB VELIN (USA Today): "Kovalev might be the hardest puncher Hopkins has faced, and...
ATLANTIC CITY, NJ – With the fight rapidly approaching, cameras follow 'The Alien' Bernard Hopkins and Sergey 'Krusher' Kovalev. While Hopkins discusses the uniqueness of being a true champion at 49 years of age, Kovalev shares his humble beginnings and gives viewers insight to his personal life. ***** "Hopkins vs. Kovalev" is a 12-round unification bout for the IBF, WBA and WBO...
Bernard "The Alien" Hopkins and Sergey "Krusher" Kovalev held a press conference in New York City and a media roundtable in Philadelphia Tuesday to officially announce their light heavyweight unification bout on Saturday, Nov. 8 taking place at Boardwalk Hall in Atlantic City live on HBO. Check out all the photos and quotes from the official opening Hopkins vs. Kovalev press conference...
MORE STORIES >>
Boxing News

Delivered to your inbox

You'll also receive Yardbarker's daily Top 10, featuring the best sports stories from around the web. Customize your newsletter to get articles on your favorite sports and teams. And the best part? It's free!