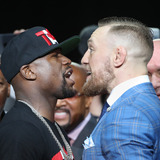 Conor McGregor was accused of being racist toward Floyd Mayweather Jr when the two fighters held their first joint media event earlier in the week, but that didn't stop the Irishman from saying some of the same things on Wednesday.At another press gathering to hype the upcoming Aug. 26 fight, McGregor once again told Mayweather to "dance for me, boy." When he said the same on Tuesday...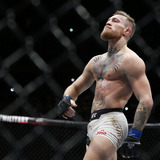 The superfight between Conor McGregor and Floyd Mayweather Jr. is officially on, and it only took a matter of minutes for the trash talk to start.USA Today Sports reported that the fight will take place on Aug. 26 in Las Vegas, so it seems all the financials have finally been worked out. It certainly took long enough.Minutes after the news about the fight broke, McGregor took to...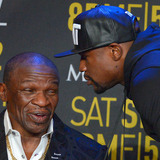 Floyd Mayweather Sr., the father of undefeated boxing champion Floyd Mayweather Jr., was taken to the hospital early Thursday morning with what is being reported as dehydration. According to TMZ, emergency workers responded to a call at a Las Vegas coffee shop at around 7:30 a.m. They were later seen loading Mayweather Sr. into the back of an ambulance, but the 63-year-old is apparently...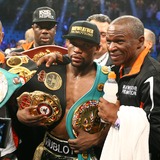 Maybe the rumors of a fight between Floyd Mayweather Jr. and Conor McGregor aren't quite as far-fetched as initially believed. British outlet The Sun reported on Friday that Mayweather and McGregor were going to fight against each other in a boxing match this summer. UFC boss Dana White dismissed the report as false and said it was just a tabloid story. But Floyd's father, Floyd...
Floyd Mayweather Sr. is known for being a trash-talker who doesn't give much credit to fighters other than his son, and that's exactly how he was after "Money" beat Marcos Maidana via majority decision Saturday. Floyd Sr. was interviewed by Hustle Boss on Monday, two days after Floyd's narrow win over Maidana (I thought it […]
MORE STORIES >>
Boxing News

Delivered to your inbox

You'll also receive Yardbarker's daily Top 10, featuring the best sports stories from around the web. Customize your newsletter to get articles on your favorite sports and teams. And the best part? It's free!