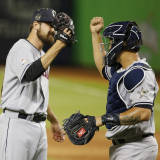 Want more news first thing in the day? Sign up for the Yardbarker Morning Bark newsletter here.Good morning and welcome to the YB Box Score, what were reading while thanking our lucky stars last night's All-Star Game didn't end in a tie (again). Happy birthday today to Jordyn Wieber, Dan Boyle, Kristi Yamaguchi and Julio Cesar Chavez. On this date in 1979 the White Sox hosted the...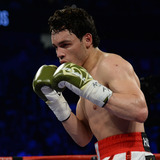 Julio Cesar Chavez and his entire family are in mourning after his brother, Rafael Chavez, was shot and killed in an armed robbery at his home in Mexico."Sinaloa state prosecutor Juan Jose Rios said in a news conference that two men entered the rear of Rafael Chavez's house in Culiacan on Sunday night. One was armed and demanded money. Some amount of money was handed over, but they...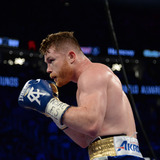 The Canelo Alvarez-Julio Cesar Chavez Jr. fight on Cinco de Mayo weekend in Las Vegas was a financial success.Golden Boy Promotions sent out a press release on Friday stating that the fight two weeks ago generated over a million pay-per-view buys, though they did not share the total figure.Golden Boy says Canelo is the youngest A-side fighter in history to generate a million-plus...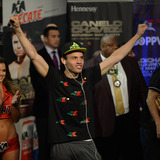 Julio Cesar Chavez Jr. was robbed two nights after his loss to Canelo Alvarez in their Saturday fight in Las Vegas last weekend, his wife told ESPN Deportes.Chavez's family remained in Las Vegas at the MGM Grand in the days following the fight, in part because of a concert they planned to see.According to what Chavez's wife told ESPN Deportes, they met some fans at the MGM and began...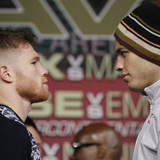 Julio Cesar Chavez Jr. and Canelo Alvarez will be squaring off on Saturday night — Cinco de Mayo weekend — for a much anticipated battle at T-Mobile Arena in Las Vegas. Unlike other fights where the hype is contrived, there is legitimate bad blood and a rivalry between these two boxers.Asked during his conference call on Monday about the rivalry, Chavez Jr. described the relationship...
CARSON, CA — And in the end, beer and boos rained down from the stands… On Saturday night, at the Stub Hub Arena in Carson, Andrzej Fonfara defeated Julio Cesar Chavez Jr. to become the WBC international light heavyweight champion. Fonfara was pronounced the victor after Chavez Jr. failed to answer the call of the tenth round. Dominating and dictating the pace of eight of the nine...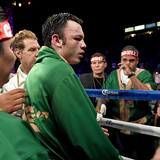 By Larry Brown Julio Cesar Chavez Jr. told his corner to stop his fight with Andrzej Fonfara after the ninth round Saturday at the StubHub Center in Carson, Calif., because of problems with his leg.  Though Chavez Jr. (48-2-1, 32 KOs) tried to pass it off after the loss like he thought he still could have won, a video aired by Showtime after the fight showed that he asked his corner...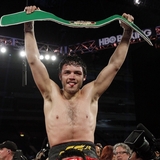 Julio Cesar Chavez Jr. returns to action on Saturday, hoping to take one step farther away from large shadow of his legendary father. The post Julio Cesar Chavez Jr. And The Burden of Legacy appeared first on The Sports Fan Journal.
LOS ANGELES — On Wednesday Julio Cesar Chavez Jr. and Andrzej Fanfara, joined by their respective teams, held a media conference call to formally announce their upcoming April 18th fight at the Stub Hub Arena in Carson, CA. For Chavez Jr., who's been out of the ring for over a year, it's his first fight in 13 months since leaving long time promoter Top Rank. Criticized in recent...
Julio Cesar Chavez Jr. escaped with a highly controversial decision victory over Bryan Vera on Saturday night. While he was the recipient of three favorable scorecards, including one that had him winning eight rounds of 10 in the fight, it seemed clear to most that Vera had done enough to earn the win. Right here, we have a collection of Chavez Jr. vs. Vera fight night photos, post...
MORE STORIES >>
Boxing News

Delivered to your inbox

You'll also receive Yardbarker's daily Top 10, featuring the best sports stories from around the web. Customize your newsletter to get articles on your favorite sports and teams. And the best part? It's free!