Found October 29, 2012 on Fox Sports Wisconsin:
MADISON, Wis. The eyes of a state's basketball fan base have been firmly trained on Sam Dekker for quite some time, waiting for this moment to arrive. When the best high school player in Wisconsin picks his home college, excitement about the future instantly builds. When the best high school player in Wisconsin also happens to rank among the best in the country, fans work themselves into a lather projecting just how much better he'll make the Badgers. The time for prognostications will soon end. More than two years after pledging his commitment to Wisconsin, Dekker is on campus, nine days from taking the floor in an exhibition game against UW-Oshkosh. Expectations range as to what Dekker can actually accomplish as a freshman. He will certainly play Badgers coach Bo Ryan suggested somewhere between 15 to 30 minutes last week. What will he contribute? How many points will he score? Those are questions left for someone other than Dekker, whose levelheaded approach to expectations won't change now that he's on the precipice of starting a highly hyped college basketball career. "I do get a lot of attention," Dekker said at the team's media day last week. "But you've just got to say thank you and keep walking. You can't get egotistical and you can't get a big head with that stuff. You've just got to take it as it comes." Dekker arrives at Wisconsin as one of the highest rated recruits in Ryan's 12-year tenure. Scout.com lists him as a five-star prospect and the No. 4 incoming small forward in the nation. He was named the state's Gatorade Player of the Year last season after averaging 32.5 points, 13.2 rebounds and 3.3 assists for Sheboygan Area Lutheran High School. And at 6-foot-7, few high school players, if any, could defend his unique skill set. That skill set already has impressed his Badgers teammates during summer workouts and the first two weeks of preseason practice. "Sam brings a whole other level of versatility," Badgers center Frank Kaminsky said. "He can step out, he can shoot, he can take it to the rim, he can handle the ball like a point guard. He's a great player. He's kind of wowed me so far. I hope he keeps improving. He's going to be one hell of a player in the Big Ten." Added point guard George Marshall: "He can pretty much do everything." Ryan himself rarely offers effusive praise of his players so early in the season, particularly one who hasn't played a single college game yet. But even he acknowledged Dekker's talents. "Sam is one of those guys that has some unique skills for his size," Ryan said. "That can enable him to be one heck of a player. Now, it's early. He really hasn't done anything yet, but he's trying to do something. That's the good part." It remains to be seen how, exactly, those talents will be used this season for the 23rd-ranked Badgers. An injury to forward Mike Bruesewitz, who is out until mid-November after suffering a lacerated right leg in practice, could provide Dekker more early playing time. Starting point guard Josh Gasser sustained a torn ACL on Saturday and is out for the season. Although Dekker isn't a point guard, the shuffling of minutes and the makeup of the team could change slightly. If the Badgers find themselves in need of a scorer, Dekker could be that player. There are 26.4 points missing off last year's team without Gasser, point guard Jordan Taylor and guard Rob Wilson, and it will have to be divided somehow. Ryan said Dekker was the most fouled player in practice because of his willingness to put the ball on the floor and get to the rim. Since arriving on campus, Dekker has increased his weight from 205 pounds to nearly 220 pounds. "He's not afraid to make a play," Ryan said. "He doesn't play tight. But there's one thing about guys that play loose that can't produce. He plays a little loose with the idea that he's trying to figure out how well he can do certain things. If you don't push the envelope a little bit in practice, you'll never know. He's done some of that." Dekker certainly fits the mold for the type of player Ryan wants on his team. Humble. Hard-working. And unafraid of a challenge. Dekker said he quickly learned what it would take to stay on the floor, which includes making smart decisions and limiting mistakes. His defense also has improved. At Wisconsin, more than most schools, if you can't play defense, you won't be on the floor. "I didn't have to play as great of defense in high school or in AAU, so I came here, and the first couple weeks was a transition," Dekker said. "But now I've gotten to learn the concepts of team defense, communication. All those things are ultimately making me better and making the whole team better." How good can Dekker be at Wisconsin? For now, Dekker is doing his best to avoid the spotlight. But from all indications, his play will soon demand that the lights and attention shine brightly on him. He intends to handle it with the same poise he demonstrated while tearing defenses apart in high school. "I used to put pressure on myself, and I thought about what I had to do, but then I realized that makes me unhappy," Dekker said. "It makes the game a lot less fun. I just can't put that pressure on myself as a player because that's going to make me a worse player. "If I play loose and I play calm, I'll hopefully meet a lot of those expectations that people have. But I can't listen to what they say because ultimately it's down to the team, the coach and me helping our team get to where we want to go and that's the national championship." Follow Jesse Temple on Twitter.
Original Story:
http://www.foxsportswisconsin.com/10/...
THE BACKYARD
BEST OF MAXIM
RELATED ARTICLES
Our countdown rolls on and today we look at #13 Duje Dukkan with 13 days until Badger hoops tip off! Yes, we know it's actually 12 days, so sue us... We're a day behind!!  *3.2 Dukan averaged just 3.2 minutes last year. He was considered the 5th man in the Badgers' frontcourt behind Berggren, Evans, Bruesewitz and Kaminsky. With Same Dekker coming on to the team...
Wisconsin Badger's quarterback Joel Stave suffered a broken collarbone last weeks 16-13 overtime loss to Michigan State. Badger's coach Bret Bielema shared the bad news on Monday. "It probably will be an eight-week recovery, which takes him out of the regular season," Bielema said. "There is an outside chance of something for the postseason, but that would be right on the...
MADISON, Wis. Wisconsin coach Bret Bielema didn't hesitate to say quarterback Joel Stave was on his way to the best game of his young career Saturday against Michigan State.Unfortunately, Stave never got to finish. Now, he is likely out of action for the rest of the season.Bielema announced Monday that Stave suffered a broken left collarbone and would miss the next eight weeks...
MADISON, Wis. Wisconsin running back Montee Ball may not be on the Heisman Trophy finalist pace he set last year, but his senior season is still plenty good to earn him national recognition.On Monday, Ball was listed as one of 16 semifinalists for the Maxwell Award, presented annually to the college football player of the year.This season, Ball has rushed for 1,028 yards with 13...
MADISON, Wis. So often in American society, people quickly want to find a place to lay blame when misfortune occurs rather than calmly reflect on the circumstances surrounding those difficulties. Gasoline prices rise. The National Hockey League lockout lingers. A football team loses. Who deserves blame? Grab the torches and pitchforks and run someone out of town. In this 247 Internet...
Wisconsin quarterback Joel Stave is done for the season after breaking his left collarbone against Michigan State. Coach Bret Bielema announced the news Monday, two days after the Badgers' 16-13 overtime loss to the Spartans. He says Stave will need eight weeks to recover. Stave completed 70 of 118 attempts for 1,104 yards and six touchdowns in seven games. He threw three interceptions...
Nothing comes easily for this Wisconsin football team, does it? Just when it appears the Badgers have turned around their season for the better, a game like Saturday comes along and smacks them in the face. Wisconsin lost starting quarterback Joel Stave to an injury, and the offense couldn't recover in a 16-13 overtime loss to Michigan State at Camp Randall Stadium. Wisconsin...
Well, let the QB marry-go round at UW begin again as Joel Stave's collarbone injury will keep him out for the rest of the season and thus there needs to be a new starter in place. Expecting that to be Danny O'Brien would be the go to guy would be the easy assumption. However, after Bret Bielema's weekly press conference, don't expect that to be the case. Bielema...
Badgers News

Delivered to your inbox

You'll also receive Yardbarker's daily Top 10, featuring the best sports stories from around the web. Customize your newsletter to get articles on your favorite sports and teams. And the best part? It's free!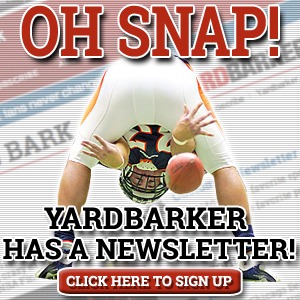 Latest Rumors
The Backyard

Today's Best Stuff

For Bloggers

Join the Yardbarker Network for more promotion, traffic, and money.

Company Info

Help

What is Yardbarker?

Yardbarker is the largest network of sports blogs and pro athlete blogs on the web. This site is the hub of the Yardbarker Network, where our editors and algorithms curate the best sports content from our network and beyond.