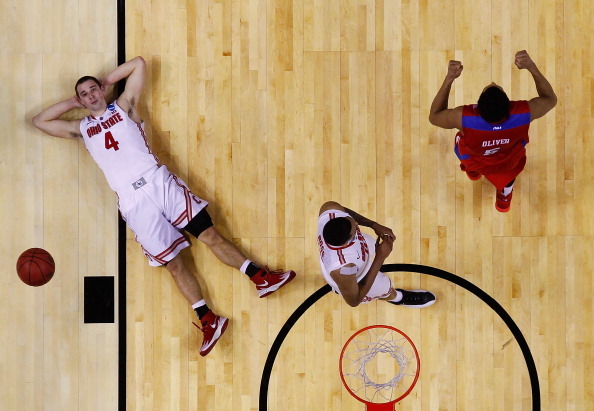 It took only one missed layup for most of America's billion-dollar dream to end on Thursday.After the first game in the Quicken Loans Billion Dollar Bracket Challenge insured by billionaire Warren Buffett, four out of five would-be winners were already finished, thanks to Dayton's upset of No. 6 seed Ohio State.By the end of first full day of the NCAA Tournament, two other major upsets whittled that number down to five percent of the registered players still eligible for the big prize.Out of the reported 15 million registrants, that leaves about 750,000 hopefuls remaining in the 1 in 9.2 quintillion chance for a billion dollar payoff Friday morning.That's higher than the national debt.After Dayton shattered the dreams of mansions and Lamborghinis for most participants, a couple of hours later No. 12 Harvard took down seventh-seeded Cincinnati 61-57.Those two upsets virtually eliminated the majority of everyone shooting for perfection even before most people had a chance to cry in th...
Read the rest of this story...
MORE FROM YARDBARKER
College Basketball News

Delivered to your inbox

You'll also receive Yardbarker's daily Top 10, featuring the best sports stories from around the web. Customize your newsletter to get articles on your favorite sports and teams. And the best part? It's free!