Found November 18, 2012 on Fox Sports Wisconsin:
MADISON, Wis. The reasons for Ben Brust's dramatic increase in rebounding totals this season aren't entirely clear. Maybe it's more assertiveness as an upperclassman. Perhaps it's a measure of toughness or simply being in the right place on the court. Brust, Wisconsin's 6-foot-1, 195-pound off-guard, doesn't know why he leads the Badgers in rebounds after three games. All he knows is that if the shot goes up and his man hasn't raced to the other end of the court for a fast break, he's going after it. More times than not this season, Brust has managed to come up with the ball. During Wisconsin's 73-40 victory against Cornell on Sunday night at the Kohl Center, Brust tallied 18 points and a career-high 12 rebounds in 31 minutes. It marked his second double-double in three games this season. He registered 14 points and 11 rebounds in Wisconsin's season opener against Southeastern Louisiana. "When I see the opportunity for an offensive rebound, I'll go for it," Brust said. "As long as I can get back. Defensively, I think I've got a good read on where the ball's going to hit the rim and just timing, going after it and grabbing it." Brust is now averaging 8.3 rebounds per game one season after he averaged just 2.2. Wisconsin's 6-10 center Jared Berggren is second on the team in rebounds this season with 7.0 per game. Berggren, who has played in 87 games, has yet to register a double-double in his career. Brust now has two in his 54-game college career. "I'm just sick because he's stealing all my stats," Berggren joked. "As long as we're closing out the defensive possession, getting the ball, that's what it takes. I don't care who's getting it. A defensive possession isn't over until we come away with the ball. He's cleaned things up, so it's good." Last season, Brust was pegged mostly as a 3-point threat off the bench for the Badgers while averaging 21.3 minutes per game. He twice tied the school record by making seven 3-pointers in a game. His highest rebounding output was six against UMKC early in the year, and he didn't have more than four in any other game. But Brust is now a junior, and he's starting for the first time in his career and playing 27.3 minutes per outing. With starting point guard Josh Gasser out for the season from a torn ACL, one of the team's guards needed to emerge as a reliable player willing to do the little things. And through three games, Brust has done his part. "I saw it on the tape, but his offensive rebounding, he goes so hard and crashes the offensive glass," Cornell coach Bill Courtney said. "If you have a small guard on him, he does a great job of getting in an area and getting to the glass. That was the most surprising thing from Ben. "We thought that we could maybe pressure him a little bit, but he was poised with any kind of ball pressure. I thought he played really good." Brust's increased versatility is noticeable in more than simply his rebounding stats. Last season, for example, he took 149 3-point shots and 83 2-pointers. This year, he has more 2-point attempts (22) than 3-point tries (eight). Brust also is averaging three free throw attempts per game thus far. He tallied less than one per game a year ago. Badgers coach Bo Ryan described Brust as a "gamer" that goes all out on the court. "That's the way he plays," Ryan said. "He plays hard. Sometimes it works against him on trying to be too aggressive with the ball. But otherwise he tracks everything down. He's got a nose for the ball. He'll get better at finishing on the shots around the paint." It remains to be seen how well Brust will rebound against teams with more physical guards. During Wisconsin's 74-56 loss at Florida, he tallied just two rebounds. But for now, his presence on the glass has been a welcome sight for the Badgers. Brust even has eight offensive rebounds, second only to Berggren's nine. Now if only Brust would quit stealing Berggren's rebounds so he can get that double-double . . . "I've been looking at every game like, 'I'm going to get a double-double tonight,' and I haven't been able to do it yet," Berggren said. "He's cleaned things up. I've got to make it happen here sooner or later." Follow Jesse Temple on Twitter.
Original Story:
http://www.foxsportswisconsin.com/11/...
THE BACKYARD
BEST OF MAXIM
RELATED ARTICLES
Senior forward Jared Berggren and junior guard Ben Brust each scored 18 points, as No.22 Wisconsin bounced back from its first loss of the season to blast Cornell, 73-40, in the opening round of the Las Vegas Invitational at the Kohl Center Sunday.
Unless you live in some vacuum without sports media, you've probably heard that Maryland joined the Big Ten Conference on Monday and Rutgers will soon join too. We've heard all about what it means to Maryland, Rutgers and the Big Ten, but what does it exactly mean for the Wisconsin Badgers? The simple answer is that there's advantages and disadvantages, but let's delve a...
Wisconsin got four players in double figures, another double-double from junior guard Ben Brust and shot 16-for-37 from 3-point range, as Wisconsin crushed Presbyterian, 88-43, in the second game of the Las Vegas Invitational at the Kohl Center Tuesday.
Jared Berggren and Ben Brust each scored 18 points to help No. 22 Wisconsin beat Cornell 73-40 Sunday night. Brust also grabbed 12 rebounds, while Ryan Evans also had a double-double with 12 points and 10 rebounds for the Badgers (2-1). Devin Cherry Cornell (1-3) with 13 points. In losing to No. 10 Florida 74-56 on Wednesday, the Badgers allowed the Gators to shoot 75 percent...
With all the news of conference expansion a little nugget of football recruiting has gotten lost in the shuffle, Wisconsin has added added two more recruits to their 2013 class. With these two additions it's going to be really interesting to see if anyone else comes on board as the numbers are getting very stretched for who they can take in this class. The first of those...
The #22 Badgers bounced back from their tough road loss, and improved to 2-1 on the season after beating the Cornell Big Red 73-40. After an embarrassing performance on Wednesday's lost to Florida- in which the Gators shot 62% from the field- the Wisconsin defense was suffocating tonight, allowing Cornell to shoot just 26%. It wasn't all defense though. Thanks to a threesome...
Cornell coach Bill Courtney was hoping to speed up Wisconsin's offense to force the Badgers into an uptempo game. It worked for a little while before before the No. 22 Badgers pulled away to a 73-40 win Sunday night. ''We were hoping to speed them up a little bit because they're such an execution based team, such a good passing team, a precision team,''...
Hartland Arrowhead (Wisc.) junior defensive end Billy Hirschfeld won a state title on Friday and saw the Wisconsin Badgers play on Saturday.
Two years after Wisconsin landed offensive lineman Ray Ball, younger brother Marcus Ball - a talented two-way, two-sport athlete at Westerville (OH) South - commits to Wisconsin Sunday.
(photo courtesy M.P. King - Wisconsin State Journal) As painful as it was to sit back and watch Wisconsin lose 21-14 in overtime to hated rivals Ohio State yesterday, it was even more painful to put myself through watching it a 2nd time on the good ole DVR. After watching things over once again there's only one conclusion that you can come to: Coming so close, yet losing...
Without junior linebacker Chris Borland, Wisconsin's defense gave one of its better fourth-quarter efforts of the season. When it came to overtime, however, the Badgers, again, ran out of gas.
Badgers News

Delivered to your inbox

You'll also receive Yardbarker's daily Top 10, featuring the best sports stories from around the web. Customize your newsletter to get articles on your favorite sports and teams. And the best part? It's free!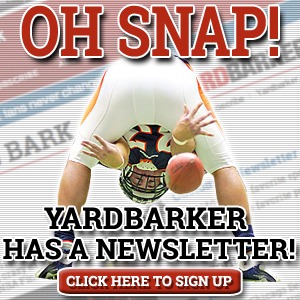 Latest Rumors
The Backyard

Today's Best Stuff

For Bloggers

Join the Yardbarker Network for more promotion, traffic, and money.

Company Info

Help

What is Yardbarker?

Yardbarker is the largest network of sports blogs and pro athlete blogs on the web. This site is the hub of the Yardbarker Network, where our editors and algorithms curate the best sports content from our network and beyond.