Found March 28, 2013 on Awful Announcing:
You've seen the narrative develop during this year's tournament, haven't you?   Aaron Craft is annoying. Why is he annoying?  Why is he hated as this generation's Christian Laettner?  Is it because he's a defensively oriented player and the fact that he supposedly gets away with calls?  Because he's just so darn "scrappy" and loved by Jim Nantz types and probably won't make it at the next level?  Or is it because he has rosy cheeks and he's a Duke player in an Ohio State uniform? I don't know.  I don't care to be quite honest.  Craft and his game doesn't annoy me.  Maybe it's because all I was good for on the court was setting screens and falling down myself and I feel some empathy. Then again, maybe Craft is annoying only because he fits all of our racial stereotypes about college basketball and that's what we assign him to be.  Count on one hand the number of times you hear Victor Oladipo's defensive fundamentals highlighted or Trey Burke's basketball IQ praised.  Maybe if Craft got arrested and jumped schools and flipped the bird he would be a celebrated torll instead of an annoying one. Instead, Craft gets to answer dumb questions from Rick Reilly.  Observe... "Do you see how you might be annoying in basketball or in real life?" Now maybe I'm prejudging Rick Reilly's planned thesis on Aaron Craft, but isn't this all utterly and completely pointless?  I'm not exactly waiting for Rick Reilly's groundbreaking, thought-provoking column on Craft that brings a new perspective and begs us to rethink stereotypes.  Given Reilly's continued stint at ESPN has been as thought-provoking as a warm glass of milk, I'm not holding my breath. Is Craft trolling Rick Reilly with his response?  Is he trolling all of us?  Are he and Rick Reilly going to continue to do battle troll for troll?  Is this some kind of super duper trollfest and when Aaron Craft draws a charge tonight or gets a steal he's going to shoot fire out of his rosy cheeks with a wink and a smile and immediately send high school coaches into a state of euphoira with shouts of "THAT'S THE RIGHT WAY TO PLAY BASKETBALL" while ignoring his hideous-looking jumper and *the internet* into a state of frantically whipping up slideshows on 'WHY AARON CRAFT IS ACTUALLY A BIGGER DOUCHE THAN J.J. REDICK"? Aaron Craft is annoying and polarizing only because he fills our insatiable thirst for him to be annoying and polarizing.  We and Rick Reilly need him to be.  He checks all the boxes.  It fits the narrative. H/T Always Sunny in Detroit
Original Story:
http://www.awfulannouncing.com/2013/m...
THE BACKYARD
BEST OF MAXIM
RELATED ARTICLES
HOW ANNOYING
Aaron Craft has a lot of the characteristics that former Duke guards J.J. Redick, Jon Scheyer, Greg Paulus, Steve Wojciechowski and Chris Collins exhibited.  He's a scrappy white guard who isn't the biggest, strongest, fastest or most talented player, but he does what it takes to will his team to win.  Some appreciate them.  Others find them incredibly annoying. ESPN's Rick...
During Ohio State's journey to the Final Four last season, Aaron Craft learned the importance of focusing on the next 40 minutes, not the three-week trip. So Craft didn't realize the highest seeds in the West Regional were dropping like dominoes until earlier this week. He purposely didn't learn much about ninth-seeded Wichita State until Thursday night, when the powerful...
Ohio State's Aaron Craft and Arizona's Nick Johnson are among the rarest type of college basketball players. They're defensive stoppers - and they'll be on the same court together Thursday night. That's when Craft and the Buckeyes meet Johnson and the Wildcats in the NCAA tournament's West Region semifinals at Staples Center in Los Angeles. Craft's...
Aaron Craft and Deshaun Thomas paid attention last weekend when the highest-seeded teams in their regional started toppling like so many dominoes. The Ohio State stars both wondered whether any big names could survive the wild West. Now that they're on the brink of a second straight trip to the Final Four, Craft and Thomas are confident they won't be the next marquee program...
Last Sunday Aaron Craft hit a game winning three point shot to give the Buckeyes the win. This time it was LaQuinton Ross's turn. With Ohio State and Arizona tied at 70, Craft found Ross off a pick and roll and Ross buried the three pointer. The three gave the Buckeyes the 73-70 lead with 2.4 seconds left, and the Buckeyes held on. Follow me on twitter @ScottBasketball  http...
Ohio State has another postseason hero. After Aaron Craft made the game-winning three-pointer to defeat Iowa State in the round of 32, LaQuinton...
  I still can't belive what I saw at the end of Ohio States' game against Iowa State. You could have told me that Aaron Craft would step up at the end of the game to make a big shot. However if you told me that shot would be a 3 pointer after he had waived off the leading scorer in the Big Ten (Deshaun Thomas). I woukd have said, "My boy Aaron Craft must have been feeling...
LOS ANGELES Aaron Craft was joking about a tweet referencing him the other day from a former Ohio State teammate. It was a riff on the popular Chuck Norris tough-guy theme. I believe it said I would kick Chuck Norris butt, Craft said. Then he would shave his head to look more like me. Norris will not coverBuckeyes junior guard Craft in the NCAA West regional game Thursday. Nick...
So apparently Ohio State has a flair for the dramatic. In its third-round matchup against Iowa State, Aaron Craft hit a three-pointer at the buzzer to put away the Cyclones. Tonight in the Sweet 16, Craft was playing the role of distributor — on the Buckeyes' last possession, he dished the ball to LaQuinton Ross, who was way behind the three-point arc — but that didn't stop...
The Sweet Sixteen was awesome. Another great two days of college basketball. We saw Trey Burke lead Michigan to an unbelievable comeback win against Kansas. We saw Aaron Craft and Ohio State on the brink of elimination again, but nonetheless prevail, and we even saw Syracuse's zone stifle arguably the most potent offense in college basketball. But all those games are over, and...
LOS ANGELES (AP) -- Ohio State needed another last-second shot, and Aaron Craft had the ball at the top of the key again. But last week's hero gave it up to the hottest hand on the floor, and LaQuinton Ross sent the Buckeyes to the brink of their second straight Final Four. Ross hit the tiebreaking 3-pointer with 2 seconds to play, and Ohio State advanced to the West Regional...
  HOLY HELL, that game last night was insane! LaQuinton Ross was a BOSS last night hitting that game winner, I jumped out of my chair and spilled Oberon on myself because of it and I wasn't mad about it at all. Although, that first half was one that I was not happy with the way the boys played or the officiating. But the second half the team that we know and love showed up, with...
College Basketball News

Delivered to your inbox

You'll also receive Yardbarker's daily Top 10, featuring the best sports stories from around the web. Customize your newsletter to get articles on your favorite sports and teams. And the best part? It's free!
THE COLLEGE BASKETBALL HOT 10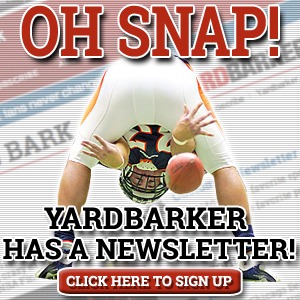 Latest Rumors
Best of Yardbarker

Today's Best Stuff

For Bloggers

Join the Yardbarker Network for more promotion, traffic, and money.

Company Info

Help

What is Yardbarker?

Yardbarker is the largest network of sports blogs and pro athlete blogs on the web. This site is the hub of the Yardbarker Network, where our editors and algorithms curate the best sports content from our network and beyond.