Found February 06, 2013 on isportsweb.com:
Michigan Basketball freshman Mitch McGary has quickly endeared himself to fans and to this writer with his passionate play and his non-stop motor. He is generally the first player off the bench and he almost always ignites the team with a key play. Whether it be corralling a rebound, saving a loose ball or triggering the fast break with an outlet pass, he has an uncanny ability to rev up his teammates and the home crowd. "He comes off the bench with a spark and it gives us that next push," Trey Burke said. Mitch McGary McGary checks in at a sturdy 6-foot-10, 250 pounds and is becoming a force in the paint for the Wolverines. He leads the team in rebounding, is second on the team in steals and in conference action ranks 7th in the Big Ten with 1.3 blocks per game. McGary also leads the team in diving on the floor and saving loose balls. There isn't a 50/50 ball out there that he doesn't think he can get to and more often than not, McGary is able to scrape those up and ignite a Michigan run. I asked him about one such play in a recent game. "It was a loose ball and coach applauds us on 50-50 balls," McGary explained. "So I saw the ball and I just dove on it and came out of it like the bottom of a fumble pile." McGary's style of play is uncommon for a player of his size. You don't often see big men diving all over the floor the way he does. "Oh yeah, that's Mitch's thing," said Jon Horford. "His word for the We On is enthusiasm. He brings it all the time, he has that great energy, he gets the whole team going." During Michigan's home victory over Northwestern, McGary dove right into the photographers section on the baseline. I asked John Beilein if he ever worried about him getting hurt when he does that. "You know, guys like that don't seem to get hurt doing that," Beilein said. "That's why he's special. He got a rebound, our getaway point in the first half, somehow he came up with a loose ball. He threw it out and Nik hit Tim for a three." McGary is also the consummate teammate. When John Beilein was trying to decide who would start in Jordan Morgan's place against Northwestern he sought McGary's input. "I said to Mitch McGary, 'Mitch what do you feel about tomorrow'," Beilein explained. "I said, 'I don't know what to do yet. You've both practiced well'. He said, 'coach I've been coming off the bench for two years. I'm cool with coming off the bench.'" So instead of making his first career start he gladly watched Jon Horford start in Morgan's place. Mitch McGary has quickly become a fan favorite Once he checks into a game, it doesn't take long for McGary to make an impact. "His energy is always up there as soon as he gets in the game," said Glenn Robinson III. "We know that and get excited and feed off that." Robinson did admit that sometimes he steers clear of McGary when he gets fired up, wary of getting blasted by a fierce chest bump. "Mitch is a little wild, he might do some crazy stuff every once in a while so I try to get out of the way," he joked. "He's really the reason why we go on so many runs," Trey Burke said. "Just because of the energy he brings off the bench. Mitch is very critical off the bench, he's definitely an X-factor." McGary plays with unbridled enthusiasm and makes a point of trying to fire up the crowd at Crisler Center. "Cheering on the fans," he said. "The fans are usually cheering on us – I'm trying to cheer on the fans and pump them up and wave my hands in the air." His coach certainly appreciates his style of play. "I love what he's bringing to the team," John Beilein said."I think that whether he's diving on the floor or going after something or talking to the crowd, enhancing the crowd's spirit, he's really good at all of them." McGary is also a skilled player. He can do some things in the open court, has a soft touch on his jumper, can put the ball on the floor and take it to the rim, and he has a nice array of moves to score once he gets the ball down low. "I love working with him, he's getting better daily," said Beilein. In Michigan's loss at Indiana, McGary stood tall as he sparked Michigan with 10 points, 7 boards, 2 steals and a block. He went toe-to-toe with Cody Zeller and forced him to turn the ball over several times. One game later, McGary wreaked havoc against Ohio State with a career-high 14 points, 6 rebounds and 4 steals. He has a knack for being around the ball, deflecting passes and if there's a loose ball in his vicinity, he's going to find a way to secure it or at least make sure possession goes to the Wolverines.  "That's what I do, that's how I like to play," McGary said when I asked him about his relentless style of play. "Picking the team up and everybody feeds off me." McGary is an example of everything that is right with College Basketball and of how his coach, John Beilein, recruits high character players. He's only going to get better and the sky is the limit for Michigan's spirited freshman. He is truly a joy to watch play and is clearly beloved by his teammates. If you would like to receive an email notification each time a Michigan Basketball story is posted you can fill out the Email Notification Form.
Original Story:
http://feedproxy.google.com/~r/isport...
THE BACKYARD
BEST OF MAXIM
RELATED ARTICLES
Michigan basketball, ranked #3 in the nation, somehow grabbed a wild overtime win over the #10 ranked Ohio State Buckeyes on Tuesday night.  When the dust finally settled on one of the best basketball games I've seen in a long, long time, Michigan came out on top 76-74. How They Won This game had it all. Michigan jumped out early to an 18-8 lead only to watch Ohio State battle...
OUCH, BABY!
Legendary announcer Dick Vitale reportedly suffered a cut to his face when he walked into a plate-glass window before calling the Ohio State-Michigan game.
The University of Michigan basketball team doesn't get much time to sit around and think about the heartbreaking loss this past Saturday in Bloomington against Indiana.Rivals Ohio State travel to Ann Arbor on Tuesday for a matchup of two Top 10 teams. Michigan announced Monday that they will sport new look uniforms for the game. The Wolverines will wear the above Adidas maize monochromatic...
Trey Burke, Tim Hardaway Jr. and Mitch McGary all met with the media after Michigan's dramatic overtime victory over Ohio State in Ann Arbor on Tuesday evening. Burke hit the eventual game winning shot in overtime after missing a buzzer beater in regulation while Tim Hardaway Jr. added six three point makes in the win. Watch all three players in the embedded media players below...
Michigan coach John Beilein is keeping tabs on the B1G race and with most of the Wolverines big road games nearly finished, protecting home court becomes even more important to win a title.
1. Mitch McGary dominates the first half It sounds like a broken record at this point, but this sure felt like this was Mitch McGary's best game to date. Against one of the more physical teams in the country, McGary played 29 minutes and logged 14 points, six rebounds, four steals, a block and one of the prettiest assists we've seen out of a Michigan big this season. It seems...
Our weekly feature tracking the performance of Michigan players over the last week's action. (Photo: Dustin Johnston) Mitch McGary: 8 (Last Week: 7) McGary played the best offensive game of his career at Indiana, scoring 10 points on 5-of-7 shooting and grabbing seven rebounds and two steals. Jordan Morgan's injury has presented opportunity and McGary made the most of it. He...
College Basketball News

Delivered to your inbox

You'll also receive Yardbarker's daily Top 10, featuring the best sports stories from around the web. Customize your newsletter to get articles on your favorite sports and teams. And the best part? It's free!
THE COLLEGE BASKETBALL HOT 10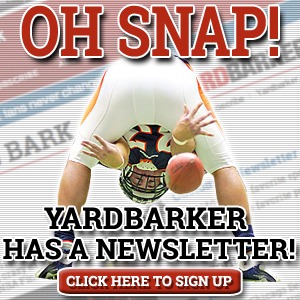 Latest Rumors
Best of Yardbarker

Today's Best Stuff

For Bloggers

Join the Yardbarker Network for more promotion, traffic, and money.

Company Info

Help

What is Yardbarker?

Yardbarker is the largest network of sports blogs and pro athlete blogs on the web. This site is the hub of the Yardbarker Network, where our editors and algorithms curate the best sports content from our network and beyond.