Found April 04, 2013 on Gamedayr:
Via Gamedayr:
For those of you who missed the College Baskeball Slam Dunk Contest, well, we don't feel bad for you, but we're worried about your health.
Everyone should be spoon-fed a dose of Doug Anderson highlight tapes on a nightly basis. The Detroit star was in Atlanta, the site of the 2013 Final Four, on Thursday night for the dunk contest festivities.
And he absolutely stole the show.
Anderson rocked a 360, through-the-legs slam on his very first attempt en route to winning the whole thing.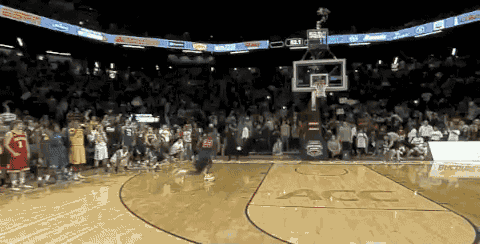 If you aren't impressed yet, here are all four of his dunks that won him the title belt. Simply put, Anderson has got some mad hops.
Top video via Big Lead Sports, GIF via Bleacher Report, Bottom video via ESPN YouTube
Read More:
http://gamedayr.com/gamedayr/video-of...
THE BACKYARD
RELATED ARTICLES
If you missed him on Sportscenter's Top 10 throughout the year, Detroit's Doug Anderson has some harsh feelings towards basketball rims. They stole his lunch money. They picked on him through his awkward years. They would yell "Kool-Aid!" when his momma walked by wearing red. And now he takes out his anger on each and every rim he comes across. Poor, poor rims. Four tremendous...
If you don't like the NBA Slam Dunk contest, you probably appreciated the college slam dunk contest where Detroit-Mercy Titan's Doug Anderson put on a show. It would be difficult to argue against him as being better than everyone else in the NBA with what he calls 'in game dunks.' Check out his final dunk that gave him the title: Unreal. You can checkout the rest of his dunks...
There are some people who can dunk, and then there are dunkers. Doug Anderson is a real man who came to the 2013 State Farm College Slam Dunk Contest with some simple intentions. I'm gonna dunk this basketball, real real hard. I'm gonna jump real real high. I'm going to do dunks that I could do [...]The post Detroit's Doug Anderson Put One Of The Better Slam Dunk Performances...
Doug Anderson of Detroit Mercy introduced himself to the world Thursday night during the College Dunk Contest in Atlanta. Anderson scored perfect scores on each of his attempts and capped it all off with this impressive 360-degree, between the legs dunk that brought home the crown.The post Doug Anderson went with a 360-degree, between the legs dunk to win the College Dunk Contest...
University of Detroit guard Doug Anderson wowed the crowd (and now the World Wide Web) with the insane dunk in the video below to win the College Slam Dunk Competition, one of the events in Atlanta leading up to this weekend's Final Four. After watching this what the NBA needs to do is clear. Take the million that Magic has offered and whatever anyone else want to throw in...
Detroit's Doug Anderson puts on a show during the College Slam Dunk competition en route to a runaway win. Shaming the NBA All-Star weekend single-handedly. **Follow us on Twitter or Facebook.... Full story at Bob's Blitz ~ http://www.bobsblitz.com
University of Detroit Mercy's Doug Anderson, Mott CC alum, knows how to dunk a basketball. That's to put it as boringly as possible. Because his dunks were not boring.  Here's his 4th dunk of the college slam dunk competition, which won him the competition quite easily:  For a look at his other three dunks, all perfect scores, head over to It's Always...
Wow. Just wow. Sorry LeBron but you have nothing on University of Detroit's Doug Anderson.
University of Detroit Mercy high-riser Doug Anderson wrecked the competition with four dunks on his way to winning the College Slam Dunk contest.  He received perfect 40′s straight through the competition and  - most impressively – only needed one try for each of his dunks. ESPN's Jimmy Dykes called him a "1-seed" going up against all "16-seeds" in comparison to his...
Doug Anderson played for the University of Detroit this season. You probably didn't know him before, but I bet you know him now.  Has this dunk ever been done before? Anderson has a reputation with hard-core college basketball fans, as one of the best dunkers in college and he surely didn't disappoint with this dunk. FYI, Dick Vitale use to be the head coach at the University of Detroit.
University of Detroit's Doug Anderson pulled off an amazing dunk at the college dunk contest this year:   [youtube]u6SUgFfiAA[/youtube]   Big up: Gamedayr
You know how LeBron James is always playing that worn out routine of "Maybe I should be in the Slam Dunk Contest this year…" and us basketball fans are like, "Please, oh, please LeBron, would ya do that, King? Would ya?" and he's like, "Wellllllllllllll maybe if someone paid me a million dollars…" and then you and I pull out our pockets and fight over who gets to...
Titans News

Delivered to your inbox

You'll also receive Yardbarker's daily Top 10, featuring the best sports stories from around the web. Customize your newsletter to get articles on your favorite sports and teams. And the best part? It's free!
RUMORS & GOSSIP
On Tuesday, it was announced former UFC middleweight king Anderson Silva (pictured) will return to action exactly 13 months and three days after shattering his left shin against champion Chris Weidman. Silva meets Nick Diaz, who is also ending his extended hiatus, at UFC 183. The January 31 show will take place at a yet-to-be announced venue in Las Vegas. The bout will take place...
If you don't believe that Oakland Raiders owner Mark Davis is intent on moving the team from Northern California, this latest report by San Antonio Express-News might just change your mind. According to the outlet, Davis and two of his top deputies have recently met with officials in San Antonio to discuss a potential relocation of the franchise.  On July 18, Davis met with...
They're not calling it a suspension, but ESPN has decided to keep Stephen A. Smith off its airwaves for a little while. The network, in a statement released to the press on Tuesday, announced "that Stephen A. Smith will not appear on First Take or ESPN Radio for the next week.  He will return to ESPN next Wednesday." ESPN did not say whether or not Smith would be paid during...
(Credit: csmonitor) Tim Tebow is one of the most celebrated quarterbacks in the history of college football, and he enjoyed a brief stint of success with the Denver Broncos in the NFL. However, he was cut from the New England Patriots before the start of the 2013 season, and has been out of the league ever since. Despite this, Tebow has kept training in hopes that a team will give...
We found out recently that Josh Gordon hired Richard Sherman's lawyer to help handle his appeal with the NFL. In that case Maurice Suh called into question the specimen collection process and created doubt around the "he-said, he-said" case between the player and the collector. Now, Pro Football Talk is reporting what Josh Gordon's strategy heading into the appeal on August...
Seattle Seahawks coach Pete Carroll sounded much like general manager John Schneider on running back Marshawn Lynch's holdout. The team's brass seems to be more irritated than concerned over Lynch's contract demands and quite frankly have let it be known they won't be bullied into giving the rusher a new deal. "It's a contract for a reason. We made a...
Former Buffalo Bills wide receiver will be inducted into the Pro Football Hall Of Fame this Saturday, and as a former standout in Buffalo, he's not liking the rumor of Bon Jovi buying the team. There has been plenty of backlash from those in Buffalo, and former Bills players who believe that Bon Jovi would […]
Nelly is still dating Floyd Mayweather Jr.'s ex-girlfriend Shantel Jackson, so it is hardly a surprise that the boxing champion and rapper do not get along. During an appearance on Dan Le Batard's "Highly Questionable" on Monday, Nelly was asked about his beef with Floyd. He said there is no beef, but he was not […]
After 17 months the NBA Players' Association has elected a replacement for former Executive Director Billy Hunter. League source says NBPA has elected Washington, D.C. attorney Michele Roberts to be its next Executive Director, replacing Billy Hunter. — David Aldridge (@daldridgetnt) July 29, 2014 Roberts received 32 votes, six more needed by union bylaws. Roberts 32 votes were...
When Los Angeles Clippers forward Blake Griffin withdrew his name for Team USA training camp, many people were interested about how he came to his decision. Griffin claims that he wants to focus on getting better and getting ready for the upcoming season. But according to Ramona Shelburne of ESPN, Griffin had another reason to withdraw his name. Shelburne says Griffin withdrew from...
Latest Rumors
The Backyard

Today's Best Stuff

For Bloggers

Join the Yardbarker Network for more promotion, traffic, and money.

Company Info

Help

What is Yardbarker?

Yardbarker is the largest network of sports blogs and pro athlete blogs on the web. This site is the hub of the Yardbarker Network, where our editors and algorithms curate the best sports content from our network and beyond.