Found April 04, 2013 on Gamedayr:
Via Gamedayr:
For those of you who missed the College Baskeball Slam Dunk Contest, well, we don't feel bad for you, but we're worried about your health.
Everyone should be spoon-fed a dose of Doug Anderson highlight tapes on a nightly basis. The Detroit star was in Atlanta, the site of the 2013 Final Four, on Thursday night for the dunk contest festivities.
And he absolutely stole the show.
Anderson rocked a 360, through-the-legs slam on his very first attempt en route to winning the whole thing.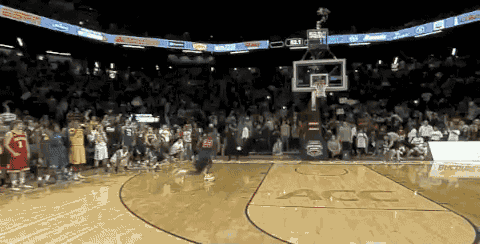 If you aren't impressed yet, here are all four of his dunks that won him the title belt. Simply put, Anderson has got some mad hops.
Top video via Big Lead Sports, GIF via Bleacher Report, Bottom video via ESPN YouTube
Read More:
http://gamedayr.com/gamedayr/video-of...
THE BACKYARD
RELATED ARTICLES
If you missed him on Sportscenter's Top 10 throughout the year, Detroit's Doug Anderson has some harsh feelings towards basketball rims. They stole his lunch money. They picked on him through his awkward years. They would yell "Kool-Aid!" when his momma walked by wearing red. And now he takes out his anger on each and every rim he comes across. Poor, poor rims. Four tremendous...
If you don't like the NBA Slam Dunk contest, you probably appreciated the college slam dunk contest where Detroit-Mercy Titan's Doug Anderson put on a show. It would be difficult to argue against him as being better than everyone else in the NBA with what he calls 'in game dunks.' Check out his final dunk that gave him the title: Unreal. You can checkout the rest of his dunks...
There are some people who can dunk, and then there are dunkers. Doug Anderson is a real man who came to the 2013 State Farm College Slam Dunk Contest with some simple intentions. I'm gonna dunk this basketball, real real hard. I'm gonna jump real real high. I'm going to do dunks that I could do [...]The post Detroit's Doug Anderson Put One Of The Better Slam Dunk Performances...
Doug Anderson of Detroit Mercy introduced himself to the world Thursday night during the College Dunk Contest in Atlanta. Anderson scored perfect scores on each of his attempts and capped it all off with this impressive 360-degree, between the legs dunk that brought home the crown.The post Doug Anderson went with a 360-degree, between the legs dunk to win the College Dunk Contest...
Detroit's Doug Anderson puts on a show during the College Slam Dunk competition en route to a runaway win. Shaming the NBA All-Star weekend single-handedly. **Follow us on Twitter or Facebook.... Full story at Bob's Blitz ~ http://www.bobsblitz.com
University of Detroit guard Doug Anderson wowed the crowd (and now the World Wide Web) with the insane dunk in the video below to win the College Slam Dunk Competition, one of the events in Atlanta leading up to this weekend's Final Four. After watching this what the NBA needs to do is clear. Take the million that Magic has offered and whatever anyone else want to throw in...
University of Detroit Mercy's Doug Anderson, Mott CC alum, knows how to dunk a basketball. That's to put it as boringly as possible. Because his dunks were not boring.  Here's his 4th dunk of the college slam dunk competition, which won him the competition quite easily:  For a look at his other three dunks, all perfect scores, head over to It's Always...
Wow. Just wow. Sorry LeBron but you have nothing on University of Detroit's Doug Anderson.
University of Detroit Mercy high-riser Doug Anderson wrecked the competition with four dunks on his way to winning the College Slam Dunk contest.  He received perfect 40′s straight through the competition and  - most impressively – only needed one try for each of his dunks. ESPN's Jimmy Dykes called him a "1-seed" going up against all "16-seeds" in comparison to his...
Doug Anderson played for the University of Detroit this season. You probably didn't know him before, but I bet you know him now.  Has this dunk ever been done before? Anderson has a reputation with hard-core college basketball fans, as one of the best dunkers in college and he surely didn't disappoint with this dunk. FYI, Dick Vitale use to be the head coach at the University of Detroit.
University of Detroit's Doug Anderson pulled off an amazing dunk at the college dunk contest this year:   [youtube]u6SUgFfiAA[/youtube]   Big up: Gamedayr
You know how LeBron James is always playing that worn out routine of "Maybe I should be in the Slam Dunk Contest this year…" and us basketball fans are like, "Please, oh, please LeBron, would ya do that, King? Would ya?" and he's like, "Wellllllllllllll maybe if someone paid me a million dollars…" and then you and I pull out our pockets and fight over who gets to...
Titans News

Delivered to your inbox

You'll also receive Yardbarker's daily Top 10, featuring the best sports stories from around the web. Customize your newsletter to get articles on your favorite sports and teams. And the best part? It's free!
RUMORS & GOSSIP
Dan Gilbert talked about his secret meeting he had with LeBron James Cleveland Cavaliers owner Dan Gilbert probably feels like he is on cloud nine right now with the recent news of LeBron James coming back to Cleveland. But this feeling of euphoria took four long years to experience along with no communication between the two. "The Decision," certainly wasn't LeBron's finest...
Mario Chalmers has re-signed with the Heat moments after Miami acquired Luol Deng, according to Marc Stein of ESPN. The Heat are interested in Eric Bledsoe, and would like to re-sign Chris Andersen. They have also signed Danny Granger and Josh McRoberts this off-season. Chalmers, 28, averaged 9.8 points, 4.9 assists... The post Mario Chalmers Re-Signs With Miami Heat appeared first...
Posted to Runnin' With Da BullsThe Chicago Bulls chose to bring back veteran point guard Kirk Hinrich as he re-signed today. Kirk Hinrich has re-signed with the Bulls, per source. — David Aldridge (@daldridgetnt) July 13, 2014 Hinrich, who has spent nine of his 12 NBA season here in Chicago, will fill the role of back-up to Derrick Rose. Hinrich is nearing the end of a solid...
PHOTO COURTESY: MADDIE MEYER/GETTY IMAGES VIA NY DAILY NEWS New Knicks president Phil Jackson has had a busy off season so far with the recruitment of Carmelo Anthony.  Despite making it seem like all the eggs were in the Melo basket, he had his eyes on other targets as well and cleverly showed his disappointment after missing out on one this weekend. Pau Gasol played under Phil...
The Houston Rockets have agreed to a four-year, $32 million deal with Trevor Ariza, according to Sam Amick of USA Today. He will replace Chandler Parsons as the starting forward for the Rockets. Ariza's contract will decline per season. He will first make $8.6 million, then $8.2 million, $7.8 million, and finally... The post Rockets Sign Trevor Ariza appeared first on Hoops-Nation.
Andrew Richardson-USA TODAY Sports According to Adrian Wojnarowski of Yahoo Sports, the Houston Rockets won't match Dallas' offer sheet for Chandler Parsons. Houston will not match the $46M Dallas offer sheet for Chandler Parsons, league source tells Yahoo Sports. — Adrian Wojnarowski (@WojYahooNBA) July 13, 2014 The Rockets declined to match a three-year, $46 million offer...
getty images The Atlanta Braves have suspended second baseman Dan Uggla for one game without pay. That is just over $80,000 for those doing the math at home. Uggla's suspension comes after he was extremely tardy. The Braves have not been using Uggla much as he has just 18 trips to the plate since the end of May. The veteran second baseman is hitting just .162/.241/.331 on the...
RIO DE JANEIRO — Just a few hours after arriving in Brazil, LeBron James sized up the 2014 FIFA World Cup final and said it trumps the NBA finals. "This is the highest you can get," James said Saturday, a day after announcing he was returning to play for the Cleveland Cavaliers. "This is bigger than the NBA finals in the sense that it's the world and you have so many countries...
Kareem Abdul-Jabbar is skeptical of James' return Despite the majority of the basketball nation praising LeBron James for returning home, NBA legend Kareem Abdul-Jabbar has a much different, critical opinion on King James coming back to Northeast Ohio. Kareem made various analogies, often times comparing what LeBron did to Cleveland, to a man doing his ol' lady wrong. In an interesting...
The Miami Heat have lost superstar LeBron James, but Pat Riley and company are not going to use that as an excuse. Since James announced his decision to return to Cleveland, the Heat have been nothing but aggressive in the free agent market. After agreeing to bring Chris Bosh back on a five-year max deal, Miami has agreed to terms with forward Luol Deng.Free agent forward Luol...
Latest Rumors
The Backyard

Today's Best Stuff

For Bloggers

Join the Yardbarker Network for more promotion, traffic, and money.

Company Info

Help

What is Yardbarker?

Yardbarker is the largest network of sports blogs and pro athlete blogs on the web. This site is the hub of the Yardbarker Network, where our editors and algorithms curate the best sports content from our network and beyond.