Found April 04, 2013 on Gamedayr:
Via Gamedayr:
For those of you who missed the College Baskeball Slam Dunk Contest, well, we don't feel bad for you, but we're worried about your health.
Everyone should be spoon-fed a dose of Doug Anderson highlight tapes on a nightly basis. The Detroit star was in Atlanta, the site of the 2013 Final Four, on Thursday night for the dunk contest festivities.
And he absolutely stole the show.
Anderson rocked a 360, through-the-legs slam on his very first attempt en route to winning the whole thing.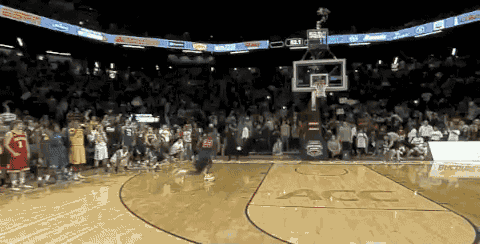 If you aren't impressed yet, here are all four of his dunks that won him the title belt. Simply put, Anderson has got some mad hops.
Top video via Big Lead Sports, GIF via Bleacher Report, Bottom video via ESPN YouTube
Read More:
http://gamedayr.com/gamedayr/video-of...
THE BACKYARD
RELATED ARTICLES
If you missed him on Sportscenter's Top 10 throughout the year, Detroit's Doug Anderson has some harsh feelings towards basketball rims. They stole his lunch money. They picked on him through his awkward years. They would yell "Kool-Aid!" when his momma walked by wearing red. And now he takes out his anger on each and every rim he comes across. Poor, poor rims. Four tremendous...
If you don't like the NBA Slam Dunk contest, you probably appreciated the college slam dunk contest where Detroit-Mercy Titan's Doug Anderson put on a show. It would be difficult to argue against him as being better than everyone else in the NBA with what he calls 'in game dunks.' Check out his final dunk that gave him the title: Unreal. You can checkout the rest of his dunks...
There are some people who can dunk, and then there are dunkers. Doug Anderson is a real man who came to the 2013 State Farm College Slam Dunk Contest with some simple intentions. I'm gonna dunk this basketball, real real hard. I'm gonna jump real real high. I'm going to do dunks that I could do [...]The post Detroit's Doug Anderson Put One Of The Better Slam Dunk Performances...
Doug Anderson of Detroit Mercy introduced himself to the world Thursday night during the College Dunk Contest in Atlanta. Anderson scored perfect scores on each of his attempts and capped it all off with this impressive 360-degree, between the legs dunk that brought home the crown.The post Doug Anderson went with a 360-degree, between the legs dunk to win the College Dunk Contest...
Detroit's Doug Anderson puts on a show during the College Slam Dunk competition en route to a runaway win. Shaming the NBA All-Star weekend single-handedly. **Follow us on Twitter or Facebook.... Full story at Bob's Blitz ~ http://www.bobsblitz.com
University of Detroit guard Doug Anderson wowed the crowd (and now the World Wide Web) with the insane dunk in the video below to win the College Slam Dunk Competition, one of the events in Atlanta leading up to this weekend's Final Four. After watching this what the NBA needs to do is clear. Take the million that Magic has offered and whatever anyone else want to throw in...
University of Detroit Mercy's Doug Anderson, Mott CC alum, knows how to dunk a basketball. That's to put it as boringly as possible. Because his dunks were not boring.  Here's his 4th dunk of the college slam dunk competition, which won him the competition quite easily:  For a look at his other three dunks, all perfect scores, head over to It's Always...
University of Detroit Mercy high-riser Doug Anderson wrecked the competition with four dunks on his way to winning the College Slam Dunk contest.  He received perfect 40′s straight through the competition and  - most impressively – only needed one try for each of his dunks. ESPN's Jimmy Dykes called him a "1-seed" going up against all "16-seeds" in comparison to his...
Doug Anderson played for the University of Detroit this season. You probably didn't know him before, but I bet you know him now.  Has this dunk ever been done before? Anderson has a reputation with hard-core college basketball fans, as one of the best dunkers in college and he surely didn't disappoint with this dunk. FYI, Dick Vitale use to be the head coach at the University of Detroit.
University of Detroit's Doug Anderson pulled off an amazing dunk at the college dunk contest this year:   [youtube]u6SUgFfiAA[/youtube]   Big up: Gamedayr
Titans News

Delivered to your inbox

You'll also receive Yardbarker's daily Top 10, featuring the best sports stories from around the web. Customize your newsletter to get articles on your favorite sports and teams. And the best part? It's free!
RUMORS & GOSSIP
Rusney Castillo has been fast-tracked through the minor leagues, and the new Boston Red Sox outfielder is set to make his debut with the big club. Red Sox manager John Farrell said Tuesday on MLB Network Radio that the Cuban-born outfielder is "likely" to make his major league debut on Wednesday against the Pittsburgh Pirates. According to Farrell, Castillo will play center...
This week just keeps getting worse and worse for Minnesota Vikings RB Adrian Peterson. After he began to lose some support from the public yesterday when another picture was released—showing another four-year-old son with a scarred head—his biggest sponsor, Nike, is now taking action. An eye-opening development:...
Rihanna and CBS are over before they even really began. Hours after the pop star took to Twitter to harshly criticize CBS Sports for wanting to use her new "Thursday Night Football" music video intro this week after pulling it before the Baltimore Ravens-Pittsburgh Steelers game last week in the wake of the Ray Rice news, CBS announced it would permanently be editing her voice...
Backup quarterback Kevin Olsen is no longer enrolled at the University of Miami following his DUI arrest on Monday.
Currently under a year-long suspension, Cleveland Browns wide receiver Josh Gordon has pleaded guilty to a DWI case in his July 5 arrest. According to CBS Sports, Gordon's attorney says he pleaded guilty to his DWI case in Raleigh, North Carolina. After pleading guilty, Gordon received 12 months unsupervised probation and will need to pay up […]
Minnesota Governor Mark Dayton took a strong stances against the Minnesota Vikings and embattled running back Adrian Peterson on Tuesday. According to a local NBC affiliate in Minneapolis, Dayton indicated that Peterson should be suspended and called his actions a "public embarrassment." Here is the full text from Dayton's comments.  It is an awful situation. Yes, Mr. Peterson...
A waitress at the Hard Rock Hotel in Las Vegas complains that boxer Floyd Mayweather Jr. and his entourage stiffed her for a tip after partying their on Sunday, the day after Floyd's fight at the MGM. According to TMZ, te waitress, Nik Nguyen, says Mayweather and about 150 people in his party — including […]
The Pittsburgh Steelers allowed the Cleveland Browns to gain 183 yards on the ground in Week 1 and the Baltimore Ravens to gain 157 yards in Week 2. Defensive end Brett Keisel says a change needs to "happen now. " "It's going to take some time unfortunately, but we don't have time," said Keisel, via Steelers.com. "We don't have time for this to be a natural progression...
Detroit Lions running back Reggie Bush made the media rounds on Tuesday. In hindsight, that may have been a bad idea. The former USC star did a handful of interviews as part of a sponsor campaign with Taco Bell. However, it was one interview with WFAN that will have sports fans and media talking about anything but the Taco Bell program. Bush appeared on WFAN's "Boomer and Carton"...
Free agent Greg Oden NBA career has not been what we all thought it would be when he was drafted #1 back in 2007. Oden has been dealing with injuries since he came into the league, but now he may have a more serious problem. Back in August, Oden was arrested for felony battery charges after he allegedly punched his ex-girlfriend in the face. Oden admitted that he had been drinking...
Latest Rumors
Best of Yardbarker

Today's Best Stuff

For Bloggers

Join the Yardbarker Network for more promotion, traffic, and money.

Company Info

Help

What is Yardbarker?

Yardbarker is the largest network of sports blogs and pro athlete blogs on the web. This site is the hub of the Yardbarker Network, where our editors and algorithms curate the best sports content from our network and beyond.