Found April 04, 2013 on Gamedayr:
Via Gamedayr:
For those of you who missed the College Baskeball Slam Dunk Contest, well, we don't feel bad for you, but we're worried about your health.
Everyone should be spoon-fed a dose of Doug Anderson highlight tapes on a nightly basis. The Detroit star was in Atlanta, the site of the 2013 Final Four, on Thursday night for the dunk contest festivities.
And he absolutely stole the show.
Anderson rocked a 360, through-the-legs slam on his very first attempt en route to winning the whole thing.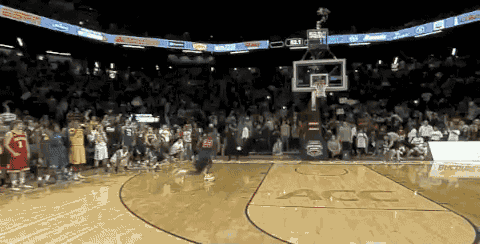 If you aren't impressed yet, here are all four of his dunks that won him the title belt. Simply put, Anderson has got some mad hops.
Top video via Big Lead Sports, GIF via Bleacher Report, Bottom video via ESPN YouTube
Read More:
http://gamedayr.com/gamedayr/video-of...
THE BACKYARD
RELATED ARTICLES
If you missed him on Sportscenter's Top 10 throughout the year, Detroit's Doug Anderson has some harsh feelings towards basketball rims. They stole his lunch money. They picked on him through his awkward years. They would yell "Kool-Aid!" when his momma walked by wearing red. And now he takes out his anger on each and every rim he comes across. Poor, poor rims. Four tremendous...
If you don't like the NBA Slam Dunk contest, you probably appreciated the college slam dunk contest where Detroit-Mercy Titan's Doug Anderson put on a show. It would be difficult to argue against him as being better than everyone else in the NBA with what he calls 'in game dunks.' Check out his final dunk that gave him the title: Unreal. You can checkout the rest of his dunks...
There are some people who can dunk, and then there are dunkers. Doug Anderson is a real man who came to the 2013 State Farm College Slam Dunk Contest with some simple intentions. I'm gonna dunk this basketball, real real hard. I'm gonna jump real real high. I'm going to do dunks that I could do [...]The post Detroit's Doug Anderson Put One Of The Better Slam Dunk Performances...
Doug Anderson of Detroit Mercy introduced himself to the world Thursday night during the College Dunk Contest in Atlanta. Anderson scored perfect scores on each of his attempts and capped it all off with this impressive 360-degree, between the legs dunk that brought home the crown.The post Doug Anderson went with a 360-degree, between the legs dunk to win the College Dunk Contest...
Detroit's Doug Anderson puts on a show during the College Slam Dunk competition en route to a runaway win. Shaming the NBA All-Star weekend single-handedly. **Follow us on Twitter or Facebook.... Full story at Bob's Blitz ~ http://www.bobsblitz.com
University of Detroit guard Doug Anderson wowed the crowd (and now the World Wide Web) with the insane dunk in the video below to win the College Slam Dunk Competition, one of the events in Atlanta leading up to this weekend's Final Four. After watching this what the NBA needs to do is clear. Take the million that Magic has offered and whatever anyone else want to throw in...
University of Detroit Mercy's Doug Anderson, Mott CC alum, knows how to dunk a basketball. That's to put it as boringly as possible. Because his dunks were not boring.  Here's his 4th dunk of the college slam dunk competition, which won him the competition quite easily:  For a look at his other three dunks, all perfect scores, head over to It's Always...
University of Detroit Mercy high-riser Doug Anderson wrecked the competition with four dunks on his way to winning the College Slam Dunk contest.  He received perfect 40′s straight through the competition and  - most impressively – only needed one try for each of his dunks. ESPN's Jimmy Dykes called him a "1-seed" going up against all "16-seeds" in comparison to his...
Doug Anderson played for the University of Detroit this season. You probably didn't know him before, but I bet you know him now.  Has this dunk ever been done before? Anderson has a reputation with hard-core college basketball fans, as one of the best dunkers in college and he surely didn't disappoint with this dunk. FYI, Dick Vitale use to be the head coach at the University of Detroit.
University of Detroit's Doug Anderson pulled off an amazing dunk at the college dunk contest this year:   [youtube]u6SUgFfiAA[/youtube]   Big up: Gamedayr
Titans News

Delivered to your inbox

You'll also receive Yardbarker's daily Top 10, featuring the best sports stories from around the web. Customize your newsletter to get articles on your favorite sports and teams. And the best part? It's free!
RUMORS & GOSSIP
San Francisco 49ers WR Anquan Boldin was not happy with the officiating in Sunday's Niners-Cardinals game. The Niners were whistled for nine penalties for 107 yards, in a game that was called pretty tight by the officials. Boldin had some words about it. #49ers WR Anquan Boldin says the officiating has been one-sided, "The crap is costing us games." — Matt Maiocco (@MaioccoCSN...
WWE Night of Champions 2014 delivered one of the most entertaining special events in recent months. An unpredictable rematch between John Cena vs. Brock Lesnar for the WWE world championship and the return of Dean Ambrose highlighted a card which featured very good-great matches from start to finish.
The Philadelphia Eagles are 3-0 on the season, running teams out the building in the second half of games, but apparently, Cary Williams believes the Eagles do too much running. The veteran Eagles cornerback was salty after DeSean Jackson torched him for an 81-yard touchdown.  Despite his team showing grit in another come from behind victory, Williams wasn't interested in talking...
Following the Seattle Seahawks exciting overtime win over the Denver Broncos, Seahawks DB DeShawn Shead decided to make his night even better. He proposed to his girlfriend at midfield, with the entire secondary in attendance, and she said yes. Congrats to @dshead24 and his new fiance Jessica! 50 yard line proposal… she said yes. Entire […] The post Seahawks DB DeShawn Shead...
Well this is awkward. Florida sophomore wide receiver Demarcus Robinson appears to have voiced his opinion that the Gators need a new starting quarterback much in the same way that a fan would. No, he didn't post on a fan message board or call into talk radio, but he did retweet a tweet by GatorZone […]
Blake Bortles is finally getting his chance. Jacksonville Jaguars coach Gus Bradley has seen enough of Chad Henne. After seeing his 0-2 Jaguars trail 30-0 at the half to the Indianapolis Colts, Bradley made his move benching Henne in favor of 2014 3rd overall pick Blake Bortles. Bortles played the entire 2nd half completing 14/24 passes for 233 yards, 2 touchdowns, and 2 interceptions...
Vikings HC Mike Zimmer told reporters following Sunday's game that QB Matt Cassel has "several" fractured bones in his foot. Zimmer added that first-round pick Teddy Bridgewater is ready to start for the team now that Cassel is out. Cassel was carted off with what appeared to be a left toe injury, and was replaced by Bridgewater . Cassel, 32, signed a two-year, $10...
Tied at 27 early in the fourth quarter, Philadelphia Eagles quarterback Nick Foles threw an ill-timed interception that was returned deep into their territory by the Washington Redskins. The interception was later overturned, but that's not the story here.  Taking exception to a late hit on Foles, who remained down on the play, the Eagles went blow to blow in a fight with the division...
The Minnesota Vikings are reportedly ready to cut ties with running back Adrian Peterson following his indictment on a felony-abuse charge in Texas. The Vikings placed Peterson on the exempt/commissioner's permission list Wednesday, and it appears they've already looking ahead to their next move. According to ESPN's Chris Mortenson, citing league sources, the team does not...
According to ESPN's Adam Schefter, Ray Rice will argue that the TMZ released video was edited when the former Baltimore Ravens running back makes his appeal of his indefinite suspension. Legal sources told Schefter that the TMZ tape of Rice hitting his then-fiancee was a cleaned-up, whittled down and condensed version of the events that took place in the Atlantic City casino...
Latest Rumors
Best of Yardbarker

Today's Best Stuff

For Bloggers

Join the Yardbarker Network for more promotion, traffic, and money.

Company Info

Help

What is Yardbarker?

Yardbarker is the largest network of sports blogs and pro athlete blogs on the web. This site is the hub of the Yardbarker Network, where our editors and algorithms curate the best sports content from our network and beyond.