Found April 04, 2013 on Gamedayr:
Via Gamedayr:
For those of you who missed the College Baskeball Slam Dunk Contest, well, we don't feel bad for you, but we're worried about your health.
Everyone should be spoon-fed a dose of Doug Anderson highlight tapes on a nightly basis. The Detroit star was in Atlanta, the site of the 2013 Final Four, on Thursday night for the dunk contest festivities.
And he absolutely stole the show.
Anderson rocked a 360, through-the-legs slam on his very first attempt en route to winning the whole thing.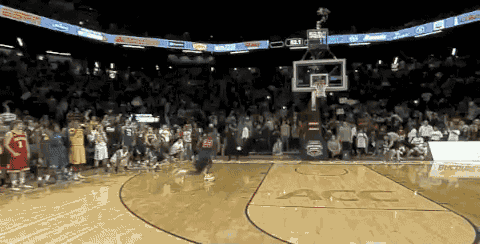 If you aren't impressed yet, here are all four of his dunks that won him the title belt. Simply put, Anderson has got some mad hops.
Top video via Big Lead Sports, GIF via Bleacher Report, Bottom video via ESPN YouTube
Read More:
http://gamedayr.com/gamedayr/video-of...
THE BACKYARD
RELATED ARTICLES
If you missed him on Sportscenter's Top 10 throughout the year, Detroit's Doug Anderson has some harsh feelings towards basketball rims. They stole his lunch money. They picked on him through his awkward years. They would yell "Kool-Aid!" when his momma walked by wearing red. And now he takes out his anger on each and every rim he comes across. Poor, poor rims. Four tremendous...
If you don't like the NBA Slam Dunk contest, you probably appreciated the college slam dunk contest where Detroit-Mercy Titan's Doug Anderson put on a show. It would be difficult to argue against him as being better than everyone else in the NBA with what he calls 'in game dunks.' Check out his final dunk that gave him the title: Unreal. You can checkout the rest of his dunks...
There are some people who can dunk, and then there are dunkers. Doug Anderson is a real man who came to the 2013 State Farm College Slam Dunk Contest with some simple intentions. I'm gonna dunk this basketball, real real hard. I'm gonna jump real real high. I'm going to do dunks that I could do [...]The post Detroit's Doug Anderson Put One Of The Better Slam Dunk Performances...
Doug Anderson of Detroit Mercy introduced himself to the world Thursday night during the College Dunk Contest in Atlanta. Anderson scored perfect scores on each of his attempts and capped it all off with this impressive 360-degree, between the legs dunk that brought home the crown.The post Doug Anderson went with a 360-degree, between the legs dunk to win the College Dunk Contest...
Detroit's Doug Anderson puts on a show during the College Slam Dunk competition en route to a runaway win. Shaming the NBA All-Star weekend single-handedly. **Follow us on Twitter or Facebook.... Full story at Bob's Blitz ~ http://www.bobsblitz.com
University of Detroit guard Doug Anderson wowed the crowd (and now the World Wide Web) with the insane dunk in the video below to win the College Slam Dunk Competition, one of the events in Atlanta leading up to this weekend's Final Four. After watching this what the NBA needs to do is clear. Take the million that Magic has offered and whatever anyone else want to throw in...
University of Detroit Mercy's Doug Anderson, Mott CC alum, knows how to dunk a basketball. That's to put it as boringly as possible. Because his dunks were not boring.  Here's his 4th dunk of the college slam dunk competition, which won him the competition quite easily:  For a look at his other three dunks, all perfect scores, head over to It's Always...
University of Detroit Mercy high-riser Doug Anderson wrecked the competition with four dunks on his way to winning the College Slam Dunk contest.  He received perfect 40′s straight through the competition and  - most impressively – only needed one try for each of his dunks. ESPN's Jimmy Dykes called him a "1-seed" going up against all "16-seeds" in comparison to his...
Doug Anderson played for the University of Detroit this season. You probably didn't know him before, but I bet you know him now.  Has this dunk ever been done before? Anderson has a reputation with hard-core college basketball fans, as one of the best dunkers in college and he surely didn't disappoint with this dunk. FYI, Dick Vitale use to be the head coach at the University of Detroit.
University of Detroit's Doug Anderson pulled off an amazing dunk at the college dunk contest this year:   [youtube]u6SUgFfiAA[/youtube]   Big up: Gamedayr
Titans News

Delivered to your inbox

You'll also receive Yardbarker's daily Top 10, featuring the best sports stories from around the web. Customize your newsletter to get articles on your favorite sports and teams. And the best part? It's free!
RUMORS & GOSSIP
Photo cred: bleacherreport.com After the Washington Redskins beat the Jacksonville Jaguars 41-10, the team announced that Robert Griffin III dislocated his left ankle. John Gruden then told the media that RGIII would have an MRI on Monday. Talking to RG3 in hall. He's on crutches. Says all he's been told is that it's dislocated. MRI tomorrow at 10. — Tarik El-Bashir (@TarikCSN...
Mike Florio of Pro Football Talk, citing multiple league sources, reports that Ray Rice will appeal his indefinite suspension on Monday. Florio adds that the appeal will be handled by the NFL Player Association and an outside lawyer, who will be retained by Rice. Interestingly enough, Roger Goodell would handle this appeal given that Rice's suspension falls under the personal...
Marty Mornhinweg, known for once electing to kick in a sudden-death overtime situation, was at it again on Sunday with an epic mistake. The New York Jets were down 31-24 and had a 4th-and-4 from the Packers' 36. Mornhinweg, the Jets' offensive coordinator, didn't like what he saw and came running down the sidelines yelling […]
Jonathan Papelbon's frustration reached a new level Sunday afternoon. The Philadelphia Phillies closer has, at times, had a tumultuous relationship with the home fans in his three seasons in Philly. That might have hit a new low on Sunday at Citizens Bank Ballpark. Papelbon blew a four-run lead in the ninth inning against the Miami Marlins. The ex-Boston Red Sox pitcher allowed...
The United States Men's National Team completed a dominating performance at the 2014 FIBA World Cup in Spain on Sunday by defeating Serbia 129-92. GOLDEN! @KyrieIrving (26 pts) & @JHarden13 Harden (23 pts) lead USA, which shot 15-30 from 3-point, past Serbia 129-92 in FIBA World Cup. — USA Basketball (@usabasketball) September 14, 2014 As you can see above, Cleveland Cavaliers...
Christy Mack provided a medical update via her Twitter account Sunday that shows she is making progress since being beaten by boyfriend War Machine last month. Mack posted four pictures to show how she has recovered from all the injuries she sustained. The first picture on the top left was taken when she was in […]
Minnesota Vikings executive vice president and general manager Rick Spielman said Sunday that the team will handle the allegations against running back Adrian Peterson "with all options on the table" Peterson was indicted by a grand jury on charges of reckless or negligent injury to a child.  He was booked and released early Saturday morning after posting the $15,000 bond...
With all that has been going on in the NFL the last week, the Panthers had little option but to sideline their star pass rusher Greg Hardy. Though the NFL was quick to give Ray Rice an indefinite ban after video of his domestic abuse incident came to light, they have yet to punish Hardy, who has already been found guilty of domestic violence and is in the appeal process right now...
Floyd Mayweather did one of the things Saturday night that makes him the best in the world, which is to figure out what his opponent does well and neutralize it. It was enough to win by wider margins this time against his fiercest recent foe, Marcos Maidana, than last time. It was a far less interesting bout, of course, because Mayweather wins more easily when he avoids contact —...
Latest Rumors
Best of Yardbarker

Today's Best Stuff

For Bloggers

Join the Yardbarker Network for more promotion, traffic, and money.

Company Info

Help

What is Yardbarker?

Yardbarker is the largest network of sports blogs and pro athlete blogs on the web. This site is the hub of the Yardbarker Network, where our editors and algorithms curate the best sports content from our network and beyond.