Found April 04, 2013 on Gamedayr:
Via Gamedayr:
For those of you who missed the College Baskeball Slam Dunk Contest, well, we don't feel bad for you, but we're worried about your health.
Everyone should be spoon-fed a dose of Doug Anderson highlight tapes on a nightly basis. The Detroit star was in Atlanta, the site of the 2013 Final Four, on Thursday night for the dunk contest festivities.
And he absolutely stole the show.
Anderson rocked a 360, through-the-legs slam on his very first attempt en route to winning the whole thing.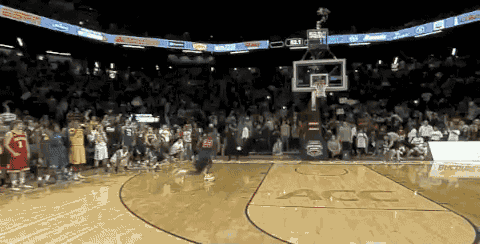 If you aren't impressed yet, here are all four of his dunks that won him the title belt. Simply put, Anderson has got some mad hops.
Top video via Big Lead Sports, GIF via Bleacher Report, Bottom video via ESPN YouTube
Read More:
http://gamedayr.com/gamedayr/video-of...
THE BACKYARD
RELATED ARTICLES
If you missed him on Sportscenter's Top 10 throughout the year, Detroit's Doug Anderson has some harsh feelings towards basketball rims. They stole his lunch money. They picked on him through his awkward years. They would yell "Kool-Aid!" when his momma walked by wearing red. And now he takes out his anger on each and every rim he comes across. Poor, poor rims. Four tremendous...
If you don't like the NBA Slam Dunk contest, you probably appreciated the college slam dunk contest where Detroit-Mercy Titan's Doug Anderson put on a show. It would be difficult to argue against him as being better than everyone else in the NBA with what he calls 'in game dunks.' Check out his final dunk that gave him the title: Unreal. You can checkout the rest of his dunks...
There are some people who can dunk, and then there are dunkers. Doug Anderson is a real man who came to the 2013 State Farm College Slam Dunk Contest with some simple intentions. I'm gonna dunk this basketball, real real hard. I'm gonna jump real real high. I'm going to do dunks that I could do [...]The post Detroit's Doug Anderson Put One Of The Better Slam Dunk Performances...
Doug Anderson of Detroit Mercy introduced himself to the world Thursday night during the College Dunk Contest in Atlanta. Anderson scored perfect scores on each of his attempts and capped it all off with this impressive 360-degree, between the legs dunk that brought home the crown.The post Doug Anderson went with a 360-degree, between the legs dunk to win the College Dunk Contest...
Detroit's Doug Anderson puts on a show during the College Slam Dunk competition en route to a runaway win. Shaming the NBA All-Star weekend single-handedly. **Follow us on Twitter or Facebook.... Full story at Bob's Blitz ~ http://www.bobsblitz.com
University of Detroit guard Doug Anderson wowed the crowd (and now the World Wide Web) with the insane dunk in the video below to win the College Slam Dunk Competition, one of the events in Atlanta leading up to this weekend's Final Four. After watching this what the NBA needs to do is clear. Take the million that Magic has offered and whatever anyone else want to throw in...
University of Detroit Mercy's Doug Anderson, Mott CC alum, knows how to dunk a basketball. That's to put it as boringly as possible. Because his dunks were not boring.  Here's his 4th dunk of the college slam dunk competition, which won him the competition quite easily:  For a look at his other three dunks, all perfect scores, head over to It's Always...
Wow. Just wow. Sorry LeBron but you have nothing on University of Detroit's Doug Anderson.
University of Detroit Mercy high-riser Doug Anderson wrecked the competition with four dunks on his way to winning the College Slam Dunk contest.  He received perfect 40′s straight through the competition and  - most impressively – only needed one try for each of his dunks. ESPN's Jimmy Dykes called him a "1-seed" going up against all "16-seeds" in comparison to his...
Doug Anderson played for the University of Detroit this season. You probably didn't know him before, but I bet you know him now.  Has this dunk ever been done before? Anderson has a reputation with hard-core college basketball fans, as one of the best dunkers in college and he surely didn't disappoint with this dunk. FYI, Dick Vitale use to be the head coach at the University of Detroit.
University of Detroit's Doug Anderson pulled off an amazing dunk at the college dunk contest this year:   [youtube]u6SUgFfiAA[/youtube]   Big up: Gamedayr
You know how LeBron James is always playing that worn out routine of "Maybe I should be in the Slam Dunk Contest this year…" and us basketball fans are like, "Please, oh, please LeBron, would ya do that, King? Would ya?" and he's like, "Wellllllllllllll maybe if someone paid me a million dollars…" and then you and I pull out our pockets and fight over who gets to...
Titans News

Delivered to your inbox

You'll also receive Yardbarker's daily Top 10, featuring the best sports stories from around the web. Customize your newsletter to get articles on your favorite sports and teams. And the best part? It's free!
RUMORS & GOSSIP
OK, no more horsing around. UFC president Dana White and UFC co-owner Lorenzo Fertitta are boarding their private jet next week destined for Los Angeles to meet with Gina Carano (pictured).  White fully intends on leaving their chat with a signed contract in tow, just like he did two days ago by inking former boxer Holly Holm. "One down, one to go," White told ESPN.com. "I'm...
So much for Paul Pierce joining Doc Rivers with the Los Angeles Clippers. A report by ESPN's Marc Stein suggests that Pierce, a 10-time All-Star, is closing in on a deal with the up-and-coming Washington Wizards.  Paul Pierce is on the verge of joining the Washington Wizards in a free-agent deal, ESPN has learned — Marc Stein (@ESPNSteinLine) July 13, 2014 Pierce averaged 13...
After losing out on the LeBron James sweepstakes, the Miami Heat moved quickly to sign Chris Bosh to a maximum deal. They should get Dwyane Wade back, and now, they look to add Luol Deng to create a makeshift Big Three in Miami.Image by Keith Allison, via Wikimedia CommonsAccording to Marc Stein of ESPN:"ESPN sources also say that Miami is making progress in its pursuit...
The Hornets lost out on Gordon Hayward, but signed one of his versatile former teammates.  Marvin Williams has agreed to a two-year, $14 million deal with the Hornets. Marvin Williams agrees to two-year, $14 million deal with Hornets, source tells Yahoo. Fully guaranteed, no option. — Marc J. Spears (@SpearsNBAYahoo) July 12, 2014 Williams, 28, spent his last two seasons with...
Indianapolis Colts wide receiver Hakeem Nicks and Sports Illustrated swimsuit model Ariel Meredith are engaged — and it couldn't have happened at a better time. "Mrs. Nicks to be!" Meredith tweeted along with a photo of the engagement ring on Saturday — the day after her 28th birthday.  
Cleveland Browns receiver Andrew Hawkins has gotten to know Johnny Manziel pretty well over the last couple months. "Baby Hawk" doesn't know what to make of Manziel's off-the-field activities, but the undrafted 5-foot-7, 180-pound product out Toledo says he's been "all business" on the football field. "I can't speak for all of the other stuff because all I know...
Details of LeBron James' contract with the Cleveland Cavaliers emerged on Saturday, and they may surprise you a bit. While most of us assumed LeBron would sign a maximum four-year deal worth around $90 million, he has reportedly only committed to the Cavs for two years — at least on paper. Brian Windhorst of ESPN […]
At least Dwight didn't say he was hacked. I am not sure why he is apologizing for though, if that is how he feels, that is how he feels. I can see apologize for making a political comment he didn't mean to make, but how can you offend someone with your belief? It would be like apologizing for being Catholic to a Jewish person, you can't control how others feel about an issue...
Brian Spurlock-USA TODAY Sports According to Adrian Wojnarowski of Yahoo sports, the Houston Rockets and free agent Trevor Ariza agreed to a four-year, $32 million deal. With a 4-year, $32M agreement for free agent Trevor Ariza, Houston could still match offer sheet for Chandler Parsons, source tells Yahoo. — Adrian Wojnarowski (@WojYahooNBA) July 12, 2014 Ariza had the best...
A report Saturday morning indicates that law enforcement officals were investigating an incident that allegedly involved NFL players  Mike and Maurkice Pouncey that occurred in the early hours of the morning.  A man alleges that Mike Pouncey of the Miami Dolphins and his brother Maurkice of the Pittsburgh Steelers physically attacked him at the Cameo Nightclub. And he took to...
Latest Rumors
The Backyard

Today's Best Stuff

For Bloggers

Join the Yardbarker Network for more promotion, traffic, and money.

Company Info

Help

What is Yardbarker?

Yardbarker is the largest network of sports blogs and pro athlete blogs on the web. This site is the hub of the Yardbarker Network, where our editors and algorithms curate the best sports content from our network and beyond.