Found April 04, 2013 on Gamedayr:
Via Gamedayr:
For those of you who missed the College Baskeball Slam Dunk Contest, well, we don't feel bad for you, but we're worried about your health.
Everyone should be spoon-fed a dose of Doug Anderson highlight tapes on a nightly basis. The Detroit star was in Atlanta, the site of the 2013 Final Four, on Thursday night for the dunk contest festivities.
And he absolutely stole the show.
Anderson rocked a 360, through-the-legs slam on his very first attempt en route to winning the whole thing.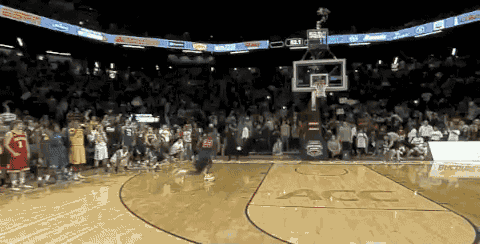 If you aren't impressed yet, here are all four of his dunks that won him the title belt. Simply put, Anderson has got some mad hops.
Top video via Big Lead Sports, GIF via Bleacher Report, Bottom video via ESPN YouTube
Original Story:
http://gamedayr.com/gamedayr/video-of...
THE BACKYARD
RELATED ARTICLES
If you missed him on Sportscenter's Top 10 throughout the year, Detroit's Doug Anderson has some harsh feelings towards basketball rims. They stole his lunch money. They picked on him through his awkward years. They would yell "Kool-Aid!" when his momma walked by wearing red. And now he takes out his anger on each and every rim he comes across. Poor, poor rims. Four tremendous...
If you don't like the NBA Slam Dunk contest, you probably appreciated the college slam dunk contest where Detroit-Mercy Titan's Doug Anderson put on a show. It would be difficult to argue against him as being better than everyone else in the NBA with what he calls 'in game dunks.' Check out his final dunk that gave him the title: Unreal. You can checkout the rest of his dunks...
There are some people who can dunk, and then there are dunkers. Doug Anderson is a real man who came to the 2013 State Farm College Slam Dunk Contest with some simple intentions. I'm gonna dunk this basketball, real real hard. I'm gonna jump real real high. I'm going to do dunks that I could do [...]The post Detroit's Doug Anderson Put One Of The Better Slam Dunk Performances...
Doug Anderson of Detroit Mercy introduced himself to the world Thursday night during the College Dunk Contest in Atlanta. Anderson scored perfect scores on each of his attempts and capped it all off with this impressive 360-degree, between the legs dunk that brought home the crown.The post Doug Anderson went with a 360-degree, between the legs dunk to win the College Dunk Contest...
Detroit's Doug Anderson puts on a show during the College Slam Dunk competition en route to a runaway win. Shaming the NBA All-Star weekend single-handedly. **Follow us on Twitter or Facebook.... Full story at Bob's Blitz ~ http://www.bobsblitz.com
University of Detroit guard Doug Anderson wowed the crowd (and now the World Wide Web) with the insane dunk in the video below to win the College Slam Dunk Competition, one of the events in Atlanta leading up to this weekend's Final Four. After watching this what the NBA needs to do is clear. Take the million that Magic has offered and whatever anyone else want to throw in...
University of Detroit Mercy's Doug Anderson, Mott CC alum, knows how to dunk a basketball. That's to put it as boringly as possible. Because his dunks were not boring.  Here's his 4th dunk of the college slam dunk competition, which won him the competition quite easily:  For a look at his other three dunks, all perfect scores, head over to It's Always...
Wow. Just wow. Sorry LeBron but you have nothing on University of Detroit's Doug Anderson.
University of Detroit Mercy high-riser Doug Anderson wrecked the competition with four dunks on his way to winning the College Slam Dunk contest.  He received perfect 40′s straight through the competition and  - most impressively – only needed one try for each of his dunks. ESPN's Jimmy Dykes called him a "1-seed" going up against all "16-seeds" in comparison to his...
Doug Anderson played for the University of Detroit this season. You probably didn't know him before, but I bet you know him now.  Has this dunk ever been done before? Anderson has a reputation with hard-core college basketball fans, as one of the best dunkers in college and he surely didn't disappoint with this dunk. FYI, Dick Vitale use to be the head coach at the University of Detroit.
University of Detroit's Doug Anderson pulled off an amazing dunk at the college dunk contest this year:   [youtube]u6SUgFfiAA[/youtube]   Big up: Gamedayr
You know how LeBron James is always playing that worn out routine of "Maybe I should be in the Slam Dunk Contest this year…" and us basketball fans are like, "Please, oh, please LeBron, would ya do that, King? Would ya?" and he's like, "Wellllllllllllll maybe if someone paid me a million dollars…" and then you and I pull out our pockets and fight over who gets to...
RUMORS & GOSSIP
Pau Gasol has been at the center of consistent trade chatter for three years. It's gotten to the point that no one even takes the rumors that seriously anymore when the Lakers allegedly leak the information. Heading into this season, all seemed to be well with Gasol's status. That all changed when Gasol spoke up about his dissatisfaction with how he was being utilized in coach...
While some loyal A's supporters are still fanning themselves after being swooned by the latest renderings of the super awesome proposed waterfront baseball palace, a new report brings more exciting news that's sure to get the attention of the beleaguered fan base. The East Bay Express has sources saying that Warriors owners Joe Lacob (pictured above, mid-"oh" face) and Peter...
If there's one team that doesn't need any kind of curse, no matter how offbeat and silly, it's the New York Mets. According to multiple reports, the Mets have something called the "Santa Curse" that afflicts any player on the team who dons St. Nick's outfit for the team's annual children's Christmas Party. According […]The post Of course the New York Mets have something...
It's hard to believe that Juan Gonzalez, who made over $87 million in his 15-year career, is hard up for money.  But from the evidence from on the auction site lelands.com, it appears he might be. Gonzalez's 1996 American League Most Valuable Player Award is up for auction with a current bid of $11,000.  Several other Juan Gone awards, including two Silver Slugger Awards and...
Fear not, fans of the Patriots-Ravens rivalry, Joe Flacco will suit up on Sunday. The Baltimore quarterback had an MRI on his left knee that revealed a mild MCL sprain, according to Adam Schefter of ESPN.com. Flacco will play on Sunday against New England with a knee brace. Flacco was hit low by Lions linebacker DeAndre Levy on Monday night but stayed in the game for Baltimore...
Maybe New York Yankees Brian Cashman is a bit surly after losing Robinson Cano to the Seattle Mariners or perhaps he's really busy with last-minute Christmas shopping. Whatever the reason, Cashman had no time for a question from ESPN New York's Wallace Matthews regarding the status of officially signing Carlos Beltran. It now has been […]The post Brian Cashman to ESPN reporter...
Central Florida quarterback Blake Bortles is currently the fastest-rising prospect in the 2014 NFL Draft, but just how high could the relatively unknown signal-caller rise? Well, according to ESPN's Todd McShay, right now he could go as high as No. 3 in the 2014 NFL Draft and be the second quarterback taken. At 6-foot-4 and 228 pounds, Bortles has great size, a strong arm and is...
Google has released their lists of the most-searched athletes and teams of 2013, and each sport's top ten has more than its share of controversial names. The top ten athletes overall are Aaron Hernandez, Adrian Peterson, Kevin Ware, Jason Collins, Oscar Pistorius, Lamar Odom, Richie Incognito, Ray Lewis, Colin Kaepernick, and Lindsay Vonn. Of those ten, two (Hernandez and Pistorius...
Two weeks ago there was much angst and handwringing over the snowy weather as the 1:00 NFL games devolved into sloppy messes. With the Super Bowl slated for New Jersey in just over a month, many began to dread a…Read more →
FOXBORO, Mass. — Maybe Tom Brady will have time for the holiday season when he's finally decided to hang up his cleats. For now, though, Brady's in full-football mode. And that means he doesn't get out the mall much. "Amazon.com," Brady said when asked whether he's done his Christmas shopping. "I probably keep them in business. It's hard to find your wife something...
Latest Rumors
The Backyard
Going Viral

Today's Best Stuff

For Bloggers

Join the Yardbarker Network for more promotion, traffic, and money.

Company Info

Help

What is Yardbarker?

Yardbarker is the largest network of sports blogs and pro athlete blogs on the web. This site is the hub of the Yardbarker Network, where our editors and algorithms curate the best sports content from our network and beyond.