Found April 04, 2013 on Gamedayr:
Via Gamedayr:
For those of you who missed the College Baskeball Slam Dunk Contest, well, we don't feel bad for you, but we're worried about your health.
Everyone should be spoon-fed a dose of Doug Anderson highlight tapes on a nightly basis. The Detroit star was in Atlanta, the site of the 2013 Final Four, on Thursday night for the dunk contest festivities.
And he absolutely stole the show.
Anderson rocked a 360, through-the-legs slam on his very first attempt en route to winning the whole thing.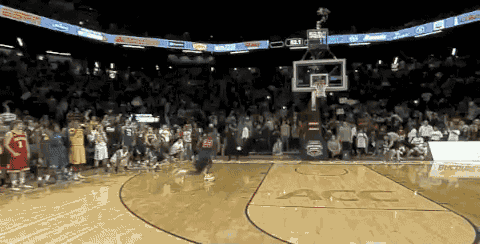 If you aren't impressed yet, here are all four of his dunks that won him the title belt. Simply put, Anderson has got some mad hops.
Top video via Big Lead Sports, GIF via Bleacher Report, Bottom video via ESPN YouTube
Read More:
http://gamedayr.com/gamedayr/video-of...
THE BACKYARD
RELATED ARTICLES
If you missed him on Sportscenter's Top 10 throughout the year, Detroit's Doug Anderson has some harsh feelings towards basketball rims. They stole his lunch money. They picked on him through his awkward years. They would yell "Kool-Aid!" when his momma walked by wearing red. And now he takes out his anger on each and every rim he comes across. Poor, poor rims. Four tremendous...
If you don't like the NBA Slam Dunk contest, you probably appreciated the college slam dunk contest where Detroit-Mercy Titan's Doug Anderson put on a show. It would be difficult to argue against him as being better than everyone else in the NBA with what he calls 'in game dunks.' Check out his final dunk that gave him the title: Unreal. You can checkout the rest of his dunks...
There are some people who can dunk, and then there are dunkers. Doug Anderson is a real man who came to the 2013 State Farm College Slam Dunk Contest with some simple intentions. I'm gonna dunk this basketball, real real hard. I'm gonna jump real real high. I'm going to do dunks that I could do [...]The post Detroit's Doug Anderson Put One Of The Better Slam Dunk Performances...
Doug Anderson of Detroit Mercy introduced himself to the world Thursday night during the College Dunk Contest in Atlanta. Anderson scored perfect scores on each of his attempts and capped it all off with this impressive 360-degree, between the legs dunk that brought home the crown.The post Doug Anderson went with a 360-degree, between the legs dunk to win the College Dunk Contest...
Detroit's Doug Anderson puts on a show during the College Slam Dunk competition en route to a runaway win. Shaming the NBA All-Star weekend single-handedly. **Follow us on Twitter or Facebook.... Full story at Bob's Blitz ~ http://www.bobsblitz.com
University of Detroit guard Doug Anderson wowed the crowd (and now the World Wide Web) with the insane dunk in the video below to win the College Slam Dunk Competition, one of the events in Atlanta leading up to this weekend's Final Four. After watching this what the NBA needs to do is clear. Take the million that Magic has offered and whatever anyone else want to throw in...
University of Detroit Mercy's Doug Anderson, Mott CC alum, knows how to dunk a basketball. That's to put it as boringly as possible. Because his dunks were not boring.  Here's his 4th dunk of the college slam dunk competition, which won him the competition quite easily:  For a look at his other three dunks, all perfect scores, head over to It's Always...
Wow. Just wow. Sorry LeBron but you have nothing on University of Detroit's Doug Anderson.
University of Detroit Mercy high-riser Doug Anderson wrecked the competition with four dunks on his way to winning the College Slam Dunk contest.  He received perfect 40′s straight through the competition and  - most impressively – only needed one try for each of his dunks. ESPN's Jimmy Dykes called him a "1-seed" going up against all "16-seeds" in comparison to his...
Doug Anderson played for the University of Detroit this season. You probably didn't know him before, but I bet you know him now.  Has this dunk ever been done before? Anderson has a reputation with hard-core college basketball fans, as one of the best dunkers in college and he surely didn't disappoint with this dunk. FYI, Dick Vitale use to be the head coach at the University of Detroit.
University of Detroit's Doug Anderson pulled off an amazing dunk at the college dunk contest this year:   [youtube]u6SUgFfiAA[/youtube]   Big up: Gamedayr
You know how LeBron James is always playing that worn out routine of "Maybe I should be in the Slam Dunk Contest this year…" and us basketball fans are like, "Please, oh, please LeBron, would ya do that, King? Would ya?" and he's like, "Wellllllllllllll maybe if someone paid me a million dollars…" and then you and I pull out our pockets and fight over who gets to...
Titans News

Delivered to your inbox

You'll also receive Yardbarker's daily Top 10, featuring the best sports stories from around the web. Customize your newsletter to get articles on your favorite sports and teams. And the best part? It's free!
RUMORS & GOSSIP
Embattled Los Angeles Clippers owner Donald Sterling has one foot already on its way out of the organization. But it appears that head coach Doc Rivers has thought about what the future will bring for him if Sterling somehow retains his ownership stake in the Clippers. BREAKING: Interim #Clippers CEO Parsons testifies that coach Doc Rivers will quit if Donald Sterling remains owner...
The news that EA Sports would not release an NCAA football video game for 2014 was not surprising – considering the ongoing Ed O'Bannon trial concerning image and likeness – but it was disappointing. And it wasn't just college football fans that were despondent, college football players were as well. CBS Sports's Jon Solomon reported Monday that the game's cancellation...
Houston Texans fans and fantasy football players can waive a sigh of relief: Andre Johnson is expected to report to training camp on time, according to Jerome Solomon of the Houston Chronicle. Expected to be at camp on time. RT @taniaganguli Good sign for the #Texans: WR Andre Johnson was at NRG Stadium yesterday, sources said. — Jerome Solomon (@JeromeSolomon) July 22, 2014 As...
Steve Spurrier and Dabo Swinney probably do not like each other. The two coaches have never openly admitted that they dislike one another, but all the signs are there. At ACC media days on Monday, Swinney joked that he and Spurrier are "from different planets" when asked about their relationship. "He's from Pluto and I'm […]
Anyone is capable of landing a big news scoop, not just the usual suspects at the major outlets. So when somebody claims to have inside information before anyone else, it is worth noting — just take it with a sizable grain of salt. A trade that would send Kevin Love to the Cleveland Cavaliers is "done," WMTW Channel 8 Portland sports anchor Travis Lee tweeted Tuesday, citing...
Lance Stephenson's overall character has come into question for as long as anyone can remember. It's clear that he's a talented athlete, and on some nights he even appeared to be the best player on the court. In a league that has brought together the best basketball players on the planet and some of the best athletes in the history of mankind, Lance standing out, even if only...
Minnesota Vikings offensive coordinator Norv Turner believes the teams quarterback situation is "as good as you could ask for." Matt Cassel, Christian Ponder and Teddy Bridgewater will compete in training camp for the starting job. "We're sitting there with two quarterbacks who have taken teams to playoffs and won over 10 games, which is hard to do," Turner told Vikings...
As we all know, last year's NFC Championship Game between the 49ers and Seahawks will be remembered for many reasons. One of those reasons is the play that Richard Sherman to tip a pass that led to an interception that sent the Seahawks to the Super Bowl. To celebrate that moment, two Seahawks fans named Joe Michaels and Chris Bauer are trying to raise money to build a statue to...
Will it be Brian Hoyer or Johnny Manziel leading the Browns this season? We'll know in about a month. In a Q&A with the Akron Beacon Journal, Browns coach Mike Pettine said the starting quarterback will be named prior to the team's third preseason contest on Aug. 23. "Yeah, it's definitely still up in the air. It could be sooner, and that's something we're...
Photo: AP The New York Giants made some significant changes in the offseason, mainly replacing offensive coordinator Kevin Gilbride with former Packers coordinator Ben McAdoo. With a new coordinator comes a new scheme, and Giants QB Eli Manning has admitted he is a bit 'nervous' about all of the changes. Via ProFootballTalk: "Yeah, it is different. You come into the season...
Latest Rumors
The Backyard

Today's Best Stuff

For Bloggers

Join the Yardbarker Network for more promotion, traffic, and money.

Company Info

Help

What is Yardbarker?

Yardbarker is the largest network of sports blogs and pro athlete blogs on the web. This site is the hub of the Yardbarker Network, where our editors and algorithms curate the best sports content from our network and beyond.