Found April 04, 2013 on Gamedayr:
Via Gamedayr:
For those of you who missed the College Baskeball Slam Dunk Contest, well, we don't feel bad for you, but we're worried about your health.
Everyone should be spoon-fed a dose of Doug Anderson highlight tapes on a nightly basis. The Detroit star was in Atlanta, the site of the 2013 Final Four, on Thursday night for the dunk contest festivities.
And he absolutely stole the show.
Anderson rocked a 360, through-the-legs slam on his very first attempt en route to winning the whole thing.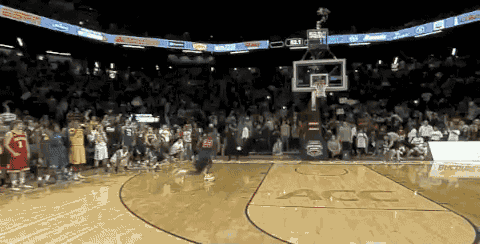 If you aren't impressed yet, here are all four of his dunks that won him the title belt. Simply put, Anderson has got some mad hops.
Top video via Big Lead Sports, GIF via Bleacher Report, Bottom video via ESPN YouTube
Read More:
http://gamedayr.com/gamedayr/video-of...
THE BACKYARD
RELATED ARTICLES
If you missed him on Sportscenter's Top 10 throughout the year, Detroit's Doug Anderson has some harsh feelings towards basketball rims. They stole his lunch money. They picked on him through his awkward years. They would yell "Kool-Aid!" when his momma walked by wearing red. And now he takes out his anger on each and every rim he comes across. Poor, poor rims. Four tremendous...
If you don't like the NBA Slam Dunk contest, you probably appreciated the college slam dunk contest where Detroit-Mercy Titan's Doug Anderson put on a show. It would be difficult to argue against him as being better than everyone else in the NBA with what he calls 'in game dunks.' Check out his final dunk that gave him the title: Unreal. You can checkout the rest of his dunks...
There are some people who can dunk, and then there are dunkers. Doug Anderson is a real man who came to the 2013 State Farm College Slam Dunk Contest with some simple intentions. I'm gonna dunk this basketball, real real hard. I'm gonna jump real real high. I'm going to do dunks that I could do [...]The post Detroit's Doug Anderson Put One Of The Better Slam Dunk Performances...
Doug Anderson of Detroit Mercy introduced himself to the world Thursday night during the College Dunk Contest in Atlanta. Anderson scored perfect scores on each of his attempts and capped it all off with this impressive 360-degree, between the legs dunk that brought home the crown.The post Doug Anderson went with a 360-degree, between the legs dunk to win the College Dunk Contest...
University of Detroit guard Doug Anderson wowed the crowd (and now the World Wide Web) with the insane dunk in the video below to win the College Slam Dunk Competition, one of the events in Atlanta leading up to this weekend's Final Four. After watching this what the NBA needs to do is clear. Take the million that Magic has offered and whatever anyone else want to throw in...
Detroit's Doug Anderson puts on a show during the College Slam Dunk competition en route to a runaway win. Shaming the NBA All-Star weekend single-handedly. **Follow us on Twitter or Facebook.... Full story at Bob's Blitz ~ http://www.bobsblitz.com
University of Detroit Mercy's Doug Anderson, Mott CC alum, knows how to dunk a basketball. That's to put it as boringly as possible. Because his dunks were not boring.  Here's his 4th dunk of the college slam dunk competition, which won him the competition quite easily:  For a look at his other three dunks, all perfect scores, head over to It's Always...
Wow. Just wow. Sorry LeBron but you have nothing on University of Detroit's Doug Anderson.
University of Detroit Mercy high-riser Doug Anderson wrecked the competition with four dunks on his way to winning the College Slam Dunk contest.  He received perfect 40′s straight through the competition and  - most impressively – only needed one try for each of his dunks. ESPN's Jimmy Dykes called him a "1-seed" going up against all "16-seeds" in comparison to his...
Doug Anderson played for the University of Detroit this season. You probably didn't know him before, but I bet you know him now.  Has this dunk ever been done before? Anderson has a reputation with hard-core college basketball fans, as one of the best dunkers in college and he surely didn't disappoint with this dunk. FYI, Dick Vitale use to be the head coach at the University of Detroit.
University of Detroit's Doug Anderson pulled off an amazing dunk at the college dunk contest this year:   [youtube]u6SUgFfiAA[/youtube]   Big up: Gamedayr
You know how LeBron James is always playing that worn out routine of "Maybe I should be in the Slam Dunk Contest this year…" and us basketball fans are like, "Please, oh, please LeBron, would ya do that, King? Would ya?" and he's like, "Wellllllllllllll maybe if someone paid me a million dollars…" and then you and I pull out our pockets and fight over who gets to...
Titans News

Delivered to your inbox

You'll also receive Yardbarker's daily Top 10, featuring the best sports stories from around the web. Customize your newsletter to get articles on your favorite sports and teams. And the best part? It's free!
RUMORS & GOSSIP
Via IMPACT WRESTLING The death knell that's seemingly been sounding for years is finally real for TNA Impact wrestling. As reported by TMZ, Spike TV contacted Impact TNA President Dixie Carter late last week to inform her of their decision. From my own personal sources, Spike TV executives have been reviewing the product for at least the last few months as the renewal date for...
The robbers thought they had a good plan. Wait until one of the employees from the gas station came back from the bank and jump him before he knew what hit him. One small problem though, they didn't take into account another employee happening to be a mix martial arts fighter. Best part of the video is after the big man of the robbers' crew is beaten down, his boy thinks about...
More than most sports, baseball is about "earning your spot." Players have to work their way through four or five levels of the minors before getting their chance in the big leagues, and some guys wait close to 10 years before they get their shot. So it's at least understandable when players get upset over a specific player getting the benefit of the doubt, or getting a promotion...
Atlanta Braves SS Andrelton Simmons has quickly rocketed to the top of defensive shortstops in only his second full season in the majors. And it's not that he specializes in dives or plays to the hole, he does it all. Check out this amazing play from Monday's afternoon tilt as he uses his bare hand to snag a tricky one-hop off the bat of San Diego Padres speedster Will Venable...
Since Lebron James decided to wear the #23 this coming season I know there's only one thing on your mind: Is Michael Jordan cool with that. You passed on attending your best friend's wedding, opted against cashing in a free blimp ride voucher, and refused to respond to the concerned texts, calls and emails from your family because you couldn't possibly continue life before...
Although no details are provided, what we do know is that Indianapolis Colts running back Chris Rainey, thought to have moved up on the depth chart following Vick Ballard's season-ending Achilles tendon injury, has been released following some sort of off-field incident. ESPN's Adam Schefter reports that Rainey violated team rules and was released today as a result.  The...
They say confidence is contagious. For the New York Jets, it might be an epidemic. If you haven't kept up with Gang Green, here's a quick refresher: Rex Ryan affirmed he's a great coach; Geno Smith said he expects to be a top-five quarterback; Dee Milliner dubbed himself the league's best cornerback. And that was just in the last week. Not to be outdone, linebacker...
Some Boston Red Sox fans might actually be convinced that there is such a thing as a good Yankees fan after a supporter of the Bronx Bombers recovered and returned a lost 2013 World Series ring to Lowell Spinners owner Drew Weber. Weber, who was dining at Luke's Bar and Grill in Manhattan on Thursday night, left his ring in the bathroom of the restaurant where it was recovered...
Ray Rice has been suspended for the first two games of the regular season for his involvement in a domestic violence incident with his wife Janay Palmer at a casino over the winter. Given that the public was shown a video of Rice dragging an unconscious Palmer out of an elevator and police reportedly had […]
While many continue to debate the merits of players involved in a deal for Minnesota Timberwolves forward Kevin Love, the great unknown continues to be how long Love would call Cleveland home. There are rumors that he's demanding a trade to Cleveland and wants to play alongside LeBron James; Cleveland would be the only place he would commit to in the way of a long-term deal, starting...
Latest Rumors
The Backyard

Today's Best Stuff

For Bloggers

Join the Yardbarker Network for more promotion, traffic, and money.

Company Info

Help

What is Yardbarker?

Yardbarker is the largest network of sports blogs and pro athlete blogs on the web. This site is the hub of the Yardbarker Network, where our editors and algorithms curate the best sports content from our network and beyond.