Found April 04, 2013 on Gamedayr:
Via Gamedayr:
For those of you who missed the College Baskeball Slam Dunk Contest, well, we don't feel bad for you, but we're worried about your health.
Everyone should be spoon-fed a dose of Doug Anderson highlight tapes on a nightly basis. The Detroit star was in Atlanta, the site of the 2013 Final Four, on Thursday night for the dunk contest festivities.
And he absolutely stole the show.
Anderson rocked a 360, through-the-legs slam on his very first attempt en route to winning the whole thing.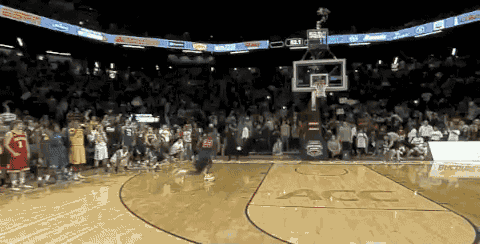 If you aren't impressed yet, here are all four of his dunks that won him the title belt. Simply put, Anderson has got some mad hops.
Top video via Big Lead Sports, GIF via Bleacher Report, Bottom video via ESPN YouTube
Read More:
http://gamedayr.com/gamedayr/video-of...
THE BACKYARD
RELATED ARTICLES
If you missed him on Sportscenter's Top 10 throughout the year, Detroit's Doug Anderson has some harsh feelings towards basketball rims. They stole his lunch money. They picked on him through his awkward years. They would yell "Kool-Aid!" when his momma walked by wearing red. And now he takes out his anger on each and every rim he comes across. Poor, poor rims. Four tremendous...
If you don't like the NBA Slam Dunk contest, you probably appreciated the college slam dunk contest where Detroit-Mercy Titan's Doug Anderson put on a show. It would be difficult to argue against him as being better than everyone else in the NBA with what he calls 'in game dunks.' Check out his final dunk that gave him the title: Unreal. You can checkout the rest of his dunks...
There are some people who can dunk, and then there are dunkers. Doug Anderson is a real man who came to the 2013 State Farm College Slam Dunk Contest with some simple intentions. I'm gonna dunk this basketball, real real hard. I'm gonna jump real real high. I'm going to do dunks that I could do [...]The post Detroit's Doug Anderson Put One Of The Better Slam Dunk Performances...
Doug Anderson of Detroit Mercy introduced himself to the world Thursday night during the College Dunk Contest in Atlanta. Anderson scored perfect scores on each of his attempts and capped it all off with this impressive 360-degree, between the legs dunk that brought home the crown.The post Doug Anderson went with a 360-degree, between the legs dunk to win the College Dunk Contest...
University of Detroit guard Doug Anderson wowed the crowd (and now the World Wide Web) with the insane dunk in the video below to win the College Slam Dunk Competition, one of the events in Atlanta leading up to this weekend's Final Four. After watching this what the NBA needs to do is clear. Take the million that Magic has offered and whatever anyone else want to throw in...
Detroit's Doug Anderson puts on a show during the College Slam Dunk competition en route to a runaway win. Shaming the NBA All-Star weekend single-handedly. **Follow us on Twitter or Facebook.... Full story at Bob's Blitz ~ http://www.bobsblitz.com
University of Detroit Mercy's Doug Anderson, Mott CC alum, knows how to dunk a basketball. That's to put it as boringly as possible. Because his dunks were not boring.  Here's his 4th dunk of the college slam dunk competition, which won him the competition quite easily:  For a look at his other three dunks, all perfect scores, head over to It's Always...
Wow. Just wow. Sorry LeBron but you have nothing on University of Detroit's Doug Anderson.
University of Detroit Mercy high-riser Doug Anderson wrecked the competition with four dunks on his way to winning the College Slam Dunk contest.  He received perfect 40′s straight through the competition and  - most impressively – only needed one try for each of his dunks. ESPN's Jimmy Dykes called him a "1-seed" going up against all "16-seeds" in comparison to his...
Doug Anderson played for the University of Detroit this season. You probably didn't know him before, but I bet you know him now.  Has this dunk ever been done before? Anderson has a reputation with hard-core college basketball fans, as one of the best dunkers in college and he surely didn't disappoint with this dunk. FYI, Dick Vitale use to be the head coach at the University of Detroit.
University of Detroit's Doug Anderson pulled off an amazing dunk at the college dunk contest this year:   [youtube]u6SUgFfiAA[/youtube]   Big up: Gamedayr
You know how LeBron James is always playing that worn out routine of "Maybe I should be in the Slam Dunk Contest this year…" and us basketball fans are like, "Please, oh, please LeBron, would ya do that, King? Would ya?" and he's like, "Wellllllllllllll maybe if someone paid me a million dollars…" and then you and I pull out our pockets and fight over who gets to...
Titans News

Delivered to your inbox

You'll also receive Yardbarker's daily Top 10, featuring the best sports stories from around the web. Customize your newsletter to get articles on your favorite sports and teams. And the best part? It's free!
RUMORS & GOSSIP
The Detroit Tigers have made the big blockbuster trade of the deadline. David Price of the Tampa Bay Rays has been sent to Detroit, in a deal that was first reported by Ken Rosenthal of FOX Sports. Source: #Tigers get Price. — Ken Rosenthal (@Ken_Rosenthal) July 31, 2014 Jon Heyman of CBS Sports reporting that […]
Things could be getting tense in Chicago between Derrick Rose and the Bulls. At the very least, there is a miscommunication about the feelings in the organization as he recovered from injuries. Here is what Rose told Joe Cowley of the Chicago Sun-Times about how the organization felt and if there was tension: "I'm happy I didn't personally see it. I don't want to see that...
The Quebec Nordiques started out as a World Hockey Association team in 1972. It remained with the WHA until being absorbed into the NHL team in 1979. The Nordiques moved to Colorado in 1995 almost 20 years ago and there was very little hope that Quebec City would get a new team. Of course, that was until 2012 when the new division realignment was announced. Currently there...
Update: John Wawrow of the Associated Press reports that billionaire Donald Trump has been selected to advanced to the next round of the bidding process for the Buffalo Bills. Morgan Stanley, the banking firm overseeing the sale of the Bills' franchise, informed Trump of their decision. Wawrow adds that it's unclear who else has advanced along with Trump, but Sabres owners Terry and K...
Dustin Johnson announced on Thursday that he is taking a leave of absence from golf. The 30-year-old said he is seeking professional help to deal with some personal issues but did not get into specifics. "I am taking a leave of absence from professional golf, effective immediately," Johnson said, via USA Today Sports. "I will […]
Sometimes an apology just isn't enough. That seems to be the case for Jahmel Binion who got made fun of by Shaq on social media. That problem is that after Shaq clowned him, he was told that the guy has a rare disorder hypohidrotic ectodermal dysplasia, that causes a reduced ability to sweat, sparse hair growth, missing teeth and facial deformities. Shaq then called the guy and...
TweetAtlanta Hawks sharp-shooter Kyle Korver has developed into one of the most dangerous outside shooters in the NBA, but there was a time when he wasn't nearly as coveted as he is now. In a recent profile of Korver's career to date, Grantland's Zach Lowe writes that a then-2nd round pick Korver was traded by the New Jersey Nets to the Philadelphia 76ers for some uncommon...
ESPN's Adam Caplan (via Adam Schefter) is reporting that Seahawks RB Marshawn Lynch will end his holdout and report to training camp in the next 24 hours. Adam Schefter reported on Wednesday that Lynch had already triggered a $275,000 fine by holding out of training camp. The Seahawks had maintained that they had no intention of renegotiating Lynch's contract to include a...
TweetIf you asked Minnesota Vikings versatile wide receiver Cordarrelle Patterson, he'd tell you that he'll be one of the top-5 playmakers in the NFL this season and Sports Illustraded apparently agrees, naming him one of their "Rising Stars". Patterson himself relishes the praise. "If they say it, of course I'm going to agree with them," Patterson said Wednesday at...
Baltimore Ravens running back Ray Rice addressed the media Thursday regarding his assault charge. "My actions that night were totally inexcusable. That night, I'm just (gonna) put it this way, that night I just replay over and over in my head. That's not me. My actions were inexcusable. That's something I have to live with the rest of my life," Rice said. Rice apologized...
Latest Rumors
The Backyard

Today's Best Stuff

For Bloggers

Join the Yardbarker Network for more promotion, traffic, and money.

Company Info

Help

What is Yardbarker?

Yardbarker is the largest network of sports blogs and pro athlete blogs on the web. This site is the hub of the Yardbarker Network, where our editors and algorithms curate the best sports content from our network and beyond.