Found April 04, 2013 on Gamedayr:
Via Gamedayr:
For those of you who missed the College Baskeball Slam Dunk Contest, well, we don't feel bad for you, but we're worried about your health.
Everyone should be spoon-fed a dose of Doug Anderson highlight tapes on a nightly basis. The Detroit star was in Atlanta, the site of the 2013 Final Four, on Thursday night for the dunk contest festivities.
And he absolutely stole the show.
Anderson rocked a 360, through-the-legs slam on his very first attempt en route to winning the whole thing.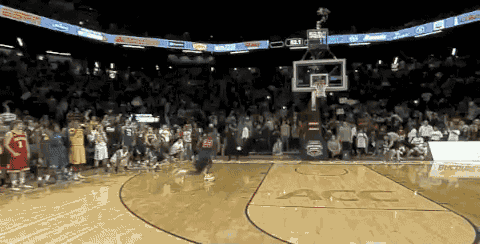 If you aren't impressed yet, here are all four of his dunks that won him the title belt. Simply put, Anderson has got some mad hops.
Top video via Big Lead Sports, GIF via Bleacher Report, Bottom video via ESPN YouTube
Read More:
http://gamedayr.com/gamedayr/video-of...
THE BACKYARD
RELATED ARTICLES
If you missed him on Sportscenter's Top 10 throughout the year, Detroit's Doug Anderson has some harsh feelings towards basketball rims. They stole his lunch money. They picked on him through his awkward years. They would yell "Kool-Aid!" when his momma walked by wearing red. And now he takes out his anger on each and every rim he comes across. Poor, poor rims. Four tremendous...
If you don't like the NBA Slam Dunk contest, you probably appreciated the college slam dunk contest where Detroit-Mercy Titan's Doug Anderson put on a show. It would be difficult to argue against him as being better than everyone else in the NBA with what he calls 'in game dunks.' Check out his final dunk that gave him the title: Unreal. You can checkout the rest of his dunks...
There are some people who can dunk, and then there are dunkers. Doug Anderson is a real man who came to the 2013 State Farm College Slam Dunk Contest with some simple intentions. I'm gonna dunk this basketball, real real hard. I'm gonna jump real real high. I'm going to do dunks that I could do [...]The post Detroit's Doug Anderson Put One Of The Better Slam Dunk Performances...
Doug Anderson of Detroit Mercy introduced himself to the world Thursday night during the College Dunk Contest in Atlanta. Anderson scored perfect scores on each of his attempts and capped it all off with this impressive 360-degree, between the legs dunk that brought home the crown.The post Doug Anderson went with a 360-degree, between the legs dunk to win the College Dunk Contest...
University of Detroit guard Doug Anderson wowed the crowd (and now the World Wide Web) with the insane dunk in the video below to win the College Slam Dunk Competition, one of the events in Atlanta leading up to this weekend's Final Four. After watching this what the NBA needs to do is clear. Take the million that Magic has offered and whatever anyone else want to throw in...
University of Detroit Mercy's Doug Anderson, Mott CC alum, knows how to dunk a basketball. That's to put it as boringly as possible. Because his dunks were not boring.  Here's his 4th dunk of the college slam dunk competition, which won him the competition quite easily:  For a look at his other three dunks, all perfect scores, head over to It's Always...
Detroit's Doug Anderson puts on a show during the College Slam Dunk competition en route to a runaway win. Shaming the NBA All-Star weekend single-handedly. **Follow us on Twitter or Facebook.... Full story at Bob's Blitz ~ http://www.bobsblitz.com
University of Detroit Mercy high-riser Doug Anderson wrecked the competition with four dunks on his way to winning the College Slam Dunk contest.  He received perfect 40′s straight through the competition and  - most impressively – only needed one try for each of his dunks. ESPN's Jimmy Dykes called him a "1-seed" going up against all "16-seeds" in comparison to his...
Doug Anderson played for the University of Detroit this season. You probably didn't know him before, but I bet you know him now.  Has this dunk ever been done before? Anderson has a reputation with hard-core college basketball fans, as one of the best dunkers in college and he surely didn't disappoint with this dunk. FYI, Dick Vitale use to be the head coach at the University of Detroit.
University of Detroit's Doug Anderson pulled off an amazing dunk at the college dunk contest this year:   [youtube]u6SUgFfiAA[/youtube]   Big up: Gamedayr
You know how LeBron James is always playing that worn out routine of "Maybe I should be in the Slam Dunk Contest this year…" and us basketball fans are like, "Please, oh, please LeBron, would ya do that, King? Would ya?" and he's like, "Wellllllllllllll maybe if someone paid me a million dollars…" and then you and I pull out our pockets and fight over who gets to...
Titans News

Delivered to your inbox

You'll also receive Yardbarker's daily Top 10, featuring the best sports stories from around the web. Customize your newsletter to get articles on your favorite sports and teams. And the best part? It's free!
RUMORS & GOSSIP
Starting on February 14, 2014, Sam Quinn and The Sports Post have decided to run down the 52 Greatest What Ifs in NFL History, one per week, for the next year. For a list of published What Ifs, as well as the introductory piece, click here. I don't think Carolina is really complaining about Cam Newton, but in 2011 the Panthers desperately wanted Stanford quarterback Andrew...
Unfortunately your browser does not support IFrames. I must admit I laughed when Mike Evans slide across the car like he was in a bad movie. TMZ has the details. It all went down outside Dream Nightclub … where the #7 overall pick in the 2014 NFL draft was screaming at bouncers. We're told Evans had been partying inside the club moments before the video begins. While Evans —...
Back in June, former Olympian and Fox Sports Radio host Amy Van Dyken-Rouen was involved in an ATV accident in which her spinal cord was severed. It was a very scary situation, but Van Dyken-Rouen kept a sense of humor about the situation and vowed to walk again, despite what seemed to be impossible circumstances. This week, the impossible seemed possible as Van Dyken-Rouen stood...
Le'Veon Bell was a bit confused as to why he was getting a DUI after smoking weed. This could have been the effects of the weed or he just genuinely didn't know the law. I will let you decide from some details from the affidavit : Affidavit: @L_Bell26: "I didn't know you could get a DUI for being high. I smoked two hours ago. I'm not high anymore. I'm perfectly fine...
Johnny Manziel's $4.3 million signing bonus just took a small hit on Friday as the league fined him $12,000 for the Finger Seen 'Round the World. Per NFL.com's Ian Rapoport, Manziel is allegedly weighing an appeal. Johnny Manziel is still weighing whether to appeal his $12,000 fine for flipping the bird. #thebird — Ian Rapoport (@RapSheet) August 22, 2014 Why would the rookie...
The Boston Red Sox have won the Rusney Castillo sweepstakes. According to Jesse Sanchez of MLB.com as well as Ken Rosenthal and Jon Morosi of FOX Sports, the Red Sox and Castillo are "on track" to sign a six-year, $72 million deal. Source: Cuban outfielder Rusney Castillo on track for record-setting 6-year, $72 million deal […]
Jason Whitney New York Knicks star Carmelo Anthony was coaching a celebrity game at the Barclays Center when he dished out some details about his free agency this past July. Melo said that he was close to leaving New York, but ultimately decided to stay with the Knicks, agreeing to a five-year, $124 million contract. In fact, Anthony was […] Sports-Kings - The Kings of Sports...
Team USA's World Cup hero Tim Howard shared some disappointing news on his Facebook page on Thursday. Howard took to his page to announce that he would be taking a one-year break from the U.S. Men's National Team. Post by Tim Howard. The 35-year old Howard has been the team's starting goalkeeper for the last […]
Finally. Finally. The Kevin Love saga appears to be coming to an official end. Although the long rumored (and expected) trade cannot be announced until this Saturday, reports out of the Twin Cities appear to show the frame work for a three-team deal involving the Minnesota Timberwolves, Cleveland Cavaliers and Philadelphia 76ers could be completed soon.  Dan Barreiro of 100.3 KFAN...
Convicted Auburn tree poisoner Harvey Updyke will not make an appearance at a charity event in Mobile, Ala., after Dee Dee Bonner, the mother of Cincinnati Bengals and former Alabama quarterback AJ McCarron, and McCarron's wife, model Katherine Webb, received death threats on social media.  
Latest Rumors
Best of Yardbarker

Today's Best Stuff

For Bloggers

Join the Yardbarker Network for more promotion, traffic, and money.

Company Info

Help

What is Yardbarker?

Yardbarker is the largest network of sports blogs and pro athlete blogs on the web. This site is the hub of the Yardbarker Network, where our editors and algorithms curate the best sports content from our network and beyond.