Found April 04, 2013 on Gamedayr:
Via Gamedayr:
For those of you who missed the College Baskeball Slam Dunk Contest, well, we don't feel bad for you, but we're worried about your health.
Everyone should be spoon-fed a dose of Doug Anderson highlight tapes on a nightly basis. The Detroit star was in Atlanta, the site of the 2013 Final Four, on Thursday night for the dunk contest festivities.
And he absolutely stole the show.
Anderson rocked a 360, through-the-legs slam on his very first attempt en route to winning the whole thing.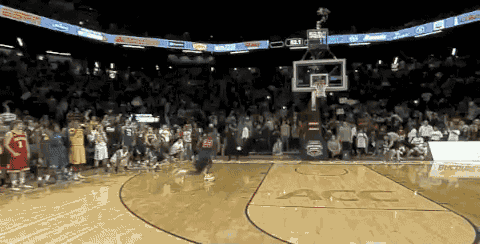 If you aren't impressed yet, here are all four of his dunks that won him the title belt. Simply put, Anderson has got some mad hops.
Top video via Big Lead Sports, GIF via Bleacher Report, Bottom video via ESPN YouTube
Read More:
http://gamedayr.com/gamedayr/video-of...
THE BACKYARD
RELATED ARTICLES
If you missed him on Sportscenter's Top 10 throughout the year, Detroit's Doug Anderson has some harsh feelings towards basketball rims. They stole his lunch money. They picked on him through his awkward years. They would yell "Kool-Aid!" when his momma walked by wearing red. And now he takes out his anger on each and every rim he comes across. Poor, poor rims. Four tremendous...
If you don't like the NBA Slam Dunk contest, you probably appreciated the college slam dunk contest where Detroit-Mercy Titan's Doug Anderson put on a show. It would be difficult to argue against him as being better than everyone else in the NBA with what he calls 'in game dunks.' Check out his final dunk that gave him the title: Unreal. You can checkout the rest of his dunks...
There are some people who can dunk, and then there are dunkers. Doug Anderson is a real man who came to the 2013 State Farm College Slam Dunk Contest with some simple intentions. I'm gonna dunk this basketball, real real hard. I'm gonna jump real real high. I'm going to do dunks that I could do [...]The post Detroit's Doug Anderson Put One Of The Better Slam Dunk Performances...
Doug Anderson of Detroit Mercy introduced himself to the world Thursday night during the College Dunk Contest in Atlanta. Anderson scored perfect scores on each of his attempts and capped it all off with this impressive 360-degree, between the legs dunk that brought home the crown.The post Doug Anderson went with a 360-degree, between the legs dunk to win the College Dunk Contest...
Detroit's Doug Anderson puts on a show during the College Slam Dunk competition en route to a runaway win. Shaming the NBA All-Star weekend single-handedly. **Follow us on Twitter or Facebook.... Full story at Bob's Blitz ~ http://www.bobsblitz.com
University of Detroit guard Doug Anderson wowed the crowd (and now the World Wide Web) with the insane dunk in the video below to win the College Slam Dunk Competition, one of the events in Atlanta leading up to this weekend's Final Four. After watching this what the NBA needs to do is clear. Take the million that Magic has offered and whatever anyone else want to throw in...
University of Detroit Mercy's Doug Anderson, Mott CC alum, knows how to dunk a basketball. That's to put it as boringly as possible. Because his dunks were not boring.  Here's his 4th dunk of the college slam dunk competition, which won him the competition quite easily:  For a look at his other three dunks, all perfect scores, head over to It's Always...
Wow. Just wow. Sorry LeBron but you have nothing on University of Detroit's Doug Anderson.
University of Detroit Mercy high-riser Doug Anderson wrecked the competition with four dunks on his way to winning the College Slam Dunk contest.  He received perfect 40′s straight through the competition and  - most impressively – only needed one try for each of his dunks. ESPN's Jimmy Dykes called him a "1-seed" going up against all "16-seeds" in comparison to his...
Doug Anderson played for the University of Detroit this season. You probably didn't know him before, but I bet you know him now.  Has this dunk ever been done before? Anderson has a reputation with hard-core college basketball fans, as one of the best dunkers in college and he surely didn't disappoint with this dunk. FYI, Dick Vitale use to be the head coach at the University of Detroit.
University of Detroit's Doug Anderson pulled off an amazing dunk at the college dunk contest this year:   [youtube]u6SUgFfiAA[/youtube]   Big up: Gamedayr
You know how LeBron James is always playing that worn out routine of "Maybe I should be in the Slam Dunk Contest this year…" and us basketball fans are like, "Please, oh, please LeBron, would ya do that, King? Would ya?" and he's like, "Wellllllllllllll maybe if someone paid me a million dollars…" and then you and I pull out our pockets and fight over who gets to...
Titans News

Delivered to your inbox

You'll also receive Yardbarker's daily Top 10, featuring the best sports stories from around the web. Customize your newsletter to get articles on your favorite sports and teams. And the best part? It's free!
RUMORS & GOSSIP
Training camp has started for the Dallas Cowboys and all eyes are on QB Tony Romo. There has been a ton of speculation about Romo's health this off-season and that has some Cowboys fans worried. Romo, who is 34 years old, spoke to the media after practice and made some comments that will draw a lot of attention. Romo says he feels like his best days are ahead of him as we will...
Ronda Rousey has been Dana White's golden goose over the past two years. She's smashed through the UFC's womens bantamweight division, finishing all four of her opponents, three in the first round. In Rousey's last two fights, she eschewed her signature arm bar for striking, and as a result, knocked out both Sara McMann and Alexis Davis in a combined 1:22. Needless to say...
Its going to be next offseason before Pittsburgh Steelers quarterback Ben Roethlisberger gets a contract extension, but he and his agent have both been informed about that decision and both appear to be on board with it. "I met with Ben shortly before we did the Maurkice Pouncey signing (in the middle of June) just […] Steelers QB Ben Roethlisberger Won't Get Contract Extension...
Jonathan Papelbon has a message for Philadelphia Phillies fans: Bring it on. The Phillies closer, who had allowed four runs over his last two appearances, was welcomed to the mound Thursday night with a smattering off boos from his home fans at Citizens Bank Park. It was harsh treatment for a pitcher who's surrendered just nine runs all season, but Papelbon told reporters after...
After already suspending two players due to sexual assault charge, Charlie Strong has dismissed two other players from the Texas Longhorns football team. According to Taylor Gaspar of Orangebloods.com, defensive back Chevoski Collins and running back Jalen Overstreet have been dismissed for violating team rules. The dismissal comes just after Kendall Sanders and Montrel Meander […]
Lil Wayne is following in the footsteps of Jay-Z and starting his own sports management company. According to TMZ, the first client Weezy is adding to his roster is a big one. Some of you know him as Cristiano Ronaldo. Ronaldo and Lil Wayne are apparently friends, and Wayne has wanted to get into the […]
Houston Texans wide receiver Andre Johnson reported to the team Friday morning, reports ESPN's Adam Schefter. With Houston's camp opening today, Texans WR Andre Johnson reported to team this morning and already is in its training facility. — Adam Schefter (@AdamSchefter) July 25, 2014 The seven-time Pro Bowler was present at the training facility Friday. The first practice...
On Thursday, Robert Griffin III strolled onto the practice field for the first time this season. This in and of itself is not exactly newsworthy. However, the fact that the Washington Redskins quarterback was wearing a black cleat and black stocking on one leg and a white cleat and white stocking on the other is.Naturally, reporters were curious to know the explanation from Griffin...
When videos surfaced of Baltimore Ravens' running back dragging his then unconscious girlfriend out of a hotel elevator back in February, common logic suggested that he would be facing a rather hefty suspension if said situation was proven to include assault.  One month later, Rice was charged with aggravated assault stemming from the incident. According to this ESPN report, the...
The New York Yankees have been the most active team on the trade market. Over the course of the last month, they have acquired pitchers Brandon McCarthy, Jeff Francis and Chris Capuano as well as third baseman Chase Headley.  This hasn't stopped Yankees general manager Brian Cashman from looking for even more upgrades, According to a report by ESPN's Jim Bowden, New York is...
Latest Rumors
The Backyard

Today's Best Stuff

For Bloggers

Join the Yardbarker Network for more promotion, traffic, and money.

Company Info

Help

What is Yardbarker?

Yardbarker is the largest network of sports blogs and pro athlete blogs on the web. This site is the hub of the Yardbarker Network, where our editors and algorithms curate the best sports content from our network and beyond.