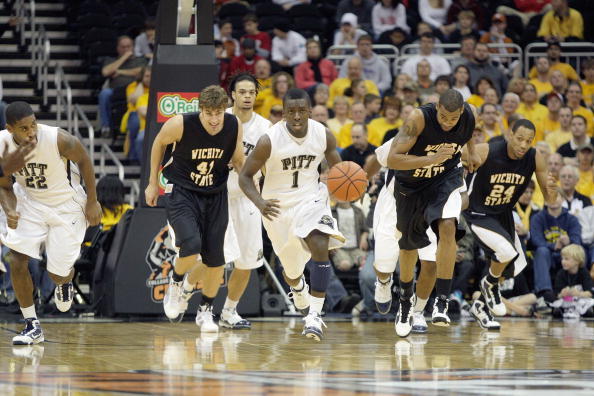 KANSAS CITY, MO - NOVEMBER 23: Travon Woodall #1 of the Pittsburgh Panthers dribbles the ball downcourt against the Wichita State Shockers during the CBE Classic semifinal game on November 23, 2009 at Sprint Center in Kansas City, Missouri. (Photo by: Jamie Squire/Getty Images)
A day late but the football schedule stuff pushed things out. Well, Travon Woodall did. It was a little different for the rest of the team. Lamar Patterson snapped out of his funk in the second half. Steven Adams had a great first half, but disappeared in the second. Talib Zanna… /sigh. You could see from the opening miss by St. John's that Pitt had put a re-emphasis all week on rebounding. Specifically, everyone better rebound. Multiple Pitt players were around the basket on every shot by the Red Storm. Lamar Patterson said Pitt placed a premium on rebounding drills following losses to Marquette and Notre Dame in which the Panthers were beaten on the boards by margins of nine and 15, respectively. The focus was on boxing out and being aggressive, given that Pitt has found that winning the rebounding battle is a formula to its success. Even so, St. John's finished with a 39-38 edge, including 15 offensive to Pitt's 11. "In all of our losses, coach gave us a number like negative-eigh...
Read the rest of this story...
MORE FROM YARDBARKER
College Basketball News

Delivered to your inbox

You'll also receive Yardbarker's daily Top 10, featuring the best sports stories from around the web. Customize your newsletter to get articles on your favorite sports and teams. And the best part? It's free!