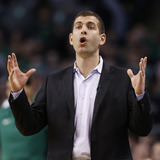 The All-Star break is coming at just the right time for the Boston Celtics. They have lost three straight games and four of their last five.Speaking on Wednesday, coach Brad Stevens hinted at the idea that some changes to the rotation could be in order."We'll look at everything," Stevens said, per Sam Amico of Amicohoops.net. "Obviously, you're always looking for small tweaks defensively...
WALTHAM - BRAD STEVENS on how the CELTICS can get back on track after blow-out loss to CAVS --------------------------------------------------------------------------------- SUPPORT CLNS MEDIA: Powered by... DRAFT KINGS, go to http://draftkings.com and use PROMO CODE: CLNS for FREE match play TODAY! RXBar, go to http://RXBar.com/CLNS; enter the promo code CLNS for 25% off...
Brad Stevens talks about Celtics "shortcut" offense --------------------------------------------------------------------------------- SUPPORT CLNS MEDIA: Powered by... DRAFT KINGS, go to http://draftkings.com and use PROMO CODE: CLNS for FREE match play TODAY! RXBar, go to http://RXBar.com/CLNS; enter the promo code CLNS for 25% off your first order. eHarmony, go to http...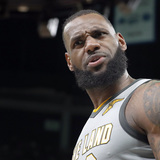 The opening four months of the NBA season featured a couple of breakout teams, a few notable trades, too many injuries and a little bit of drama. Finally, the All-Star break will provide the NBA world a chance to breathe.Every team has a notable topic, but what really matters moving forward? Those key storylines will define the post-All-Star portion of the campaign.Cleveland trying...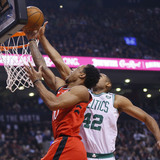 If there's anything we keep learning this season, it's that the Toronto Raptors are relentless.But that would reach a whole other level on Tuesday night. Without Kyle Lowry last month, the Raptors would decimate the Cleveland Cavaliers. But last night, they would take it to the east's No. 1. And as the dust settled, the score read Toronto 111, Boston 91.But they aren't done yet,...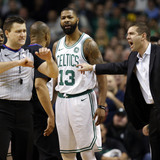 Marcus Morris has a rooting interest in Super Bowl LII that isn't shared by most Celtics fans.Morris, who is a Philadelphia native, has been rooting for his hometown Eagles, and will be doing so in Super Bowl LII. He's been vocal in supporting the Eagles on social media, as you can see from the following tweets. Not only that, Morris also provided a funny moment during Celtics head...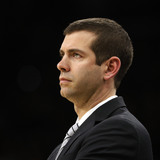 Nothing has come easy for Brad Stevens. The Celtics have turned over their roster numerous times since Stevens was hired away from Butler in 2013, but he has continually squeezed the most out of whatever Danny Ainge has given him. Stevens found a way to win 25 games with Jeff Green has his leading scorer in his first year, saw the team through the end of the Rajon Rondo era, took...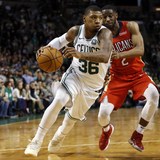 Boston Celtics guard Marcus Smart cut his hand in glass at the team hotel on Wednesday and needed a trip to the hospital for stitches, according to his head coach.Brad Stevens told the media that Smart would not be playing in the team's game against the Los Angeles Clippers Wednesday because of the hand injury. Stevens said he wasn't sure how the injury occurred, but it did not sound...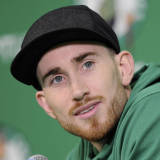 Gordon Hayward is taking the What About Bob baby steps road to recovery after his devastating leg injury at the beginning of the 2017-18 season.The Boston Celtics guard has been able to do some exciting things on his road to recovery (like this). Head coach Brad Stevens filled the media in a little more on his progress Tuesday. Stevens noted Hayward has been able to do "some spot...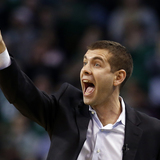 Brad Stevens had some words for his Boston Celtics just before halftime of their game with the Brooklyn Nets on Sunday.Boston was outplayed in the second quarter of the game and saw a 10-point lead after the first quarter get trimmed to two at halftime. Just before the half, Stevens called out his team for playing "soft." Stevens' magic words seemed to work; Boston ended up winning...
MORE STORIES >>
Celtics News

Delivered to your inbox

You'll also receive Yardbarker's daily Top 10, featuring the best sports stories from around the web. Customize your newsletter to get articles on your favorite sports and teams. And the best part? It's free!